Stylish and Intimate on Eagle Beach
Beach brides Erin and Amanda chose Aruba as the locale for their destination wedding. The wedding was set for October (hurricane season) when Amanda, a school teacher, had a few days off during a fall school break, so weather was a major factor in determining which Caribbean island they would travel to.  As an LGBTQ+ couple, safety was another major concern, and Erin's past trips to Aruba gave her the reassurance that all their guests would feel safe, accepted, and welcome on Aruba.Erin and Amanda capitalized on the natural beauty of their ceremony and reception setting on the stunning shores of Eagle Beach (one of TripAdvisor's top beaches in the world), at Divi Aruba's Sandpiper beach bar and event venue. 
Flowers & Décor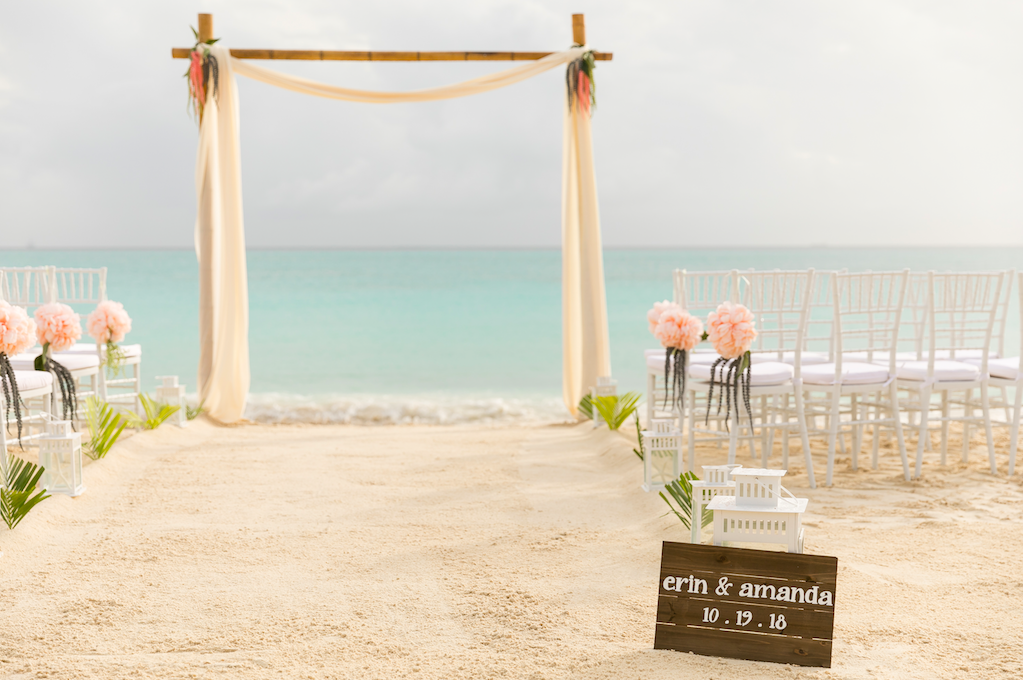 Photo Credit: Demian Gibbs Photography
"We went with a simple and laid-back, yet stylish theme for our wedding. We wanted all of our guests to laugh, have fun, and feel included in the details," shared the couple.  Although the wedding was not a full-blown DIY wedding, the couple did a lot of the legwork on their own. Amanda's creative talents were employed, making all of the bouquets, corsages, boutonnieres, and arch and chair décor herself from silk flowers purchased from a craft store from their hometown in Minnesota."We really liked the wood sign we saw in another featured wedding so we made one for our ceremony, and brought a few other decorations. We also printed photos of us with all of our guests at various times throughout our lives and displayed them on strings of white lights at the reception," they explained. The brides went with a soft color palette of grey, coral, mint, and a touch of gold.
The Attire
Photo Credit: Demian Gibbs Photography
Erin wore a white button-up shirt with white pants and an ivory vest to match Amanda's ivory dress. Wanting them to feel comfortable and choose outfits that matched their personalities, the wedding party--Amanda's sister, Kati, and Erin's good friend, Nikki--chose their outfits based on the wedding colors. Amanda's boys--Gabe and Ben--wore white button-up shirts with grey shorts and bowties. Amanda had her hair done at Indulgence by the Sea at Divi Tamarijn All Inclusive Resort.
The Ceremony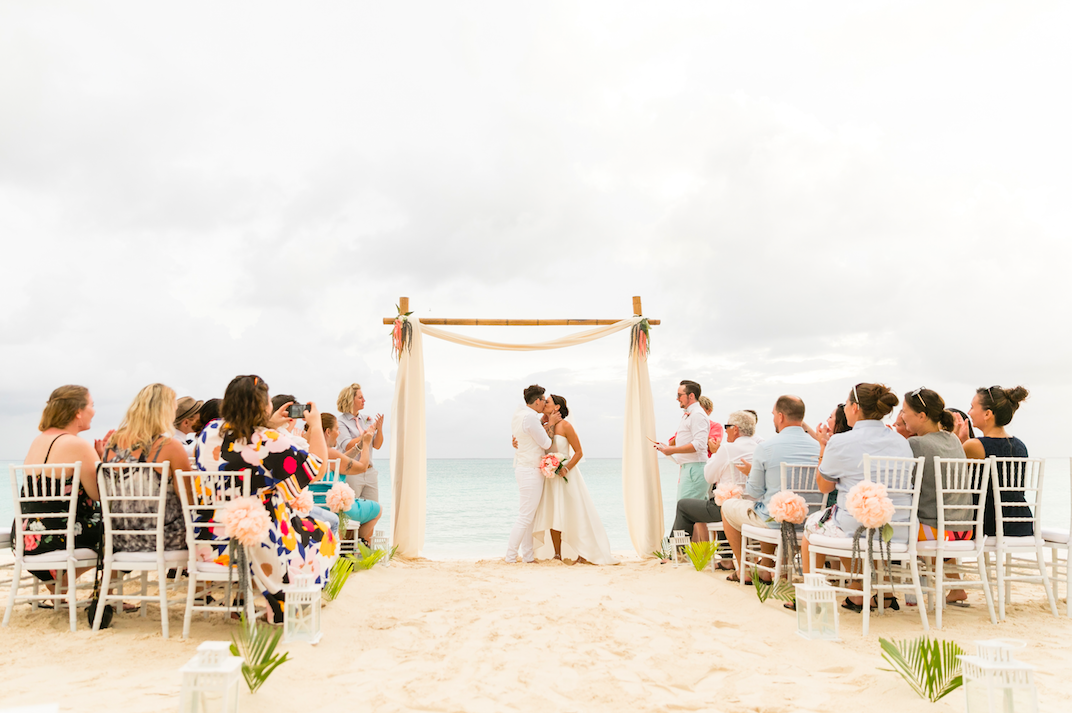 Photo Credit: Demian Gibbs Photography
With their close-knit group of family and friends, a personal and intimate vibe was important to Amanda and Erin. "Our good friend, Cade, was our officiant who wrote the most beautiful ceremony, full of humor and our personalities," the couple said.
They had Amanda's two boys, Gabe and Ben, walk Amanda to the beginning of the aisle where Erin was standing facing the guests (her back to Amanda and the boys). When they got to Erin, Gabe and Ben tapped Erin's shoulder to turn around for the first look, and they all walked down the aisle together.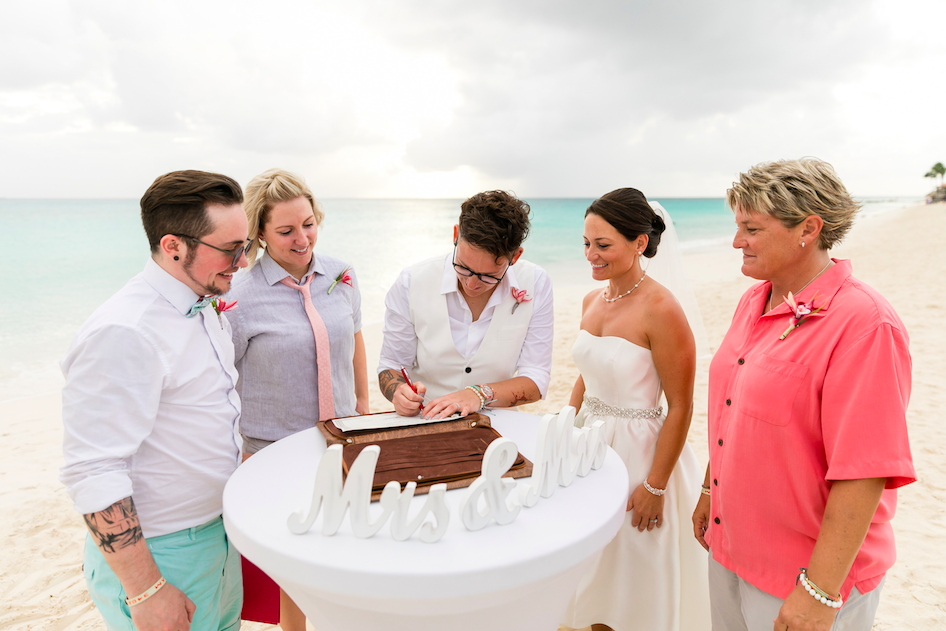 Photo Credit: Demian Gibbs Photography
"We followed the recommendation to have our officiant stand in the middle by the guests, instead of what we're familiar with here in the US, which made our ceremony feel very intimate. We wanted our guests to be included in our big day as much as possible and this little detail definitely made that happen," informed Erin and Amanda.
The Reception
Photo Credit: Demian Gibbs Photography
The reception was under a white tent with white lights and paper lanterns to match the color scheme. Erin and Amanda also engineered their own playlist of music. The couple opted for a casual cocktail-style reception with an open bar and hors d' oeuvres like bamboo skewers with beef tenderloin teriyaki and chicken sate with peanut sauce, mozzarella and tomato brochettes, grilled veggie tortillas, and antipasto vegetarian shooters.
Although Erin and Amanda handled many of their details along the way, they enlisted the help of Aruba Weddings for You to coordinate and make sure all went smoothly during the ceremony and reception.  The couple worked directly with Marielle Hilkman for Aruba Weddings for You, who also coordinated the details of the food and beverage, as well as transportation for the wedding party and guests. "Marielle and the team were absolutely wonderful to work with!" exclaimed Erin and Amanda.
The Details
Wedding Planner: Aruba Weddings for You
Location: Divi's Sandpiper on Eagle Beach
Photographer: Demian Gibbs Photography
Hair: Indulgence by the Sea at Tamarijn All Inclusive Beach Resort
Food & Beverage: Divi Resorts
Notes from the couple:
Our experience was beyond our expectations; everything was absolutely perfect for us, and our guests had a blast. Our guests were there for varying lengths of time so we didn't plan many group activities. Most of our time was spent with them on the beach, at the pool, or having drinks at one of the resort bars. We decided to rent a couple of vans and took our guests to Baby Beach one day, and we also went on a UTV excursion towards the end of our trip and explored the other side of the island.