The Many Stages of the "Moons"
Photo Credit: Aruba Ocean Villas
We're not talking about the solar system here, we're referring to growing post and pre-nuptial trends revolving around traditional honeymoons. Of course, Aruba is an ideal honeymoon destination with something for all tastes, styles, and budgets, with steamy tropical nights a given. But this island is also the perfect spot for many other stages of the "moons". So, let's take a look at them...
Earlymoons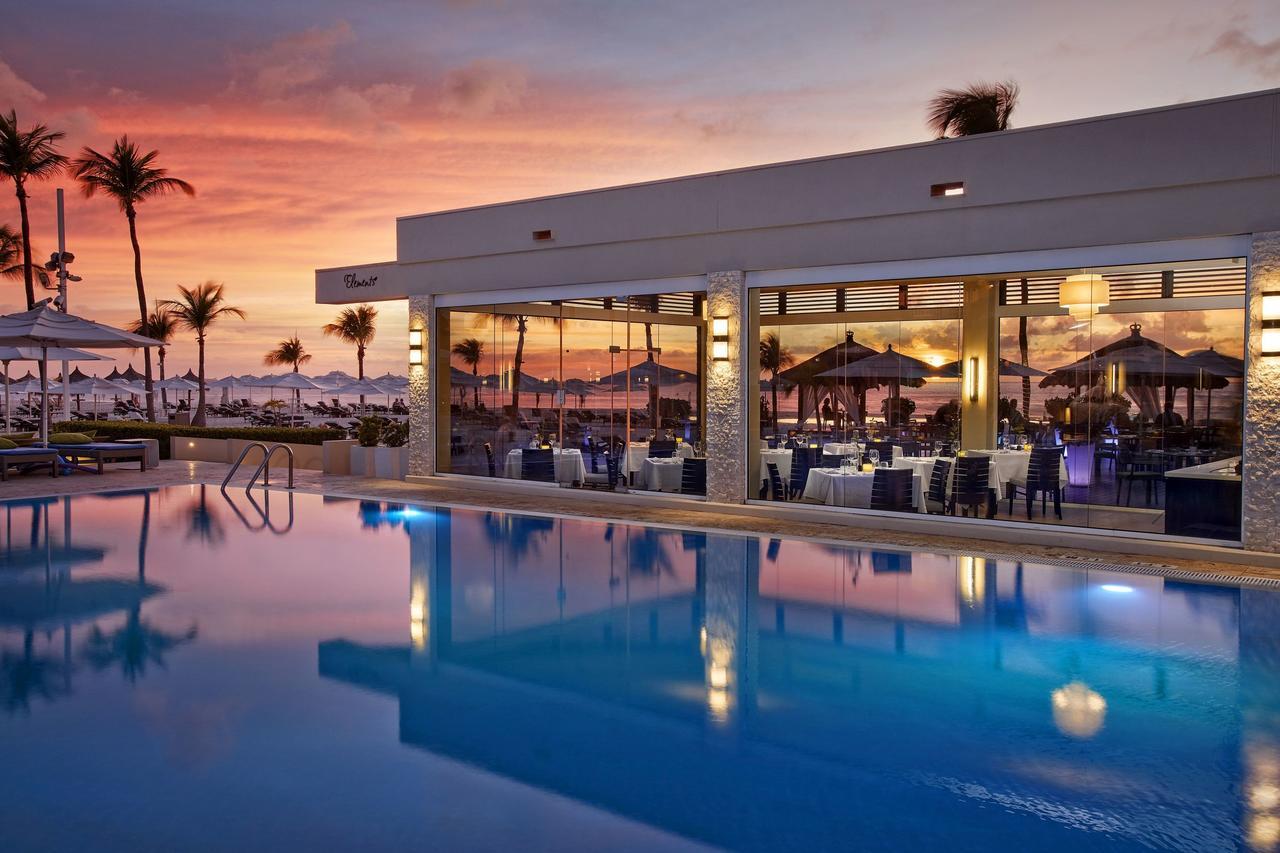 Photo credit: Bucuti & Tara Beach Resort 
Increasingly, engaged couples are taking trips to their honeymoon destination of choice ahead of time to give it a test run. After all, you comparison-shop so many other important things, it makes sense to try out accommodations before committing to a week there. The best advice to couples on their "earlymoon" on Aruba is to stay at a few different spots on different beaches a night or two each to really understand the vibe of the property and see if it fits your style.  You will also learn a lot about your partner's accommodation preferences. Romance and adult-only seem to go hand-in-hand, and Aruba has a few of those style stays.  Bucuti & Tara Beach Resort will fit the bill and provide a peaceful, elegant adult-only sojourn on beautiful Eagle Beach. Couples seeking lots of action, nightlife, and shopping might want to try out adult-only Renaissance Marina Hotel downtown Oranjestad that also offers access to their private island that also has an adult-only side. Or if you want to be in the thick of the most popular Palm Beach strip, then Aruba Marriott Resort offers an entire floor of adult-only accommodations called the "Tradewinds Club" which includes access to their adult-only pool H2Oasis. You might also want to compare the all-inclusive options like RIU Palace Antillas to an a la carte offering at an upscale spot like the Hyatt Regency Aruba. But If getting entirely away from the fray and pure canoodling privacy is your goal, then seek out a very intimate escape like Aruba Ocean Villas- romantic overwater bungalows tucked away in the tiny town of Savaneta.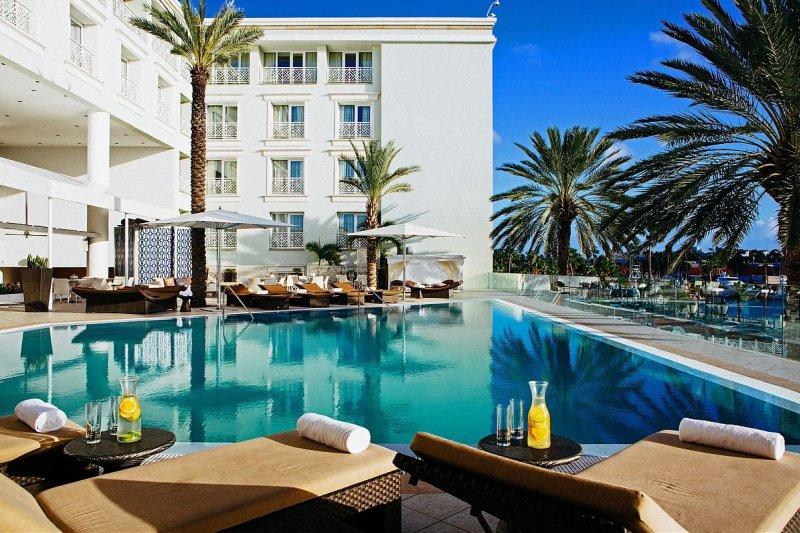 Photo Credit: Renaissance Marina Hotel
By comparing different places, you can plan your real honeymoon with the utmost confidence that your special post nuptial escape will be everything you've ever dreamt of… without any unwanted surprises! You might even find that beach and hotel hopping is a great way to spend your honeymoon week as well!
Babymoons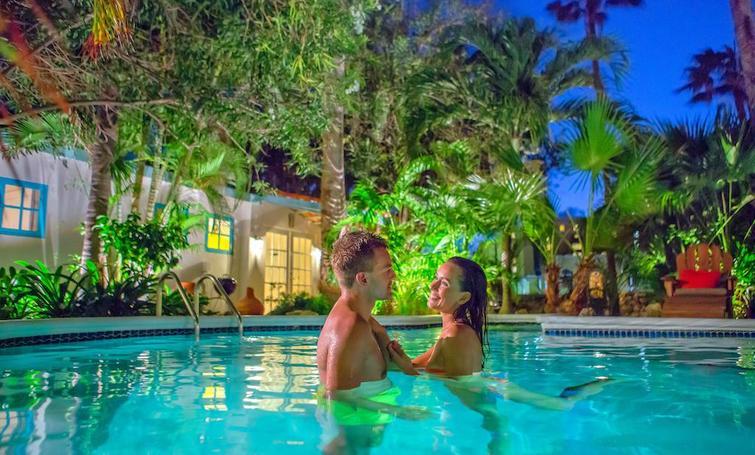 Photo Credit: Boardwalk Small Hotel Aruba
The babymoon trend began booming about a decade ago, and now many resorts offer entire packages catering to expectant parents seeking one last romantic fling before a newborn changes their lives forever. And what better place to have that fling than on Aruba? There are plenty of ideal accommodations ideal for moms-to-be like Manchebo Beach Resort- a legendary low-rise laid back oasis that's turned its focus toward health and wellness weeks with lots of nutritious food and smoothies and low impact workouts like seaside yoga. Though parents-to-be typically don't want to sit around doing nothing, they do like to avoid the louder party places and pools full of noisy children- after all, they'll have plenty of that later on! So, hotels that offer a wide swatch of seaside ocean escapes and comprehensive water circuits like the Hilton Aruba Caribbean Resort cater well to babymooners.  And  Hilton's Eforea Spa also offers pregnancy massages for mommy-to-be pampering. Budget can also be a consideration when you know you'll soon be having another mouth to feed. But Aruba also has lovely little boutique hotels like Boardwalk Small Hotel Aruba just steps from their own beach access that won't put too much of a dent in your baby's college fund.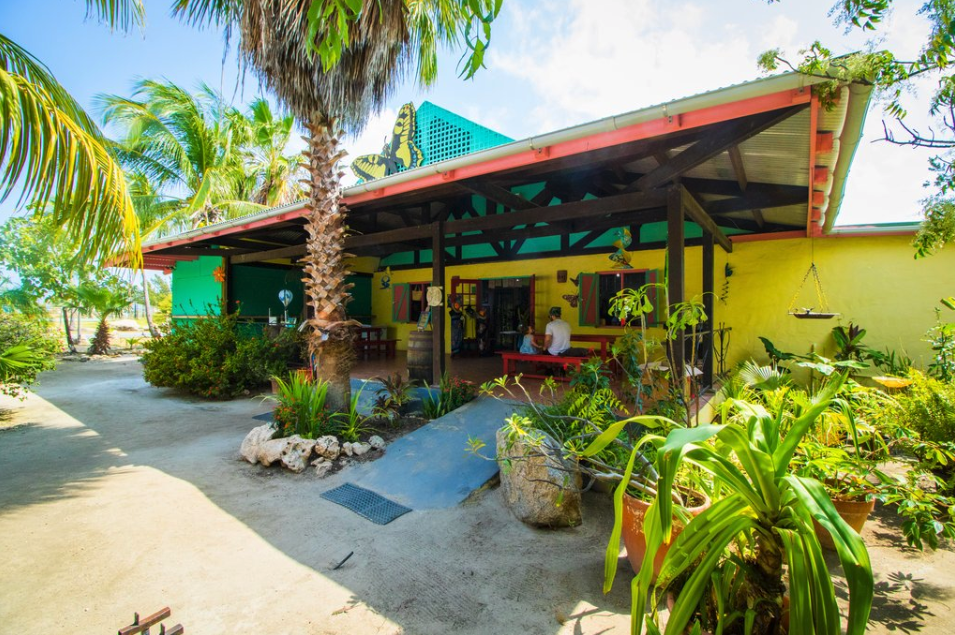 Photo Credit: Aruba Butterfly Farm
As for activities, bumpy ATV tours in the outback or wild jet ski rides should be avoided of course, but there are still plenty of pleasurable pastimes beyond the beach like visiting the lovely Aruba Butterfly Farm. Exploring downtown Oranjestad without too much walking in the hot sun is also easy with the free eco-trolley, or exploring the entire island aboard an air-conditioned bus tour is also an option. Enchanting sunset sails aboard the larger vessels that glide smoothly through the water are also an option for tummies prone to queasiness. And don't miss a magical evening watching the liquid fireworks display to music nightly at Paseo Herencia's charming outdoor courtyard. So romantic.
Familymoons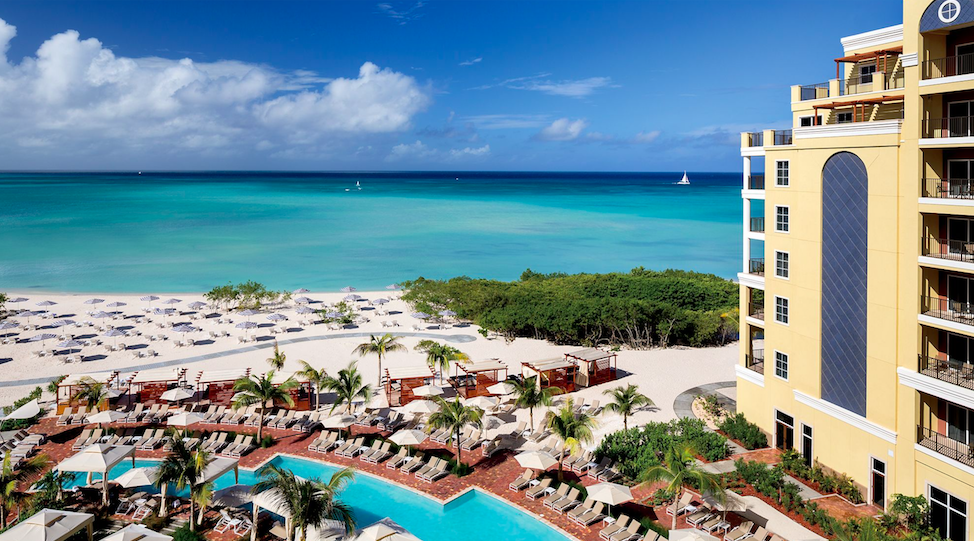 Photo Credit: Ritz-Carlton Aruba
Newly blended families with children from a previous relationship often like to include the kids in the honeymoon in order to strengthen the new family dynamic. And what better way to do so then frolicking together in a tropical playground? Aruba is such a family-friendly playground with miles of soft sand and gentle surf and awesome land and sea activities for all ages. But if newlyweds want to combine some adult time on their honeymoon while still making great memories with the kids, the best choice of hotel is one that has a fabulous kids club program. The Ritz-Carlton Aruba is one of them. Their Ritz Kids Club program is curated  around
Jean-Michel Cousteau's' Oceans Future Society curriculum that teaches kids through play about the importance of preserving our marine environment.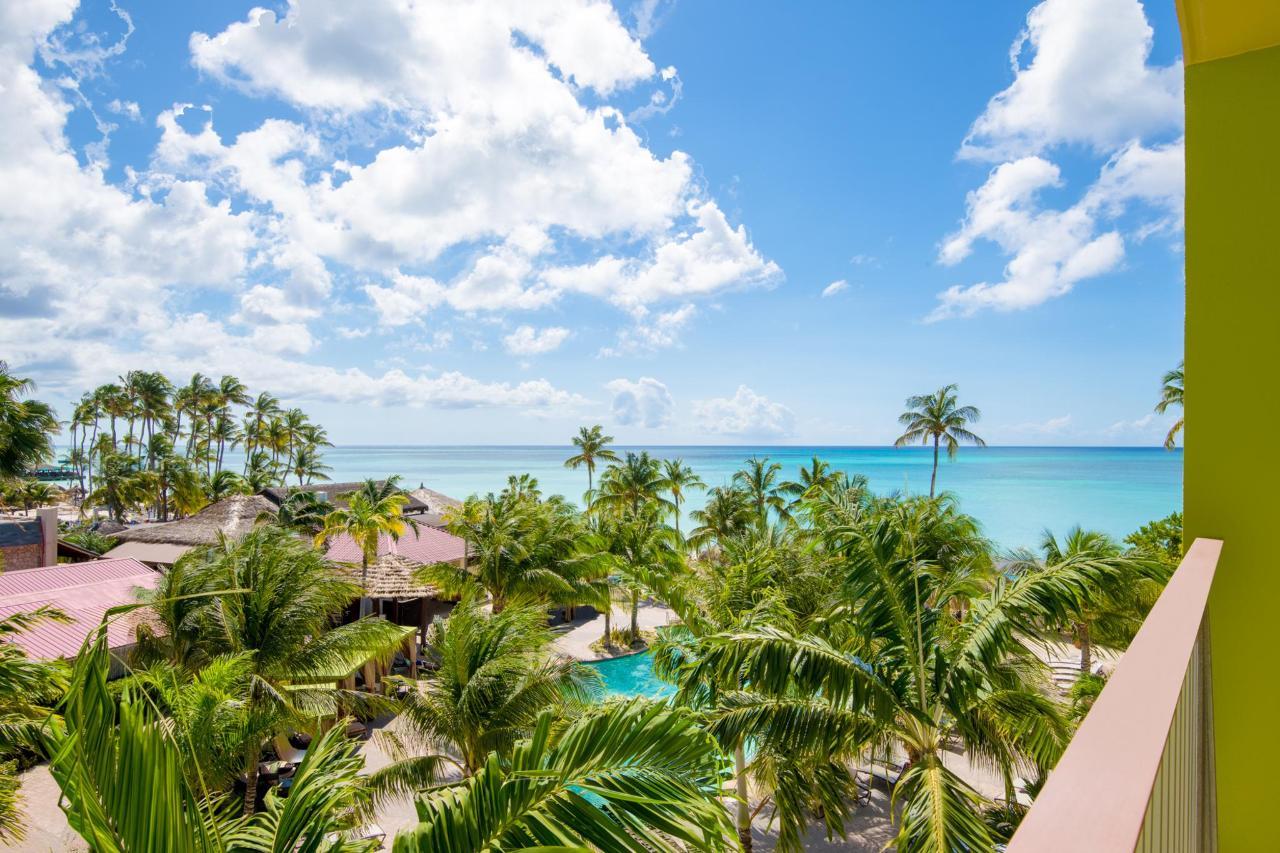 Photo Credit: Holiday Inn Resort Aruba
Holiday Inn Resort Aruba also has an excellent kid's club and action zone to keep them busy, plus some of the calmest, kid-friendly surf on Palm Beach.  
They also offer an all-inclusive option there now. And all Divi Resorts have a kids under 12 stay, play and eat free policy, and they also offer  complimentary children's play programs, so you have a wide choice of all-inclusive stays with tons of dining and activity options. Plus, the newly refurbished Divi Dutch Village now also offers all-inclusive and their very spacious suites with completely equipped kitchens are ideal for families. And most resorts offer babysitting services (usually for an additional charge) so that the honeymooners can occasionally enjoy some romantic adult time alone. How does toes-in-the-sand dining by tiki-torch by the sea under a tropical night sky sound?
So, whatever type of "moon" you're seeking, including honeymoons, there are few better places than #OneHappyIsland to ensure the experience will forever keeps those love stars in your eyes. Cheers to romance!