Wedding Favor Ideas | Little Nothings That Mean Something
We are delighted you've chosen Aruba as the ideal spot for your destination wedding,
but why not ensure your guests and wedding party take a little piece of One Happy Island home with them?  
Locally made wedding favors and gifts will always remind them of their wonderful Aruba stay as well as your special day, and we know just where to find them!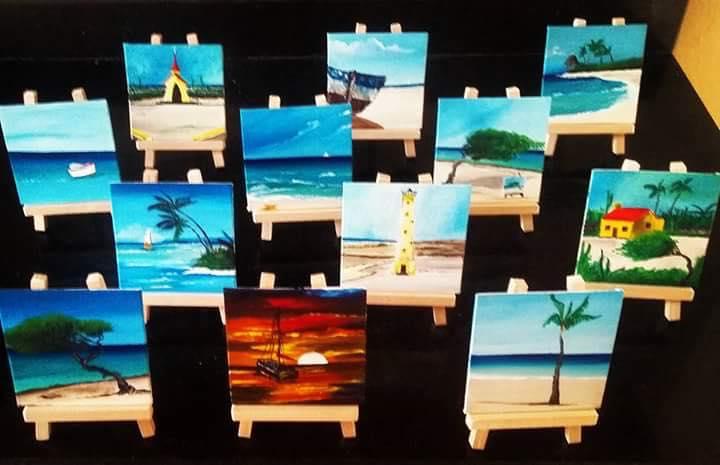 We know you have a gazillion details to think about when planning your destination wedding, but we can help steer you to lovely locally made tokens as takeaways and decor additions to your reception to help make it a truly Aruban style celebration. Local wedding planners can also suggest and obtain unique locally made items if you ask. Plus, their purchase also helps to boost the local arts and craft scene. 

Here are a few ideas on what to look for and places to seek them out…
| Cosecha Aruba | 



Cosecha Aruba is a great place to start. There are two locations, one in Oranjestad and one in San Nicolas. There you will find a large co-op of crafters and artists with all kinds of beautiful and unique knick-knacks, avant garde art, and quality jewelry- all handmade by local talent.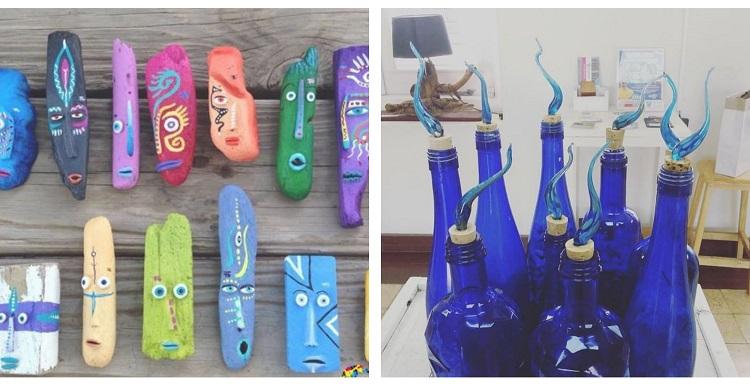 Everything sold at these outlets must pass a stringent quality test and are certified by the national seal of craftsmanship- "Seyo Nacional pa Artesania". They also hold crafting workshops where your guests can make their unique take home art as well!

| The Salamander Group |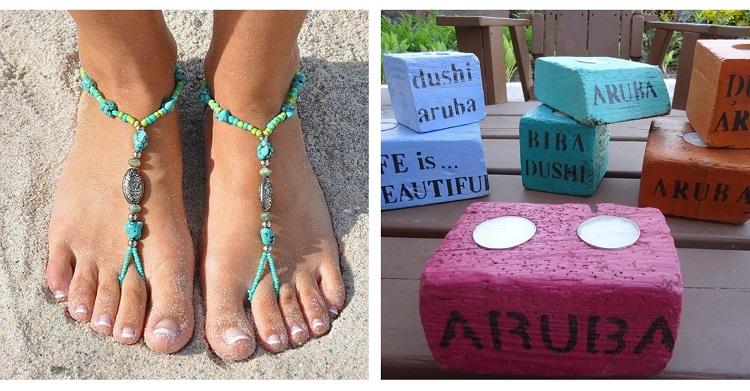 This consortium of shops belonging to locally owned Salamander Company takes great pains to ensure they offer talented locals a space to showcase and sell their wares. And in many cases a percentage of sales at these shops also goes to local charities. These are the stores to look for: The Juggling Fish, T.H. Palm & Company, The Lazy Lizard, and A Taste of Aruba.  Ask when you are there about their locally made gifts and accessories, and many can be customized with the names of the bride an groom as well if if you ask ahead. 
| Aruba Hands by Gaby |


For upscale and bespoke gifts for your special wedding party members, how about some gorgeous one-of-a-kind items ( for both men and women) created by Gaby Gonzalez of Aruba Hands? She is well known around the island for her stellar work with sea glass and blown glass and she really is a true artist. Seek out her "no name" gallery in the Renaissance Marketplace, or find her in major resorts doing demonstrations. 
| Super Sun & Sand Gift Bags |

How about surprising your guests with handy eco-friendly beach bags full of Aruban made products for their tropical stay?  Arubiano makes the reusable brightly colored bags, and they also have a great line of designer flip-flops with cultural icons on them like our shoco owl and green iguanas.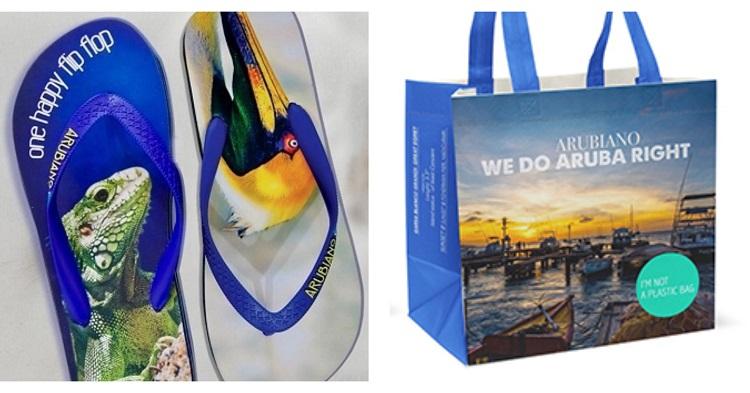 Fill the bags with things like Aruba Aloe's sunscreen and gel, and don't forget to add some hard plastic cups with permanent straws attached emblazoned with Aruba themes to help them decrease the use of disposable plastic straws and cups while on the island. These bags will also come in very handy when they go shopping because since Jan.1st, 2017, Aruba has legally banned plastic bags! So it's a thoughtful feel good and do good gift for your guests all around!
| The Local Market |


Look for the giant red beach chair just in front of the Valero gas station in Oranjestad to find the Local Market, a fun and colorful al fresco complex with many locally made gifts and knick-knacks that will make wonderful favors for your guests. Find woodcarvings, paintings, leather goods, mugs, handicrafts, jewelry, music…  you name it, and you can also have some local food and drinks while you're there!
| Secret Spots |
Some locally made treasures are hiding in plain sight if you know where to look. First up, sleuth out "Nosey Parkers" little shop behind MooMba Beach Bar, it's chock full of gifts make by local artists- even the sign says so!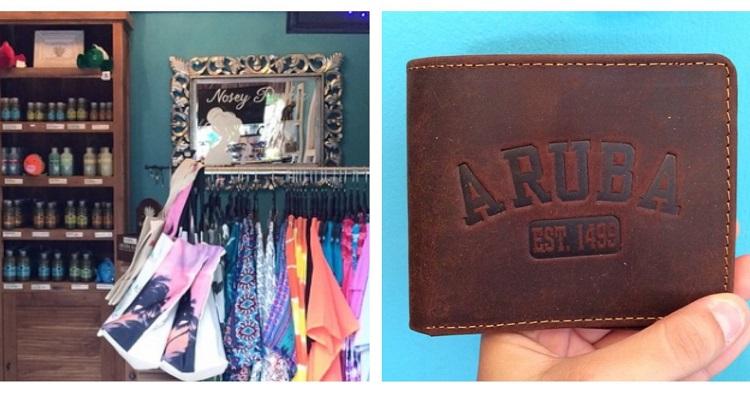 Then find your way to Pelican Pier on Palm Beach and seek out the stand-alone kiosk behind their main building. It's full of all made-in-Aruba crafts and jewelry designed and curated by Oma Boho Style owned by artist Omaira Toro. Both shops have gorgeous and unique creations like hand painted glass balls with Aruban sand inside, delicate seashell wind chimes, and much more…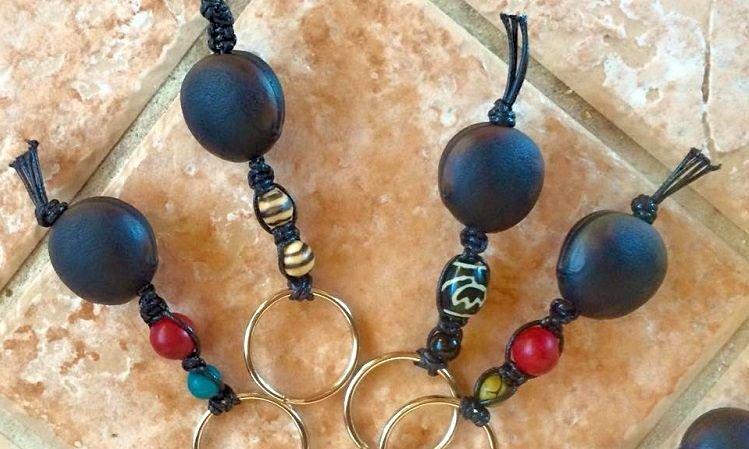 Also with a large collection of local artisan wares is a shop tucked away in La Cabana Resort aptly named Purely Aruban Artwork, over 20 local artists showcase their work there and often do in house demonstrations as well. 
And you'll also find driftwood artists painting in real time along the Palm Beach tourist strip at night where you can ask for custom-made pieces. Or how about some custom-made frames with cute little characters depicting the bride and the groom, or the entire wedding party inside them? Those can be had only at Made In Aruba  and you also get to choose your own characters that look most like you! Also visit the Facebook page of Drawing a Straight Line Art School where Lorraine Levins a teacher there, has some interesting wedding items on offer as well.
| Celebrate with an Aruban Cuban |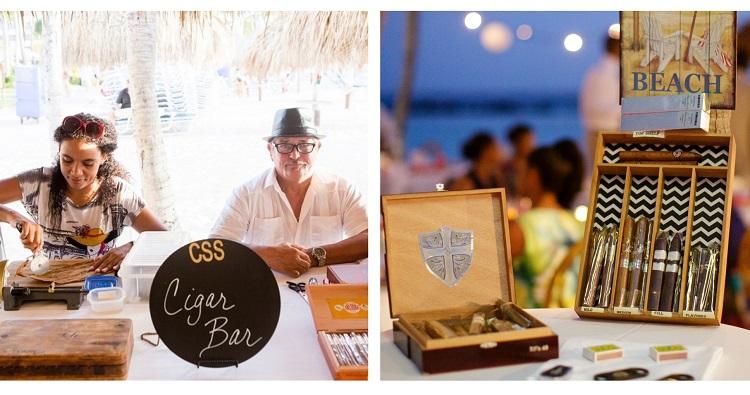 And finally, don't forget to celebrate the occasion with fine Aruban cigars! Locally grown and expertly hand-rolled like quality Cuban cohibas they also make great gifts for the whole gang to take home, too! 
See: www.aruhibacigars.com