How to Have a Happy Healthy Wedding Week in Aruba
If you're the kind of couple who prefers long runs along the beach instead of long walks, and the thought of working out together leaves you as breathless as thoug­­hts of the impending honeymoon, then this island has much to offer as the ideal wedding destination. And if many of your friends and family planning to attend are also like-minded about having a fun with fitness holiday here, there are plenty of options for all ages, too. But let's start with healthy eating options.
(1)

Fuel Up with Healthy Fare 


(Pictured: Energy Boosting Shake at Mauchi's Smoothies. Photo Courtesy of Aruba Tourism Authority)
Of course you'll want to indulge in sinfully calorific delights and decadent dining at your actual wedding, but the week leading up to the big day can be less stressful if you are eating well and feeding your body the right fuel for active living.
Aruba's large grocery stores have many stand-alone sections for restricted diets like vegetarian and even vegan, also gluten free and low calorie items are easy to find, plus they have fabulous fresh produce sections so you'll have no problem stocking up.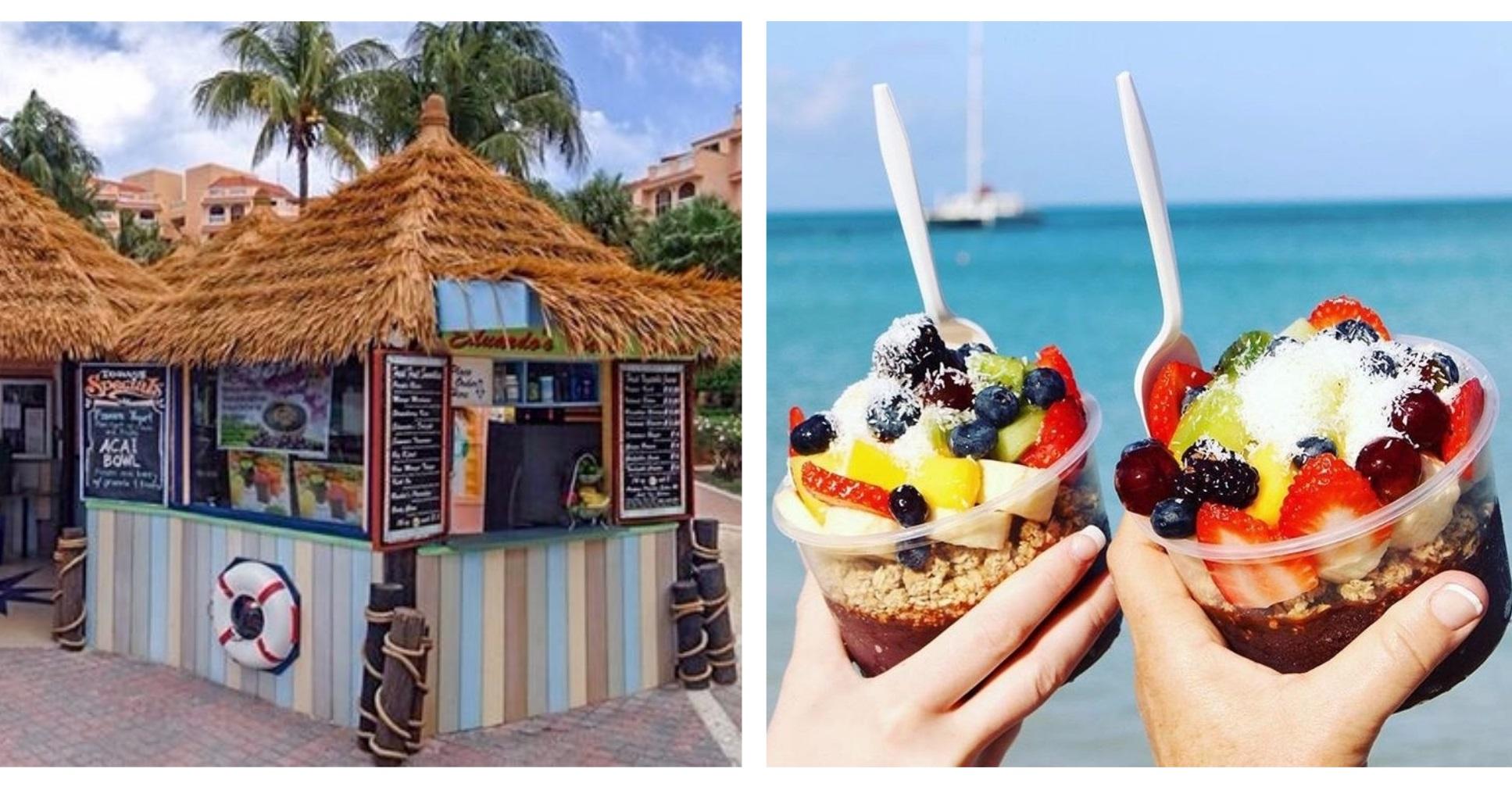 (Pictured: Eduardo's Beach Shack at Playa Linda Beach Resort (left), Acai Bowls (right). Click for Image Source)

And there are wonderful healthy snacks to-go at kiosks like Eduardo's Beach Shack  and Garden Fresh Cafe where you can get delicious good-for-you goodies like açaí bowls and wonderful wraps.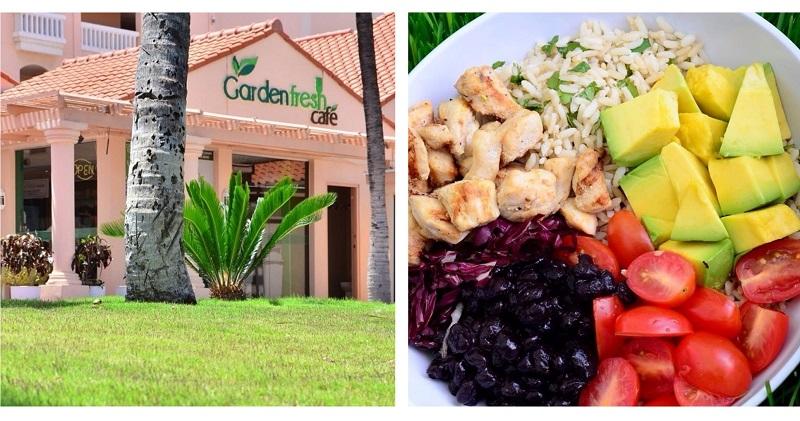 (Pictured: Garden Fresh Cafe located at Playa Linda Beach Resort. Click for Image Source)
Elements at Bucuti & Tara Beach Resort also has very healthful and organic options on their menu, and Manchebo has added all kinds of healthy and nutritious options to their menus as they now offer entire wellness weeks as a special package at their resort.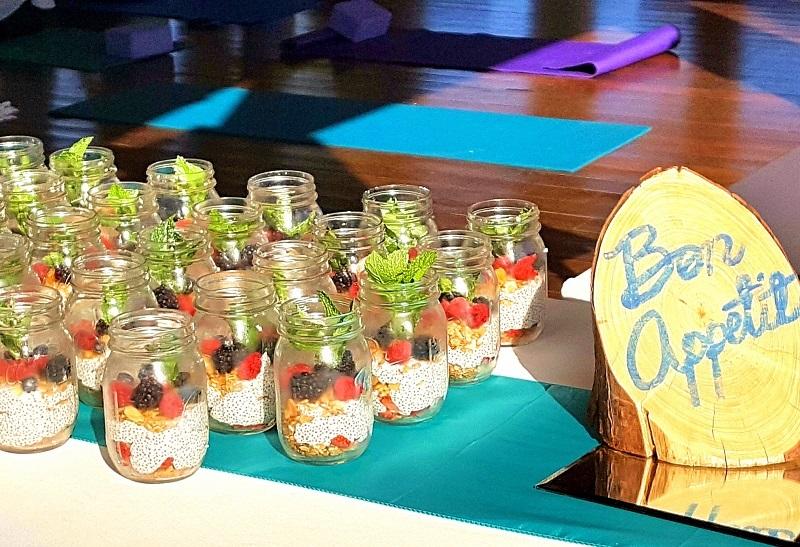 (Pictured: Chia Pudding with Berries at Manchebo Beach Resort. Photo courtesy of Aruba Tourism Authority)

And if you're out and about exploring around Savaneta, do seek the out fresh organic shakes at Mauchies Smoothies as well.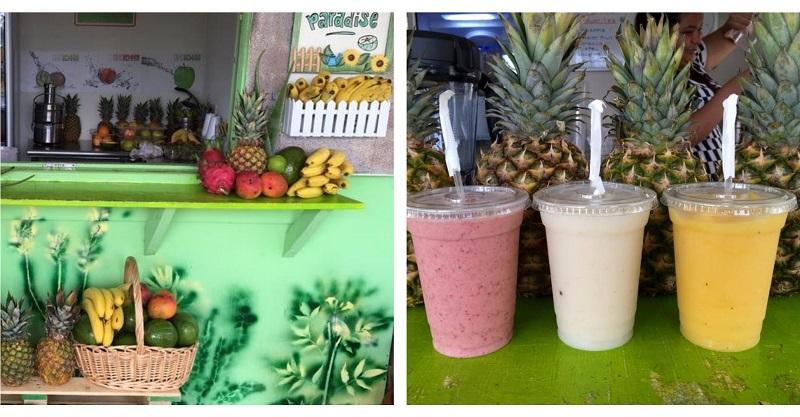 (Pictured: Mauchi's Smoothies, located in Saveneta, Aruba. Click for Image Source)

NUTS NUTS is also a must seek out company on island for unique catering and delivery of all kinds of special healthy products, and they have lots more to offer beyond nuts like sugar-free baked goods. In fact, everything in they offer is 100% health conscious and they will deliver special orders for lunches etc. right to the beach! If you would like to plan some vegan options at your reception, check out VeganAruba for planning help.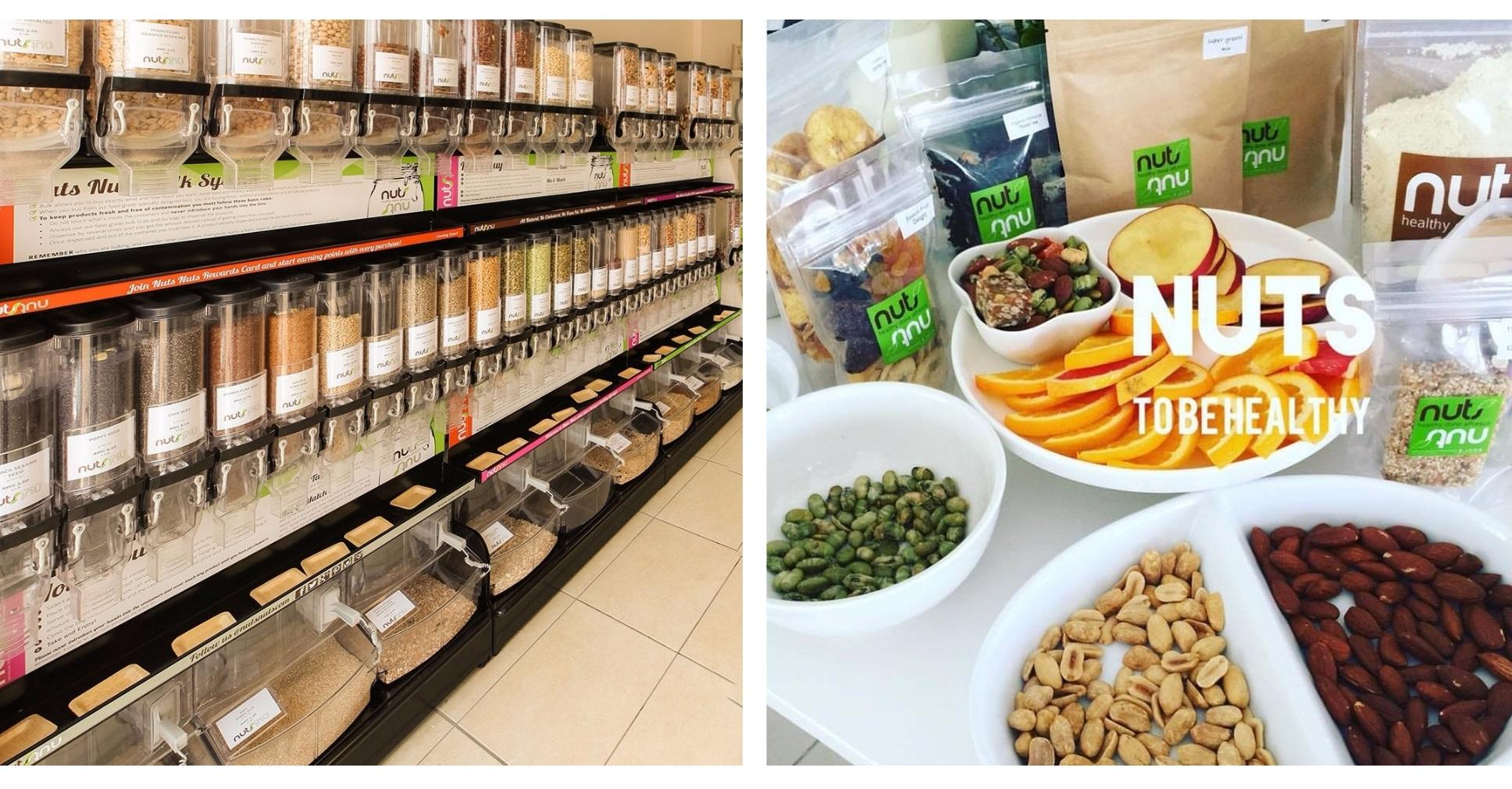 (Pictured: Nuts Nuts health store located at Belgiestraat, Oranjestad, Aruba. Click for Image Source)
(2)

Let's Get Physical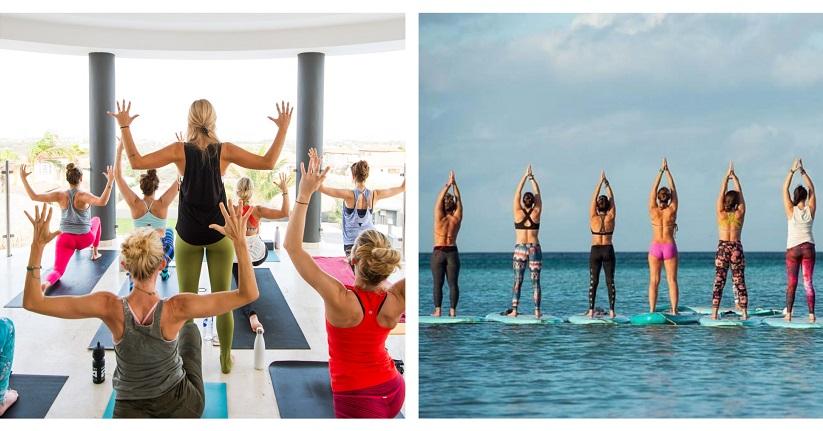 (Pictured: Indoor yoga class by Island Yoga (left), Stand Up Paddleboard (SUP) yoga (right). Click for Image Source)
Most resorts offer full service gyms and active classes like yoga, Pilates, water aerobics and other group fitness activities, but if you're serious about getting your Zen on at an advanced level, Rachel Brathen- internationally known as "The Yoga Girl"- has opened her own spot called Island Yoga where the instructors can really take you and your mate up to the next level. They also teach SUP Yoga (yoga on a stand-up paddle board.) 

Also on the yoga front Happy Buddha Yoga  is another great outfit for all kinds of group classes, private sessions, and even yoga for kids, too! They also give "Mindful Eating" courses.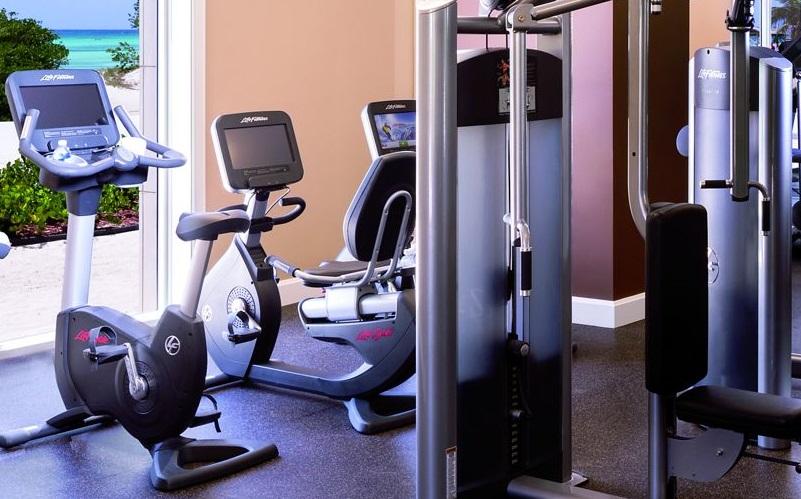 (Pictured: Fitness center at Ritz-Carlton, Aruba. Click for Image Source)

Some hotels like the Ritz-Carlton Aruba have personal trainers as part of their gym offerings, but you can also hire your own personal private trainers for couples or small groups to put you through a pre-wedding boot camp. R&J Gym is an excellent outfit that specialize in that. You can also join a fun run with local clubs like i-Run Aruba as a couple or as a group!

(Pictured: Green Bike Aruba. Click for Image Source)

You can also take advantage of the new Green Bike Aruba rental stations and cycle the cool linear park that runs from Oranjestad all along the coast to the airport. There are strategically placed fitness stations along the route where you can hop off and exercise using public equipment. If your guests are not up to cycling too far in the tropical heat, there are also electric bike rentals available at La Cabana.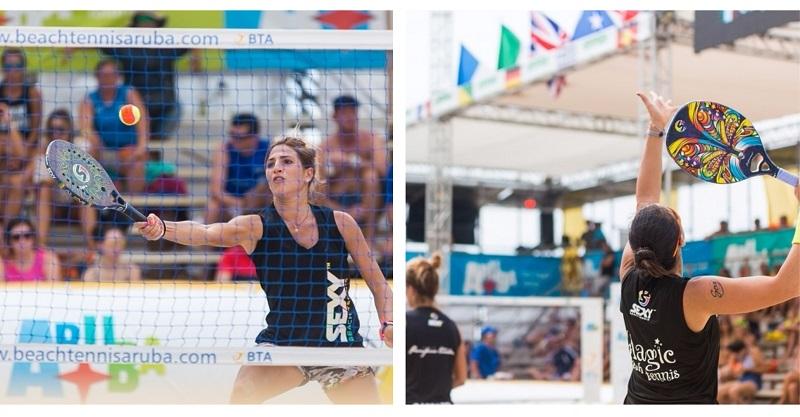 (Pictured: 2017 Aruba International Beach Tennis Tournament. Photo courtesy of Aruba Tourism Authority)

Of course there are all kinds of water sports available at the resorts and many hotels have tennis courts to keep you hopping, but why not try Aruba's most unique sport of beach tennis? The island is the birthplace of this challenging offbeat sport and hosts the largest beach tennis championship in the world every year. Visitors can learn it at Beach Tennis Aruba (behind MooMba Beach Bar) or at the Aruba Beach Tennis Clubhouse at Tropicana Resort.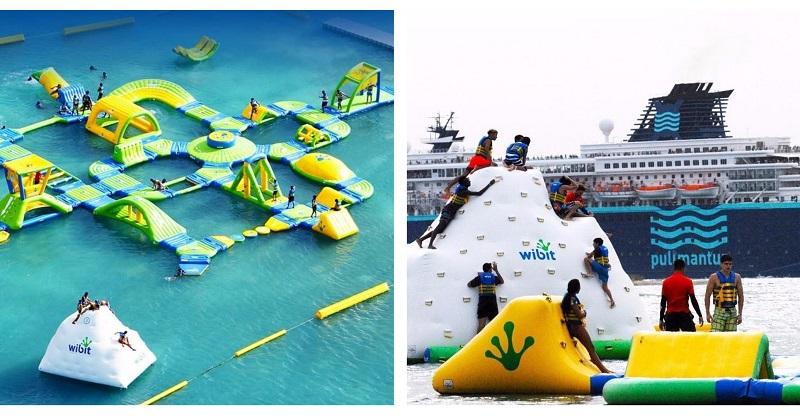 (Pictured: Splash park Aruba located at Surfside Beach, Oranjestad, Aruba. Click for Image Source)

And the new Splash Park Aruba just off Surfside Beach can organize fun group obstacle courses where you can team up against each other. It's like a zany water Olympics on the island's only floating park and great for all ages.
(3)

Active Explorations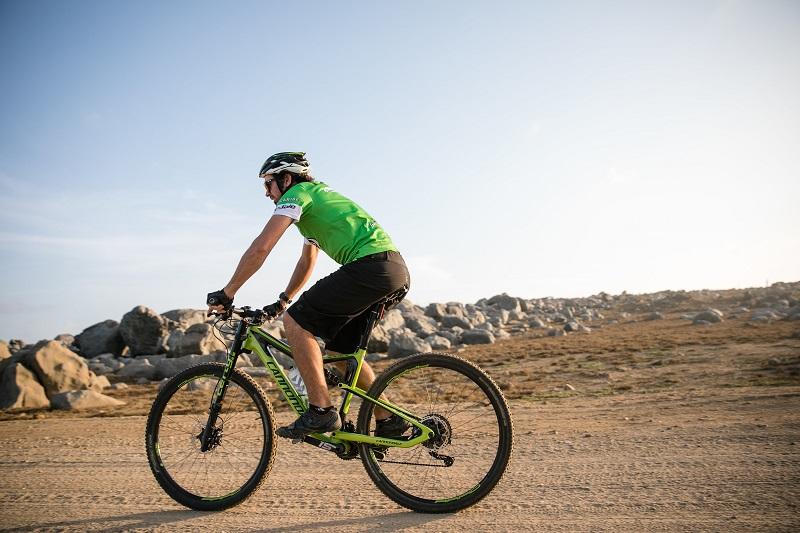 (Pictured: Exploring Aruba by Mountain Bike. Photo courtesy of Aruba Tourism Authority)

A great way to see the island's unique interior beauty and get the adrenaline pumping is via mountain bike, especially throughout the rugged terrain of Arikok Park. Hiking the park is also a great workout, there are guided tours, or you can set off on your own with a map. You can also get your heart pumping by running up the 550 steps up Mt. Hooiberg, Aruba's second highest peak that locals call "the haystack." And you'll be rewarded with a stellar view from the summit there, too!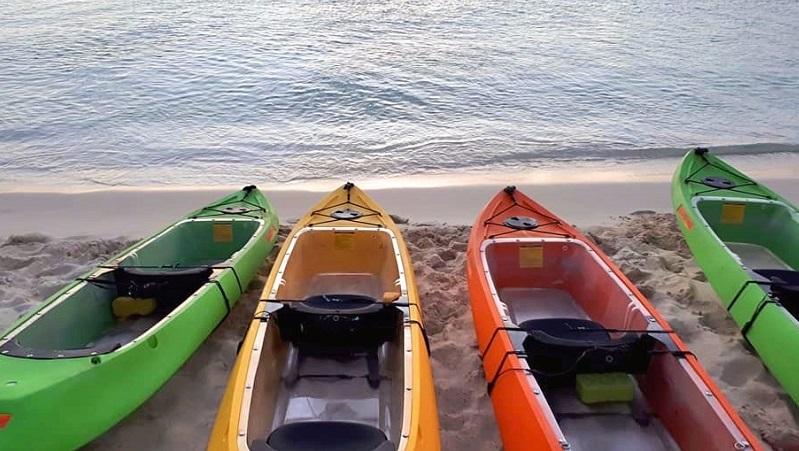 (Pictured: Kayaks with clear bottom panels by Clear Kayak Aruba. Click for Image Source)
Sea kayaking or pedal kayaking are other great ways to actively explore the island, and Clear Kayak Aruba has clear panels so that you can also observe the incredible marine life while you paddle!

(4) 
Relax and Rejuvenate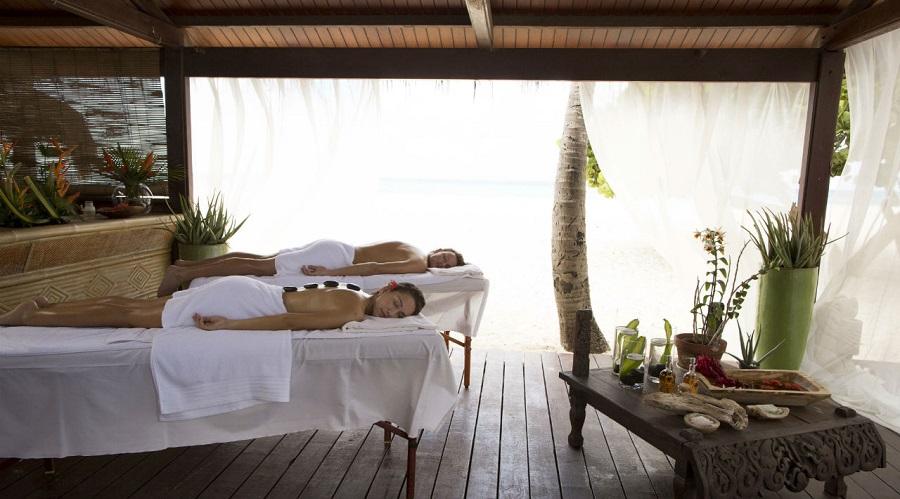 (Pictured: Aruba Couples Massage. Photo Courtesy of Aruba Tourism Authority)

And after all that working out, don't worry if you are a little sore and your body needs some pampering and polishing before the ceremony. Aruba's first rate spas have everything you could possibly require- from beauty treatments to skin care rejuvenation and even sports massages to get you all in top shape for the big day!

So are you ready to have One Happy Healthy Wedding Week? Then welcome to One Happy Island!