Wedding Bouquet Tips + Trends: Say it with Flowers
Whether choosing styles that are modern and trendy, or strictly traditional, a crucial element to any nuptials has always been the flowers, particularly the bridal bouquet. More casual beach weddings have encouraged couples to go bold in their color choices and combinations, and island florists have expressed they enjoy the challenge of creating something extraordinary and unique.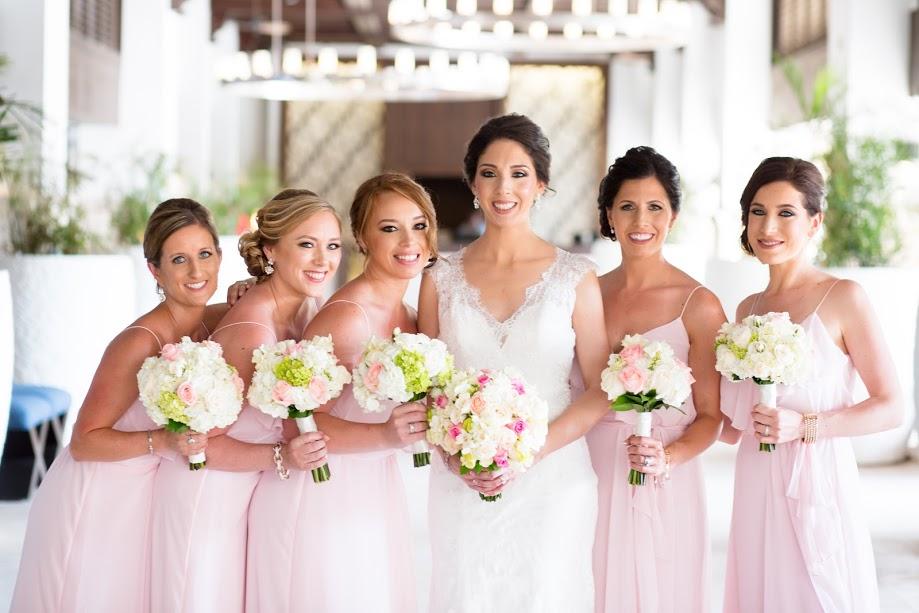 Two island florists that are vastly experienced in creating floral arrangements for weddings and special events are Koolman Florists and Jardin Caribe, Aruba's official FTD franchise, both in business for 60 years. Founded by her parents, Greta Koolman took over the family operation 40 years ago, and Vicky Booi has helmed Jardin Caribe since 1985, which was also established by her parents.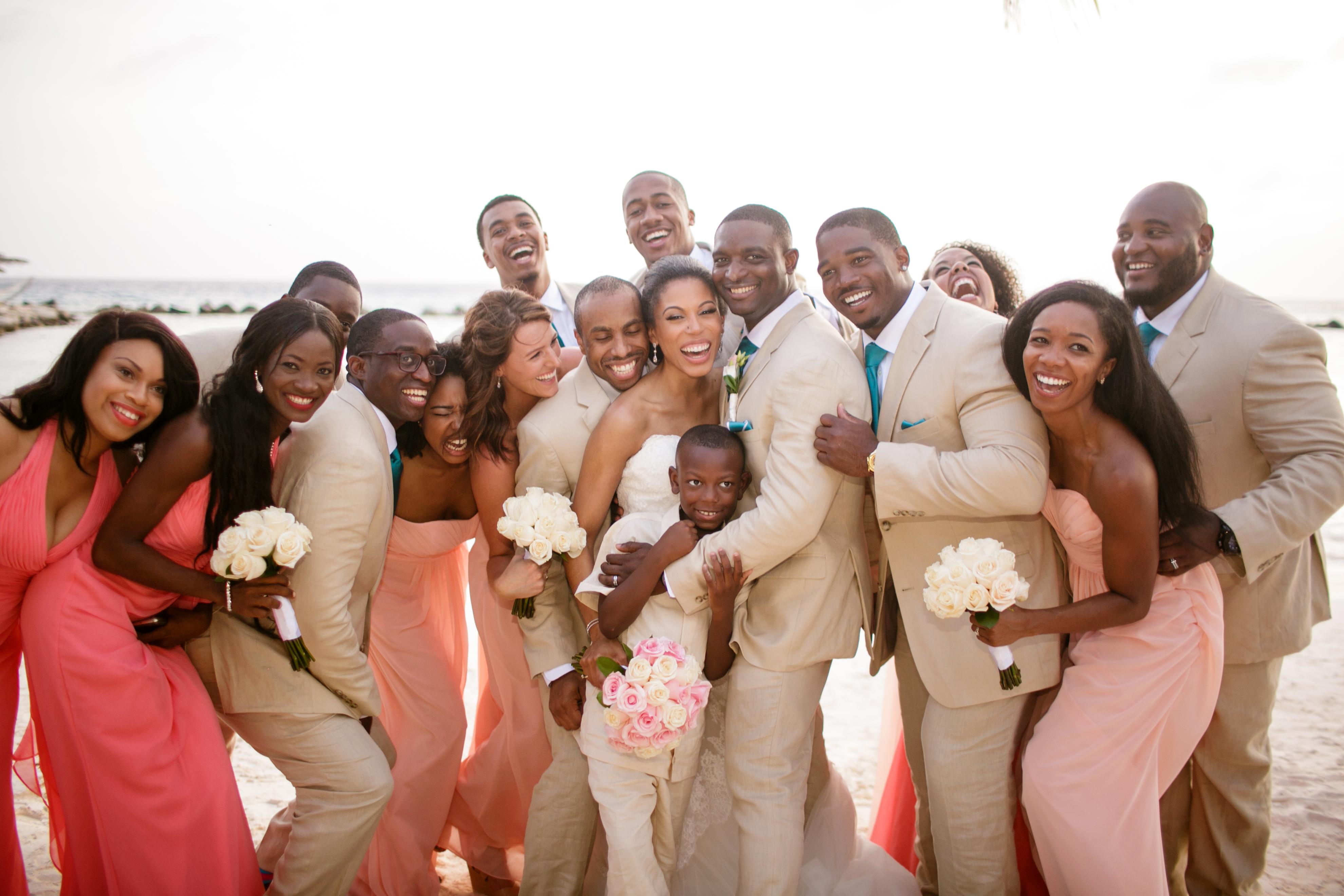 Both floral shops are contracted for wedding arrangements on a nearly daily basis, for both destination weddings on Aruba and island residents. They have provided anything from the simplest bouquets and boutonnières to the most lavish of events, in ballrooms, pool decks and of course, on the beach.

For the last five years, Greta Koolman has partnered with Flower Designer Rosetty Elenora, who handles much of the larger and more elaborate arrangements and alters. They had lots to share about how important the flowers are as the memorable finishing touch to a bride's ensemble.
Tried and True:

 Roses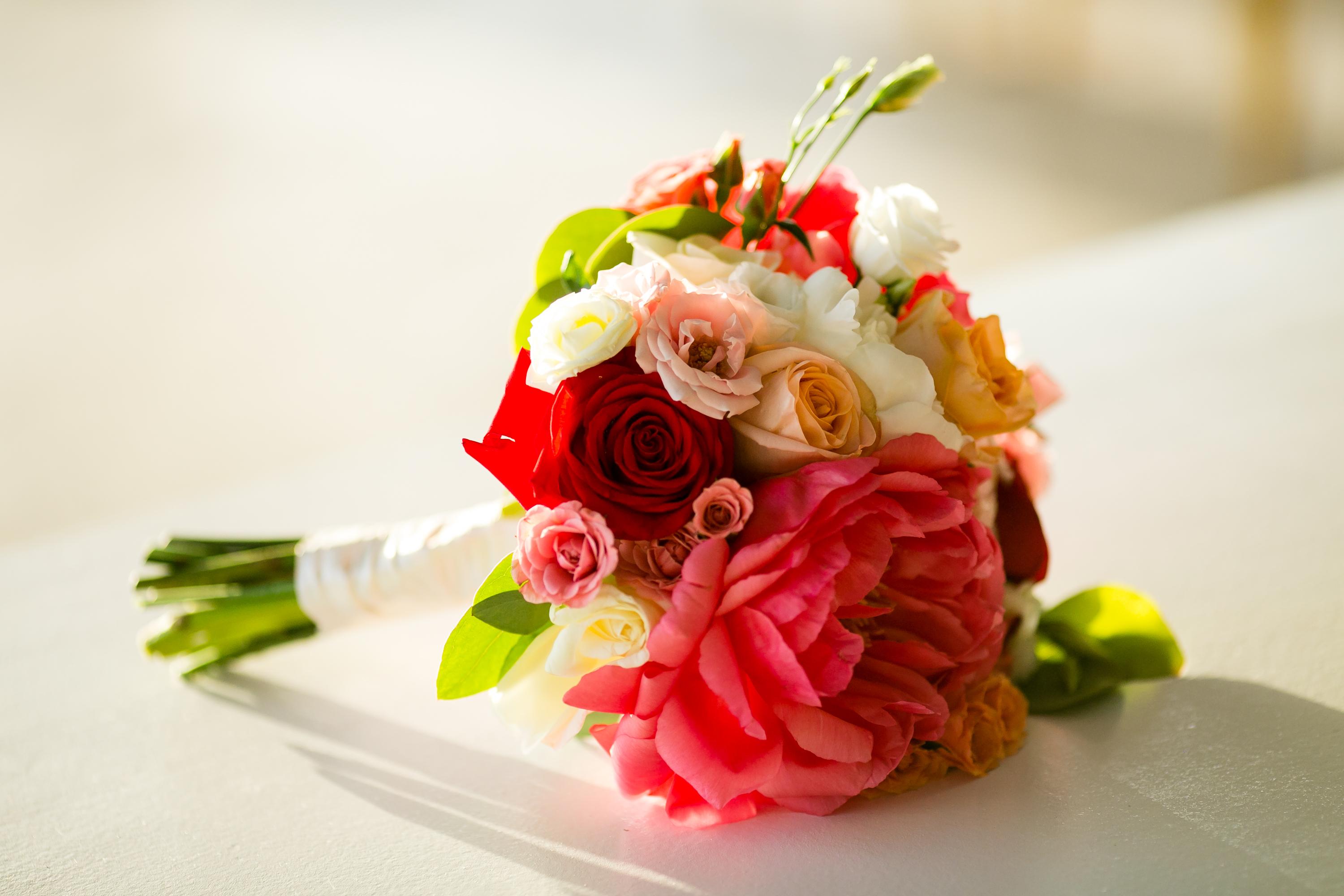 "White flowers, most often roses, have always been a steady standby in arrangements and bouquets," they informed Beach Brides. "Now, however, there is a much greater demand for color, especially for the more casual ambiance of a beach ceremony. We can order roses in more than 88 colors which occur naturally, to produce almost any combination they desire."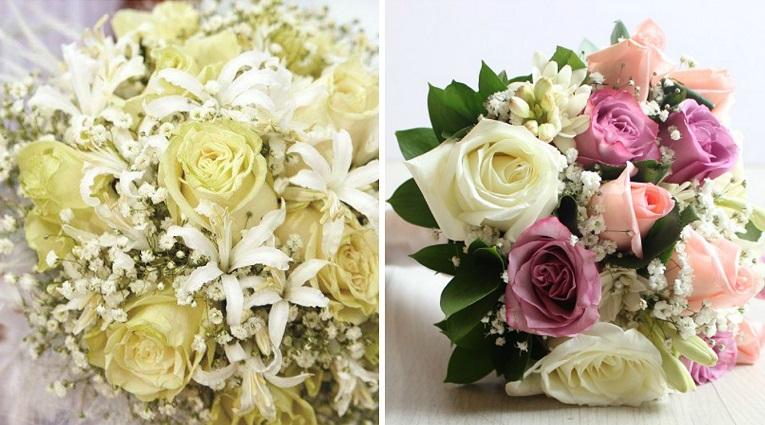 Growing Challenge:

Unrealistic Expectations
"These days also, couples have very definitive ideas of what they want," is a fact that all three floral designers agree upon. "They search the Internet and see motifs that appeal to them," Vicky tells us, "they rarely leave it up to us now." 

"It is true that this is timesaving, but sometimes clients' requests are unrealistic. They often do not realize that what they are looking at online may be artificial flowers, or they even use photo editing to bring us a design they like but in colors they would prefer. However, those colors do not occur in nature and though some might paint the flowers, we find the end result is not really attractive," cite Greta and Rosetty.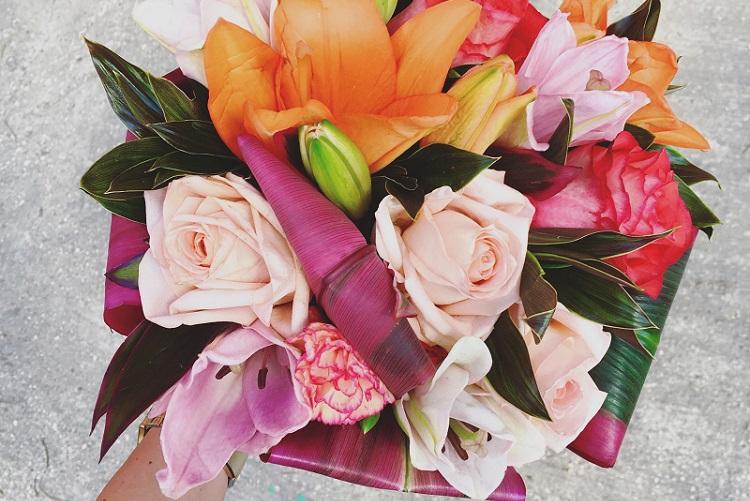 "I can tint with flowers by letting them absorb a dye through the stem," reports Vicky," and do this quite often. The results are fine, and the leaves are unaffected. It is a very, very time consuming process though, and I do require a more lengthy advance notice to accomplish this, as it can only be done one flower at a time."
 Bridal Bouquet Trend:

Cascading Bouquets
One very lovely past trend in bouquets that is now making a comeback is a cascade of flowers, usually white, which can be lilies, roses, or orchids.

"For the church, the more traditional  white calla lilies, roses, hydrangeas or gladiolas are really lovely, very elegant and always a classic."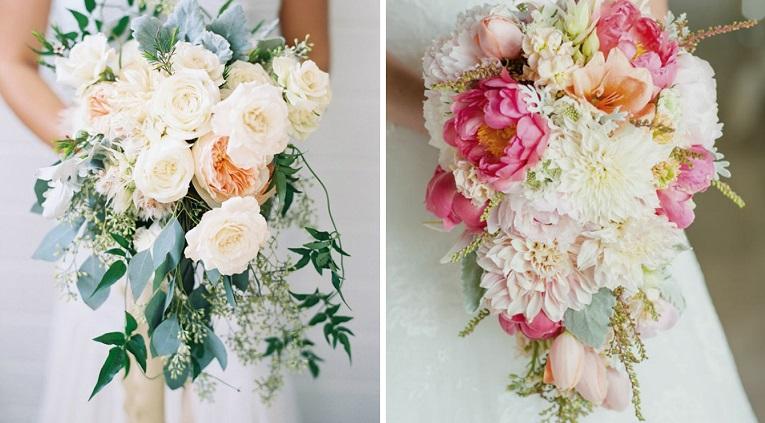 (Left bouquet: photo by: Set Free Photography, Right bouquet: photo by: Erin Hearts Court. Both first seen on The Knot)
A myriad selection of flowers are available to island florists. Most are ordered from Colombia or Holland flower farms, and almost anything can be obtained to fulfill the desires of the bride and groom. A minimum of two weeks advance notice is recommended when arranging a floral contract; a month is even better.
Since we are on a tropical island, exotic flowers such as bird of paradise, or a mini-heliconia are often requested; they are related and somewhat similar, but not quite the same.

Bird of Paradise has a touch of purple while the helconias are mostly orange, with yellow and red accents. "These flowers, combined with some very picturesque leaves produce gorgeous bouquets for beach weddings.


Top 3 Tips on: 

How to Choose your
Aruba Beach Wedding Bouquet
The florists have some final precautions when planning out your floral requirements for beach nuptials. Koolman Florists and Jardin Caribe share their tips in helping you choose your Aruba wedding bouquet.
1. Avoid the Wash Out!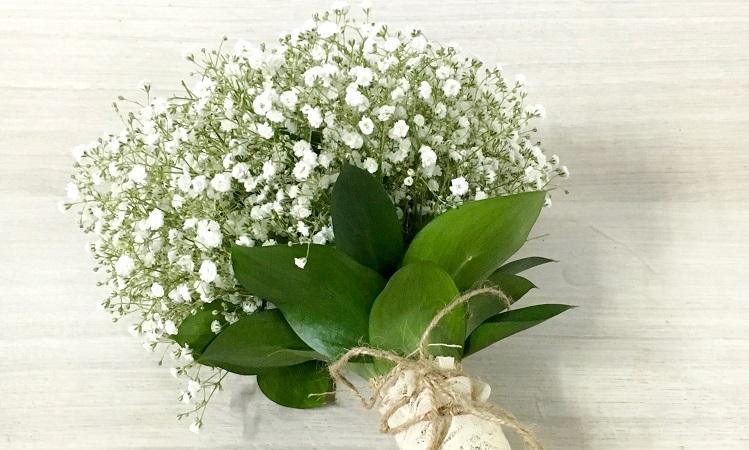 "One must always keep in mind Aruba's strong trade winds, and the neutral background of the sand," Vicky warns. "Having a flower girl toss white or light colored petals may prove quite frustrating. Not only will the petals blow away if the wind is strong that day, but they will be hardly noticed against the sand. This is a time when a very vibrant hue would be the best choice. The wind can also be problematic in leaving loose flowers or petals on a table top."
2. Avoid the Color Clash!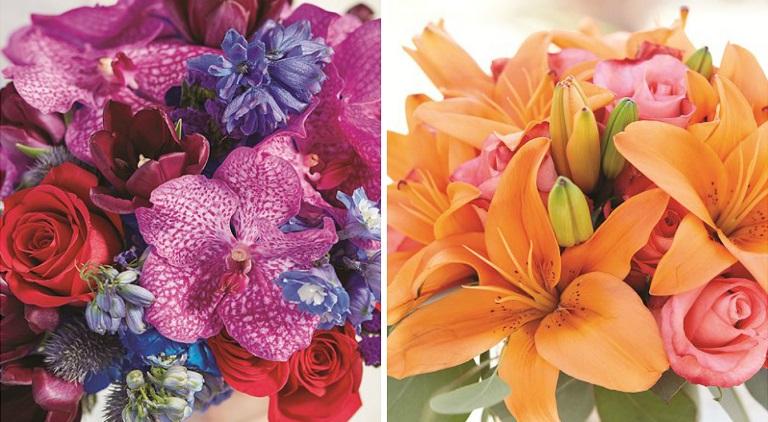 Vicky also cautions against the overuse of bright colors and too many, particularly for wedding parties wearing gaily patterned outfits, which are now very popular in a tropical beach wedding.

"I am seeing many brides and groom wearing boldly flowered outfits, and wanting the bouquets to be equally bold and bright. In my opinion, however, it is a bit too much, too busy. Such arrangements look fine with solid shirts or dresses, even if they are vibrant colors. When I see the wedding pictures afterwards, I think that toning down the flowers with wildly colored wardrobes would have been much smarter."
3. Be Creative!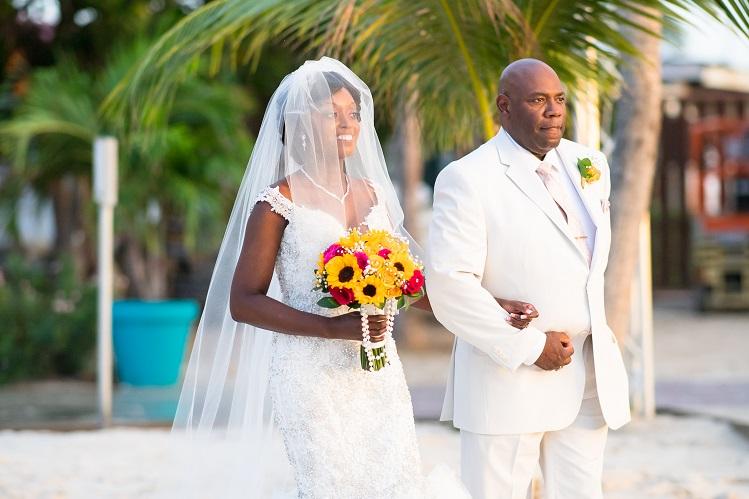 When it comes to bouquets, both Greta and Vicky have enjoyed the opportunity to be innovative and imaginative in their work. An island ambiance inspired Greta to produce a fantastic bouquet from shells, and she has also made one that was interwoven with authentic Swarovski crystals. The latter carried a price tag in the thousands.
"When ordering a bouquet, depending on the flowers selected, most brides should calculate around $100 at the very least," she advises, "but they can have a stunning arrangement for that price."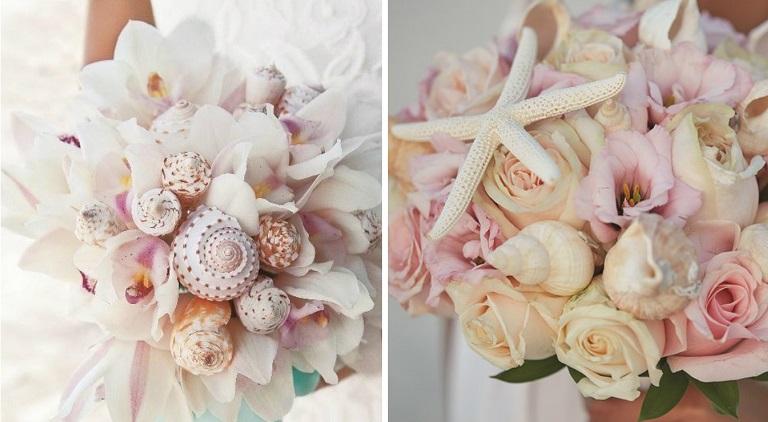 Whatever your budget, Aruba has several talented and experienced specialists ready to assist in producing stunning flower set ups that will guarantee a memorable wedding album and the perfect compliment to a gorgeous gown.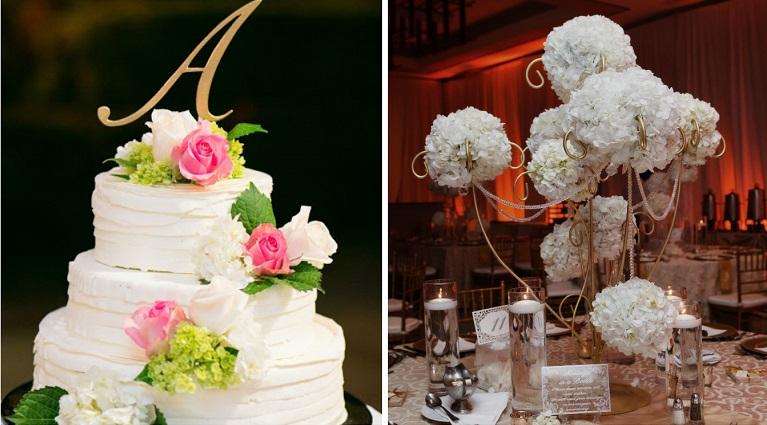 Feel free to share with us YOUR favorite Wedding Bouquet Tips and Trends
in our comments section below! :)