Aruba Independent Wedding Planners: Indira Maduro and Robert Arenz
Which one do I Choose?
Resort Wedding Planner VS Independent Wedding Planner
In-house Resort Wedding Planner
While electing to stage a wedding at one of the major established resorts offers many conveniences, contemporary couples are often seeking a singular and memorable destination wedding experience beyond a hotel ballroom. Most hotels do offer a beach ceremony, and have veteran event planners on staff. Often, however, restrictions of a budget that includes future plans of purchasing a home and raising a family, often compels couples to look at more economical options, as well as a desire for a wider range of choices in their venues for ceremony and reception.

Independent Wedding Planner
This is where there is a particular advantage to consulting an independent wedding planner, of which Aruba has quite a few. They maintain a network that connects them to several economical services that will also appeal to a prospective bride and groom who want a bit more "bang for their buck," as well as a myriad number of options outside the more conventional wedding plan, though those who love the traditional can be accommodated as well.

What to Expect?
Working with an Independent Wedding Planner 


Two very experienced independent wedding planners, Indira Maduro and Robert Arenz, in the business 16 and 13 years, respectively, chatted with Beach Brides blog about what prospective brides and grooms can expect by consulting a wedding planner who works independently of a resort.
Firstly, and most importantly, the ceremony will not be confined to a particular resort. Centering everything around a single hospitality venue can be very convenient for large wedding parties where accommodations are also required, and most resorts will offer attractive packages for such groups.
More intimate groups may find that securing rooms at a less expensive guesthouse on the island, while the ceremony is conducted on one of the many more sparsely populated beaches around Aruba, particularly fits their taste and budget. Several independent restaurants are quite practiced in hosting wedding receptions and offer a wide variety of unique and traditional menus.


Indira Maduro founded Aruba Fairy Tale Weddings over 16 years ago, and has arranged a notable scope of weddings, from only the bride and groom to huge Indian, Italian, Jewish, Vietnamese and Latin affairs. She has become well educated and adept at ethnic marriage traditions in her varied career, and reports she "delights in the learning experience of handling the unusual ritual request."

ROBERT ARENZ 

Robert Arenz of Dream Weddings Aruba is from Holland and made Aruba his home over 13 years ago. Initially, he was planning to manage a guesthouse, and was consulting with Dutch travel agents regarding this. He discovered they needed an Aruban connection for the many destination wedding requests they were receiving, and decided to give a go. "I have absolutely no regrets about taking this step, it has proved to be a very emotionally and creatively rewarding profession."
Highly Requested:

Sunset

 

Ceremonies


"Beach weddings, particularly at sunset are most requested," observes both Indira and Robert, "but Aruba has several other interesting and outstanding locations for weddings, which will also insure beautiful pictures and a memorable album." Robert is also an experienced photographer, and frequently fulfills this role for most of the weddings he arranges.
Unique and Traditional: 


Civil Town House Ceremonies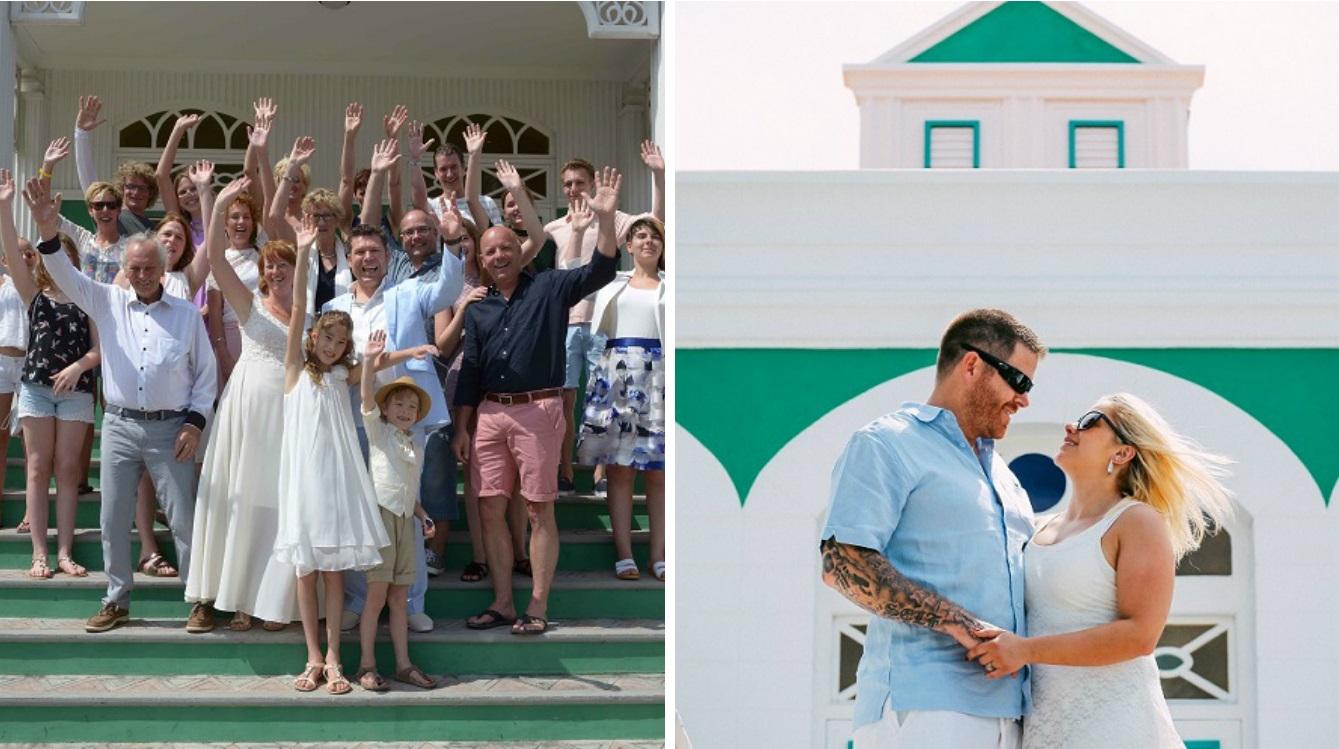 "If electing to be legally married in Aruba," asserts Indira, "this is where a knowledgeable wedding planner is crucial." Robert agrees completely. "Our Stadhuis, (Town Hall) is a stunning place to marry; it is picturesque and has wonderful ambiance." However, all the documents that must be filed with officials are in Dutch, and a number of accompanying documents (proof of divorce in case of a previous marriage, citizenship, etc) are required.

There are deadlines to be met, and having someone on the island who will make certain that all the paperwork is properly completed and filed in a timely fashion, has proven invaluable time and again.

Expertise in LGBT Weddings


Independent wedding planners do work with several of the resorts, but the diversity of their services and the personal touch they bring can be very rewarding, particularly in regards to a renewal of vows, or some out of the ordinary circumstance.

Indira is the only Certified LGBTQ Wedding Planner on Aruba and has dedicated quite some time to accommodating this niche group. Robert's clientele tends to be European for the most part, particularly Dutch couples, and he is well practiced at establishing an excellent rapport.

Number 1 Tip for 


Wedding Planning Success


INDIRA MADURO:
"I have seen and experienced all the various demands in the business, including the ever-changing styles, looks and trends," observes Indira. "What has remained the same, and is still important to me, is being constantly conscious that every bride and groom wants to feel special, comfortable and happy while getting all the attention they need for their big day."

ROBERT ARENZ: 
"I always try to keep one particular fact in mind," reports Robert. "Even though I have done thousands of weddings at this point, large, medium and small, and I am accustomed to all that can go wrong or right, I know I must never lose sight of that for my clients, this is very likely the most important day of their lives, up to this point. I do my utmost best to calm their fears and enforce their joy. I consider myself very blessed to be able to be an important part of this milestone moment in so many people's lives."