Top 10 Reasons to have an Aruba Destination Wedding
Aruba is the perfect paradise for your dream destination beach wedding. Our happy island sits in the crystal-blue waters of the South Caribbean, below the hurricane belt, and is home to year-round 82-degree weather, so you're almost guaranteed a perfect day. Aruba is also home to world-class wedding professionals who can help you with all the details of your Aruba wedding. Below we have selected the Top 10 Reasons for having an Aruba destination wedding! 

1. Perfect Weather All Year Round


Yes, that's right- All.Year. Round. Sunshine, warm temperatures, cooling trade winds, romantic sunsets, and best of all, Aruba is nestled in the southern Caribbean outside the fringes of the hurricane belt. This definitely takes the worry out of planning your special day! Read more about Aruba weather .
2. Explore on your Own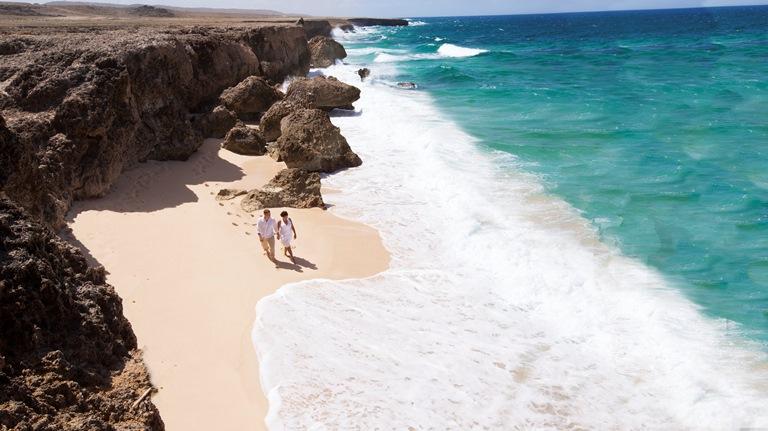 Enjoying one of the lowest crime rates in the Caribbean, Aruba is not only the friendliest island, but also one of the safest! You can venture of the hotel property to explore this beautiful island's natural wonders, hidden gems and secluded beaches. Aruba is indeed a One Happy Island for its inhabitants and a safe and peaceful destination for your destination wedding! 
3. Award Winning Beaches


TripAdvisor.com recently named Eagle Beach one of the top ten beaches in the world.  While most brides and grooms still opt for a barefoot-on-the-beach ceremony on one of the island's beautiful beaches, others prefer Aruba's unique and natural historic sites for destination wedding ceremonies, such as the gold mines, romantic caves, natural bridges and secret coves.  Visit our beaches page for more information or watch a short compilation of Aruba's beaches. 
4. Luxurious Resort Settings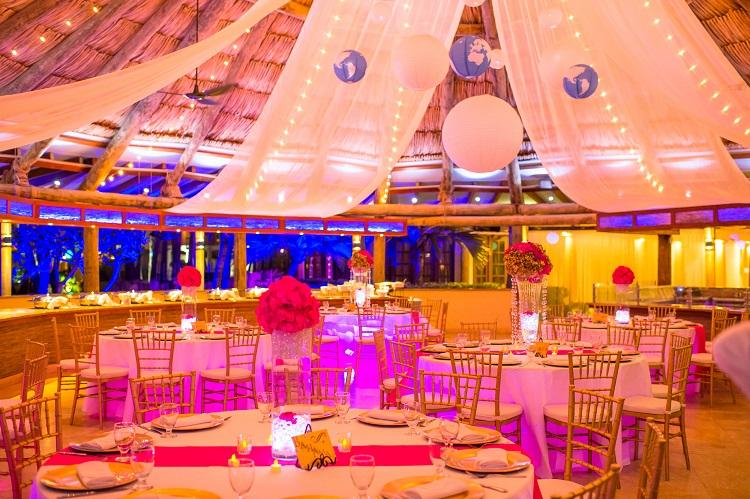 Aruba's resorts offer a wide range of ceremony options - from elegant ballroom to sandy beach. Brides can individualize their special day choosing from a wide menu of facilities and amenities at high-rise resorts, casual low-rise resorts and the more exclusive boutique hotels. Learn more about Aruba's resorts and 

where to stay

! 
5. One Happy Honeymoon 

 ​ 


(Photo courtesy: Bucuti & Tara Beach Resort)

Whether you are beach-lovers, adrenaline junkies or relaxation-seekers Aruba offers the perfect honeymoon for any kind of newlywed couple. With over 200 restaurants with 25+ located ideally on the water, world-famous festivals and events, exciting land and water activities, art galleries and museums, sumptuous spas, championship golf and exclusive shopping, you are guarenteed the perfect Caribbean honeymoon!  Furthermore, the Aruba Tourism Authority has partnered with resorts, hotels, restaurants, and outfitters all over the island to offer specials for honeymooners, including preferred check in service, a bottle of champagne upon arrival, special gifts during your stay, discounts and special offers on activities and attractions, and a free night when you return for your first anniversary (with a 5-night stay).  Read all about the One Happy Honeymoon!
6. Convenient Airlift 


Traveling to Aruba is easy! It's just a four-hour flight from New York City and with direct air service and hubs at major airports throughout the US, you, your bridal party and guests can easily travel to and from the island. The Queen Beatrix Airport has won international awards for its facilities and services and provides pre-clearance of US Immigration and Customs on flights to the US.  
7. Island Hospitality


Aruba's people, a mix of approximately 96 nationalities with indigenous roots stemming from the Arawak tribe of the Caiquetios, are friendly and helpful. Hotel staffs are professional and well-informed. You will be received with warmth, appreciation and pampered all during your stay in Aruba. 
8. Civil Marriages 



Civil marriages are possible in Aruba and can be performed at the Civil Town House, a historical landmark. Ceremonies are available Monday thru Friday from 10 AM until 3PM. Saturdays are also available in the late morning. 

9. Religious Ceremonies 


With advance planning and submission of documentation, religious ceremonies can also be conducted on-island. Catholic priests and rabbis are available within Aruban churches or synagogues. 
10. Aruba's Wedding Planners


The best thing about getting married in Aruba? You don't have to do it all by yourself! Independent and resort wedding planners provide valuable advice about documentation and legal matters as well as coordination on the ceremony day. Every minute detail about the ceremony and reception can be arranged, from flowers to rehearsal dinner, from sunset beach weddings to a civil wedding ceremony, everything is taken care of so you can enjoy your special day to the fullest! 

Do you agree with our list? 
Leave us a comment below on YOUR favorite reason why Aruba is the BEST Wedding Destination!