Top 5 Tips for an Eco-Friendly Beach Wedding in Aruba
We're delighted that you've chosen one of Aruba's pristine beaches for your big day, and even more delighted that you're concerned about keeping them that way. This little island has a very fragile ecology, and hosting over a million visitors per year can have a strain on the natural elements if we're not mindful of that footprint.
Aruba has already taken great strides in this arena; our green initiatives span the gamut from water conservation projects in major resorts, and annual and weekly reef clean-ups where guests can participate, to harnessing wind and solar power in a big way with an aim to be fossil fuel free in the near future. At the moment over 20% of the island's electricity comes from wind turbines! But there's much more to be done, and you can help by planning your wedding here with some simple yet important considerations that will go a long way to keeping One Happy Island eco-healthy.

| 5 Aruba Tips for an Eco-friendly Wedding |
#1. 

Choose a Like-Minded Wedding Planner and Resort


The green lifestyle takes some creativity and work, and being eco-friendly is not always easy when planning a major event. So do your homework and choose a wedding planner who is in sync with your desires, and understands that even the smallest things can make a big difference, not only to Aruba, but also to the world at large.

Small things like offering guests bird seed bombs or natural confetti  (see this nifty DIY for that: https://mothernatured.com/gift-ideas/biodegradable-confetti-diy/) instead of something non-biodegradable. Also choose a hotel that has a good track record for being eco-aware and is making strides toward sustainability, and encourage your guests to participate in their water and energy conservation programs like reusing towels, and foregoing daily housekeeping. Every little bit helps.
#2. Avoid Plastic- the plague of the seas


Aruba officially banned plastic bags Jan, 1st, 2017, a great first step toward eradicating how much plastic ends up in the seas, but there's a still a big problem with disposable plastic cups and plastic straws. Some resorts and activity operators have already stopped offering them at beach bars or onboard their boats, like JollyPirates and their #CarryYourCup campaign. Some restaurants on island are already using biodegradable straws , so it would not be hard to find them here.
Or why not gifts your guests with their own decorative refillable hard plastic cups with permanent straws attached that they can also take home as souvenirs? The same goes with water canteens- also great for all to have, and Aruba's tap water is delicious, safe to drink, so there's really no need to buy bottled water. And though having little bottle of bubbles on the tables for your guests might seem harmless enough, remember that those plastic bottles will still end up in an Aruba landfill. Plastic cutlery is another problem, ask your caterers not to use them, and please no balloons as décor on the beaches- they end up in the ocean and sea turtles mistake them for jellyfish and eat them!
#3. Source Locally for Food and Drink


For your reception dinner, create a menu that relies on sea-to-plate or farm-to-fork local specialties and uses organic ingredients whenever possible. Catch of the day is a natural, but why not really help the marine environment and serve some lionfish?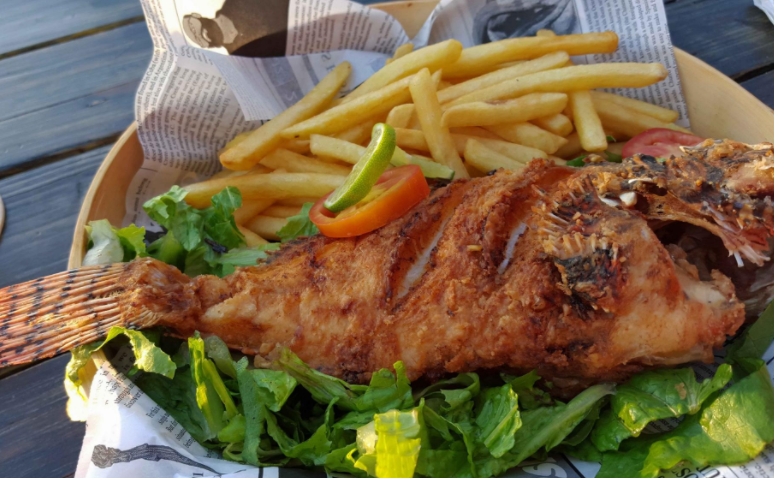 This invasive species is a serious threat to Aruba's reefs, "eat 'em to beat 'em" is the motto here, and they are delicious if prepared properly. How about lionfish ceviche or sushi for an appetizer? And though Aruba is not a fertile island by any means, there are small farms that can supply locally grown lettuce, tomatoes, cucumbers, okra, bell peppers, squash, beans, melons, and fruit. Ask your resort chef or caterer to source them when possible.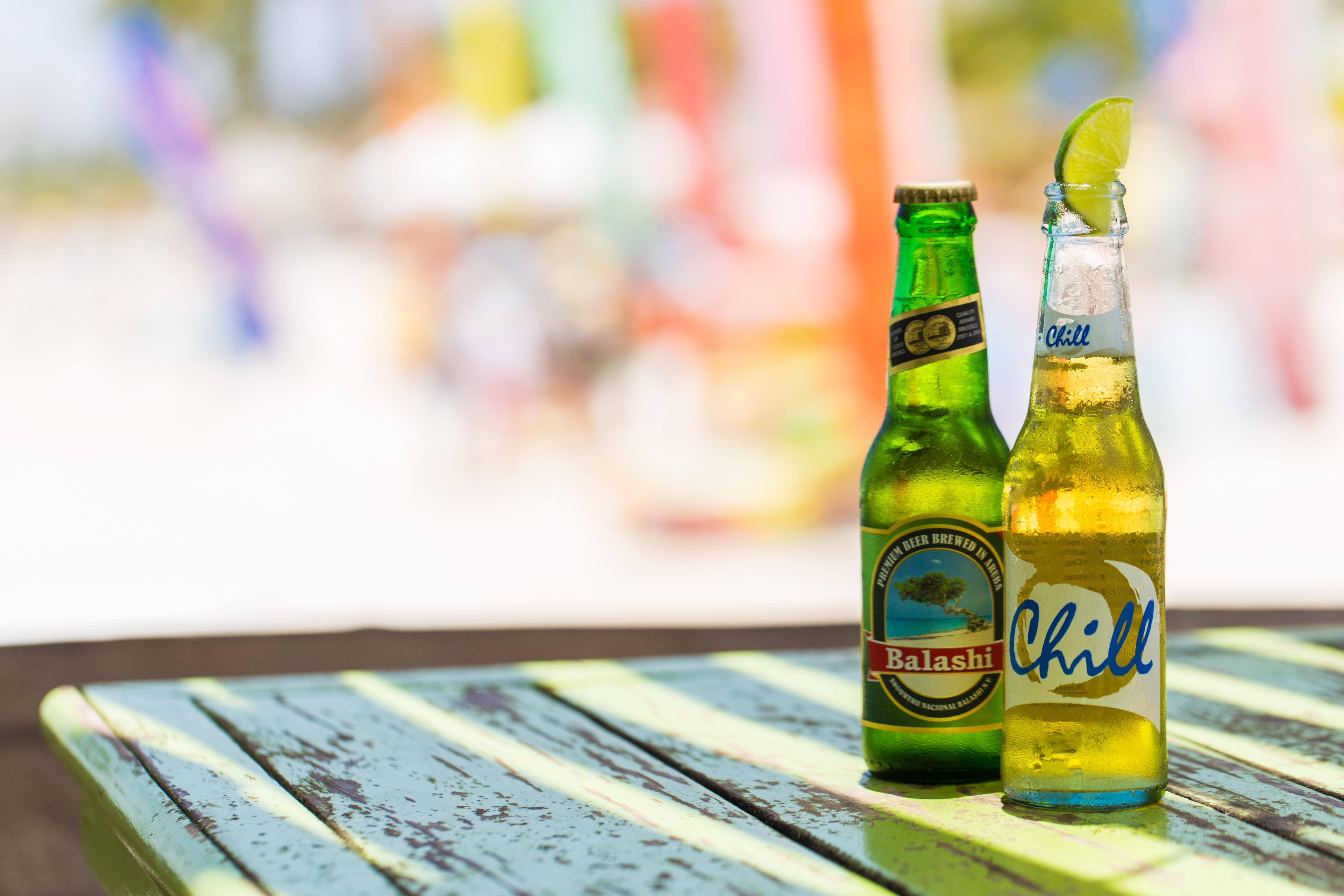 The local beer that's brewed right on island is another ideal beverage to offer; Balashi makes four different types from regular to premium. And it's the only beer in the world made from desalinated seawater! And local distillery Palmera makes wonderful versions of authentic island spirits and liquors to make incredible unique cocktails.
#4. Green Décor and Guest Gifts


Why not make your wedding arch on the beach from natural materials like driftwood and use local flowers for petals like hibiscus and bougainvillea to line the sandy aisle? You can also use locally grown blooms for the bridal bouquet. And at the reception, potted plants make great green centerpieces; Aruba's aloe vera plants can also be used afterward for practical purposes- there's no better natural antibiotic or sunburn remedy than its sap!

You could also have tiny pots of locally grown herbs like "yerbe hole (Aruba's pungent basil) that guests can add to their food on the spot. An ideal spot to source all of this is the 6-acre plant farm and shop at Fantastic Gardens. And do you really need big white material tablecloths? Everything that needs laundering contributes to the energy and water consumption. Go tropical island style with decorative bamboo placemats. Having your reception outside is another energy saver. And for mood lighting colored LED lights and solar lights in the trees will add to the tiki-torch lit magic.
For guest gifts, edible take-aways made locally also make keepsakes that will surely not go to waste. If you can, go by the Santa Rosa's Farmer's Market –held the first Sunday of every month for great ideas of local food and edible gift ideas.
#5. Promote Green Guest Activities
Make sure your wedding guests know about all the eco-friendly activities this island has to offer for their downtime enjoyment. Why not arrange group outings of non-motorized sports like sea kayaking, windsurfing, and sailing? Or hop on the free old fashioned trolleys that tour all around downtown Oranjestad, did you know they run on eco-friendly rechargeable batteries? Or grab your group and take advantage of the new bike share program with Green Bike Aruba and take a tour along the new linear park along the sea.
And though they no longer do beach weddings, Bucuti and Tara Beach Resort is arguably the greenest hotel in the Caribbean, and they are masters of providing eco- friendly honeymoons! For lots more on how your stay here can impact the environment and how you can help, read Bucuti owner Ewald Bieman's excellent blog here: https://www.bucuti.com/blog/your-stay-can-impact-environment--202.
We would love to hear from you! Comment below and share with us which green idea(s) you liked best from today's blogpost :)
Article Cover Image by Demian Gibbs