Aruba's Animal Ops for Great Wedding Shots
Animal lovers will rejoice at all the cool critters even exotic species, that this island has on offer to pose with for very unique wedding photos. You and your beloved will have a field day with fun, furry, four-legged and winged creatures- and even surreal smiling fish- if you follow our lead to where the animals are on One Happy Island. 
Go Wild!
Who would have thought you could have your pics photobombed by an African ostrich on Aruba? Well you can!  These quirky birds are all about their close-ups with couples, especially when you feed them at the Aruba Ostrich Farm. Seeking more exotic animals to pose with? Look no further than the sprawling grounds of Philips Animal Garden- a refuge for rescued and unwanted animals with a surprising array of non-native to Aruba residents. Ocelots, camels, deer, even a kangaroo have found a safe home there. And there are monkeys and even an alpaca, too! Or, follow the resident peacocks wandering the ranch that can provide colorful kaleidoscopes for backgrounds when they spread their tailfeathers. (And if you're really brave, you can cuddle up as a couple with a boa constrictor!) 
Get Arty with Winged-Wonders
Aruba Butterfly Farm has lush tropical gardens replete with ponds full of fish and turtles that make an ideal setting for stunning pics.  And the piece de résistance is that there will be all kinds of colorful species of butterflies fluttering free around you, and many will alight right on your body as well. It's a truly magical spot. Plus, your initial admission is good for as many repeat visits as you like, so you can return to get more great shots another day. Note: go early in the morning when the butterflies are most active. 
Also colorful and winged, are the parrots at the Hilton Aruba Resort's Bird Garden, and they like to pose for portraits with humans, too. Make an appointment with their keeper Victor Hernandez aka "The Birdman of Aruba" to set up some lovely wedding memories with the parrots, and also take advantage of the Hilton's beautiful tropical grounds and the romantic cascading waterfall that make for a picture-perfect background.  You might also catch the stately black swans gliding around in your background at the Hyatt Ruinas del Mar pond and waterfalls if you are lucky and shoot at the right time. (Though they have a mind of their own and swim where they want, when they want!) And sometimes even the resident pelicans can cooperate and grace your backdrop!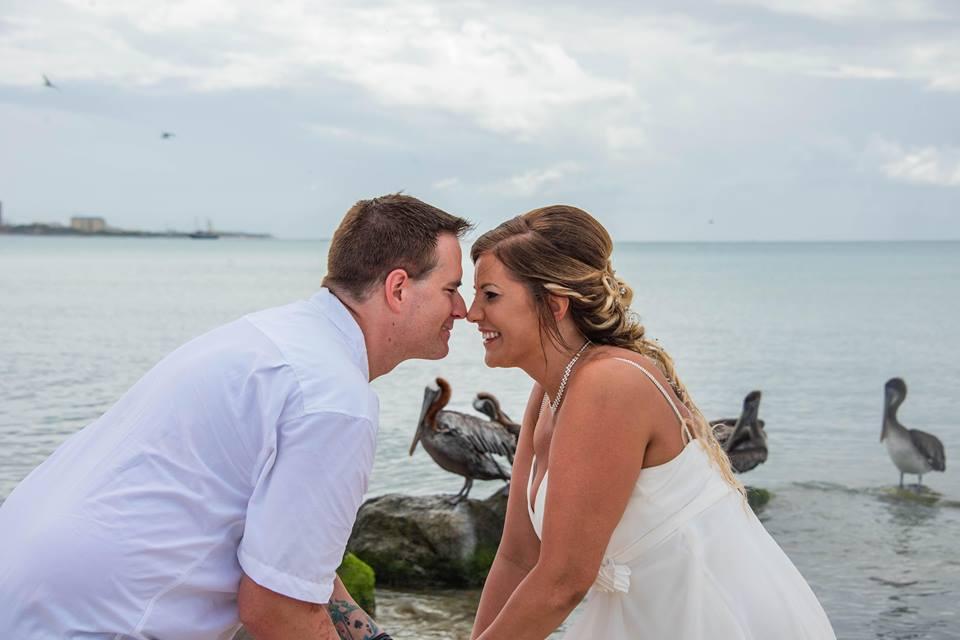 Photo Credit: Elysha & Darcy Tymko- Ken Grille Photography
Frame it with Flamingos 
Surely, you've seen Aruba's famous flamingos on many promotional photos, but one should know that these birds are not native to Aruba and that Flamingo Island where a small colony resides belongs to Renaissance Private Island. Guests of both Renaissance Marina Hotel and Renaissance Ocean Suites hotels have free access by complimentary water taxi, but non-guests might buy a day pass depending on hotel occupancy, or you can book a couple's massage by the sea at their Spa Cove which will also give you access to the island. Either way, the pretty pink birds have graced countless wedding photos over the years, and you need only show up in your bridal attire and allow their natural grace and the idyllic surroundings to frame the rest.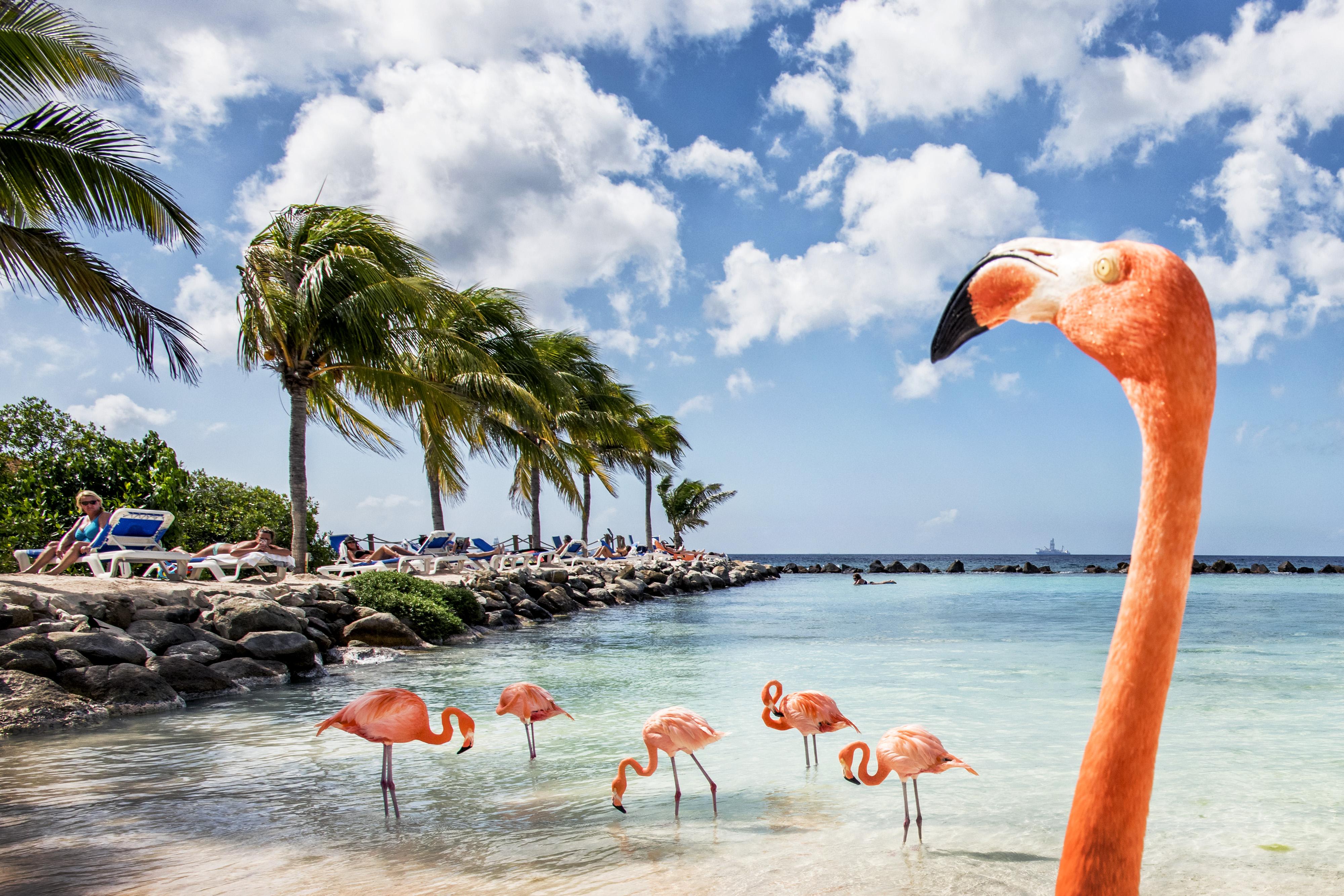 Flamingos on Renaissance Island 
Seek Out Smiling Fish
You'll wear the surreal, giant, neon blue parrotfish that are unique to De Palm Private Island are saying cheese for the underwater camera when you shoot while snorkeling there. They seriously look like animated characters with those big toothy grins and are easy to capture with underwater selfies. Or you can pose in the cool underwater café surrounded by colorful marine life friends if you take their Seatrek® adventure there. Though you might not want to wear your wedding attire underwater, you could dress up your bathing outfits with appropriate veils and bowties to give it a formal look for fun. And maybe a waterproof "Just Married" sign would also add to the props that signal the photos are nuptial-focused.
Get Down with the Donkeys
The fun and friendly four-legged critters out at the Aruba Donkey Sanctuary are known to be real hams for the camera! And they love to have visitors come and pay them attention- especially if you bring some snacks like apples and carrots. The sanctuary is a forever home to many of the donkeys who can no longer survive in the wild, and you can also adopt one (virtually) at the ranch or on their website to pay for its room and board. We guarantee you'll get some sweet and funny photos there with your beloved, and though entrance is free, donations are always welcome. 
Take Stunning Shots with Fine Steeds
Aruba's 'paso fino' horses- left behind by the Spanish- are some of the finest fine-stepping steeds in the world. Aruba has many first-rate riding ranches with tours that go to very unique scenic spots ideal for great shots like the ruins of a gold mine by the sea or out to the enchanting natural pool with wild surf crashing over ancient volcanic cliffs. Take a ride together and snap some stellar candids along the way, or set up a photo shoot with one of the island's premiere photographers to get some very special romantic memories with horses as your companions.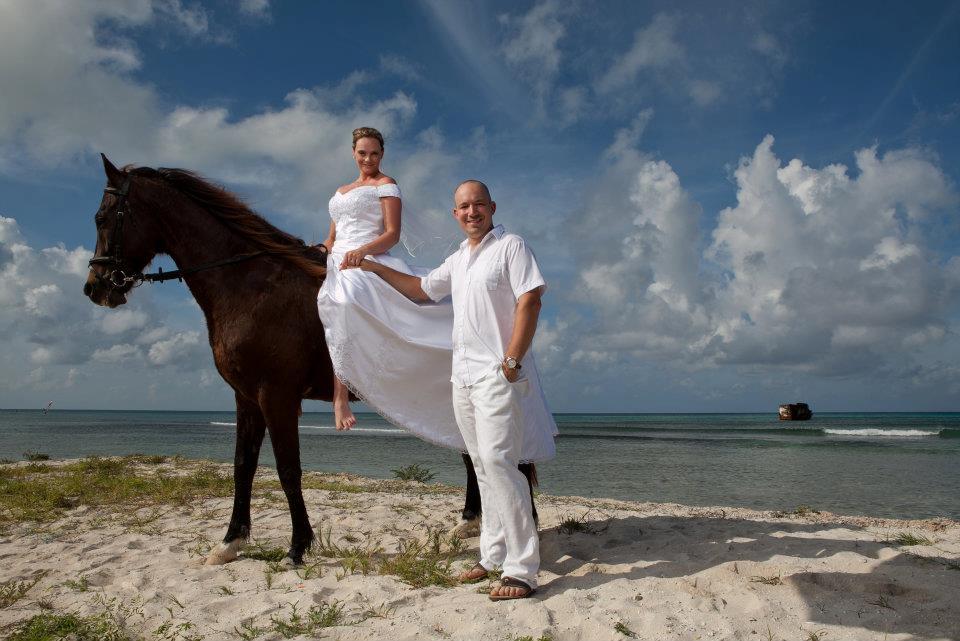 Photo credit: Sherry and Daniel Bedard- Timeless-Pixx
Enjoy Some Lizard Love 
On this island there's no dearth of lizards and iguanas who are ready for their close-up with you, too. No doubt you have already encountered a few sunning around your resort pool, but good spots to always find them in big numbers is at the iguana island outpost at Barcelo's pool or at the helipad area of the marina where they seem to like to colonize. But please don't feed them unhealthy foods like fries and bread to entice them to get into your shot. They are vegetarians, and their favourite snacks- and ones that are best for them- are hibiscus blossoms, lettuce and fruit like melons. 
Photo Play with Puppies & Kittens
Aruba's domestic animal shelters always welcome visitors to come and walk their dogs or play with their cats; their residents are always craving human attention. And they love to pose for photos, too. You should be forewarned though that the shelter folks make it very easy to adopt and take one home, so you might come to Aruba to tie-the-knot as a duo… and leave as a trio! See here for a list of Aruba's animal welfare and rescue organizations: https://wheninaruba.com/blog/arubas-animal-rescue-roundup/.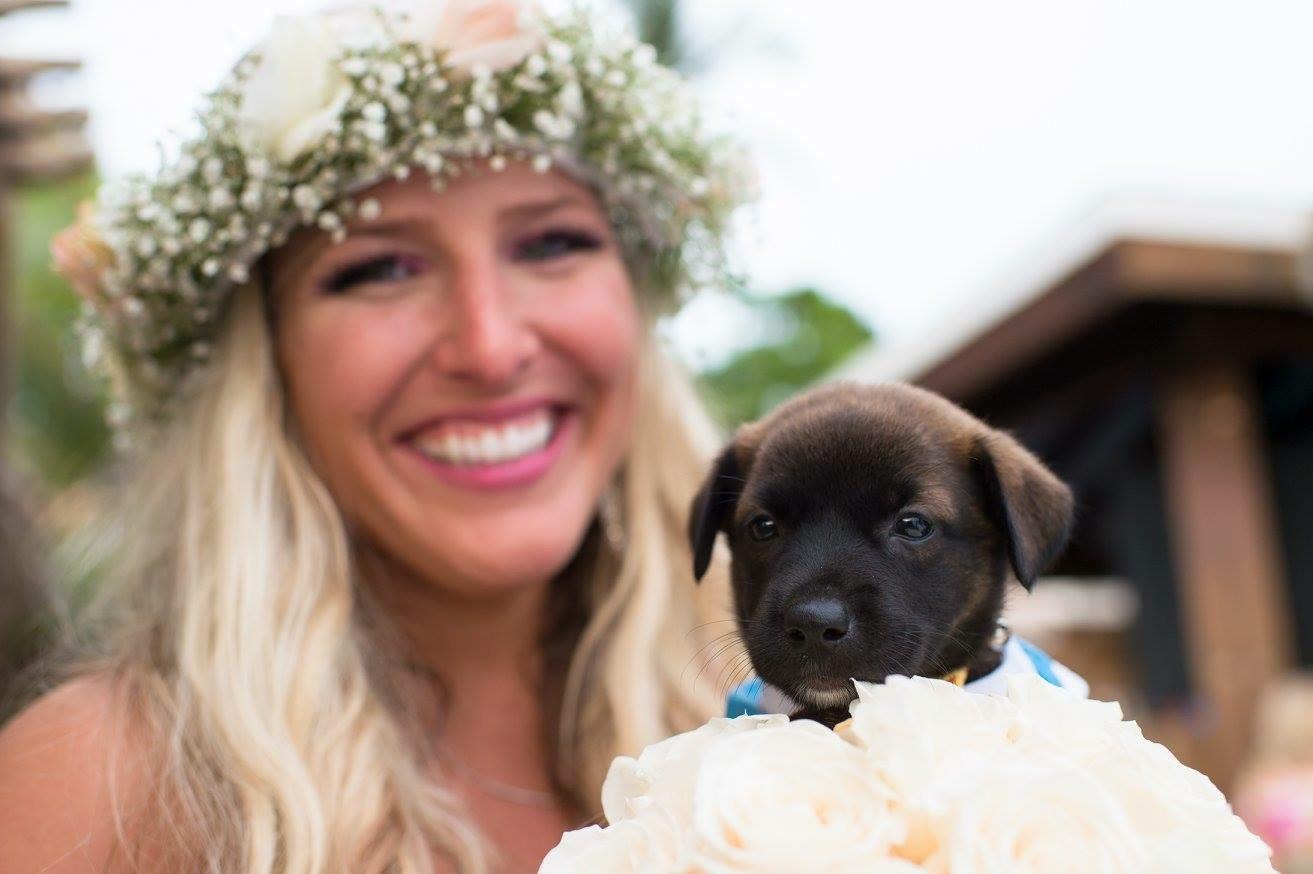 Photo credit: Bret Labelle Photography
Happy shooting with Aruba's awesome animals!