Sabrina Monserrate and Sasha Kucherov were planning an elaborate New York wedding, but after encountering various speed bumps and, as the bride puts it, "unnecessary drama" that was not in their best interest, a plan B was in order.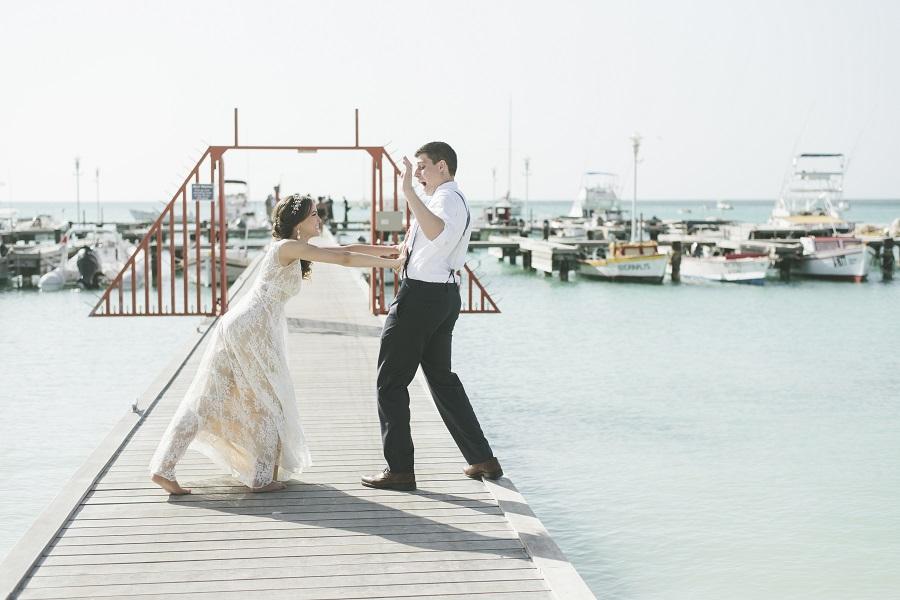 "We played with the idea of eloping but knew our parents would be upset, so instead we picked a date that was a mere month away, invited close family and our bridal party, recruited a good friend and wedding planner, Jesse Reing, and got to planning," Sabrina explained.

No need for mulling over destinations for their wedding—Aruba was inevitably meant to be.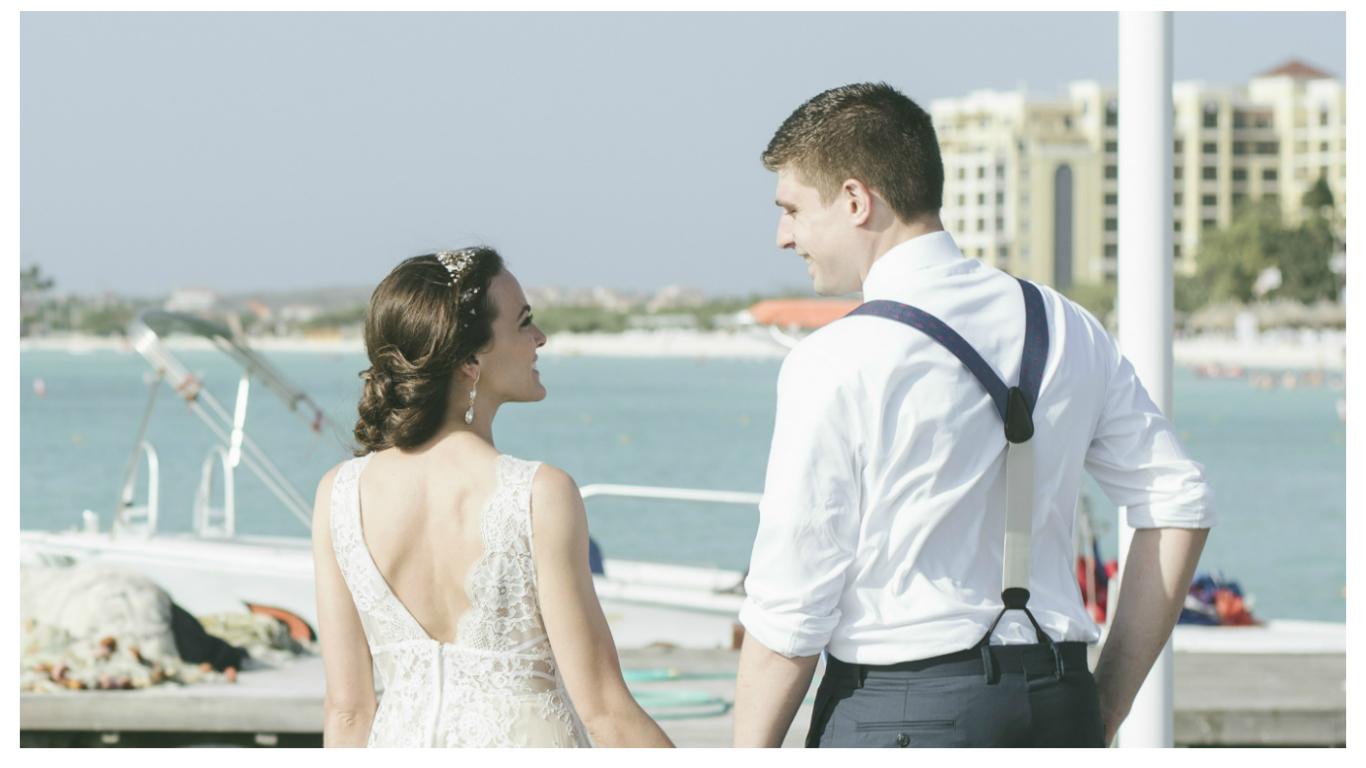 "Aruba was not only our first vacation as a couple, but a place we both visited as children…additionally, 
both his parents and mine went to Aruba on their honeymoon. It has been a meaningful place in our lives and seemed the perfect choice."
-Sabrina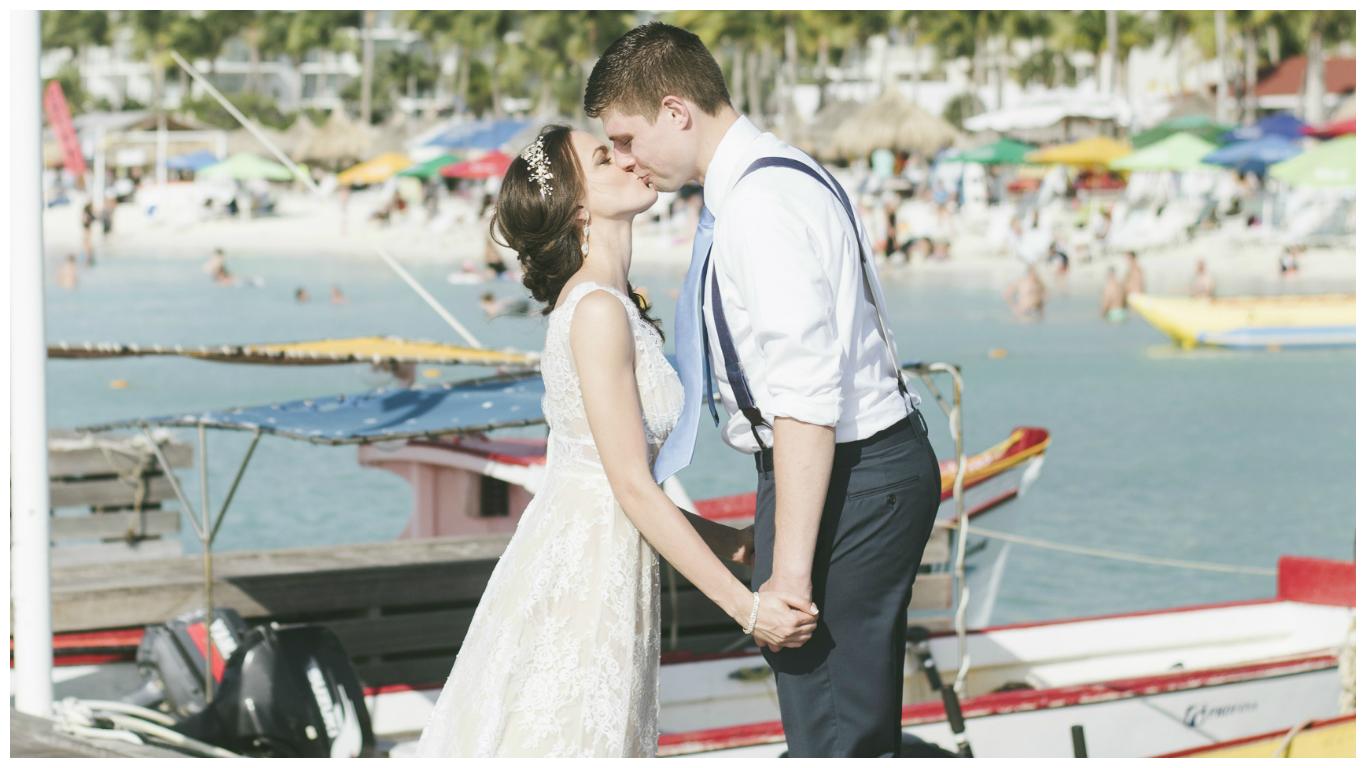 With the help of their wedding planner, Jesse, the couple incorporated a few DIY elements into their wedding. For flowers, Jesse and friends of the couple went to local supermarkets Ling & Sons and Super Food for fresh flowers, making their own arrangements. Sabrina, who formerly worked in the broadcasting industry, made a four-hour playlist, added transitions with an iPhone, and used her iPod.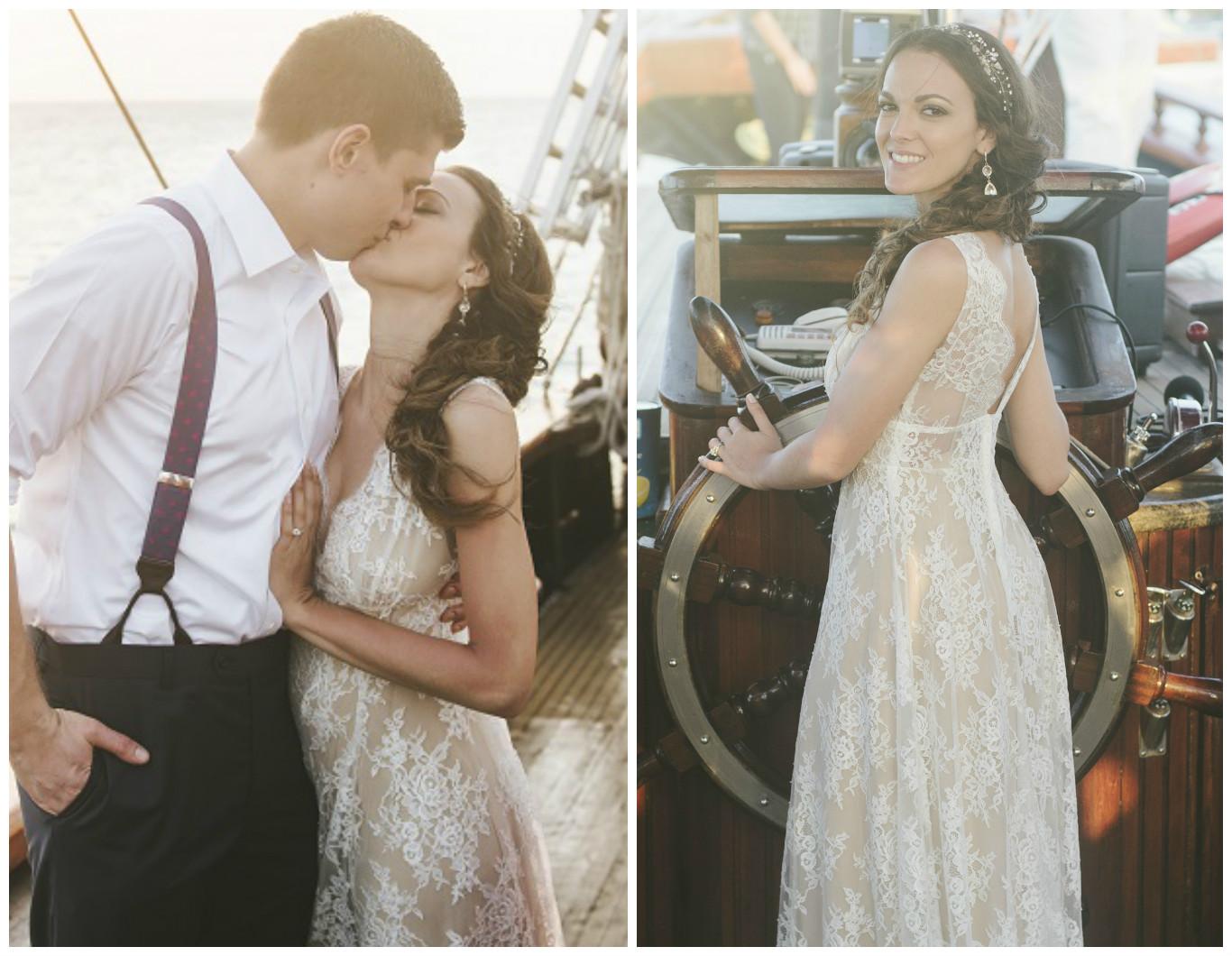 Sabrina's dress was a lace, vintage-inspired design with a scalloped neckline from Shareen in New York City. 
 "I always knew I wanted lace but was afraid it would be too heavy for the beach and sun…this, however,
was not the case--my dress was not only lace head-to-toe, but very light and airy, which made it perfect for the beach", shared the bride.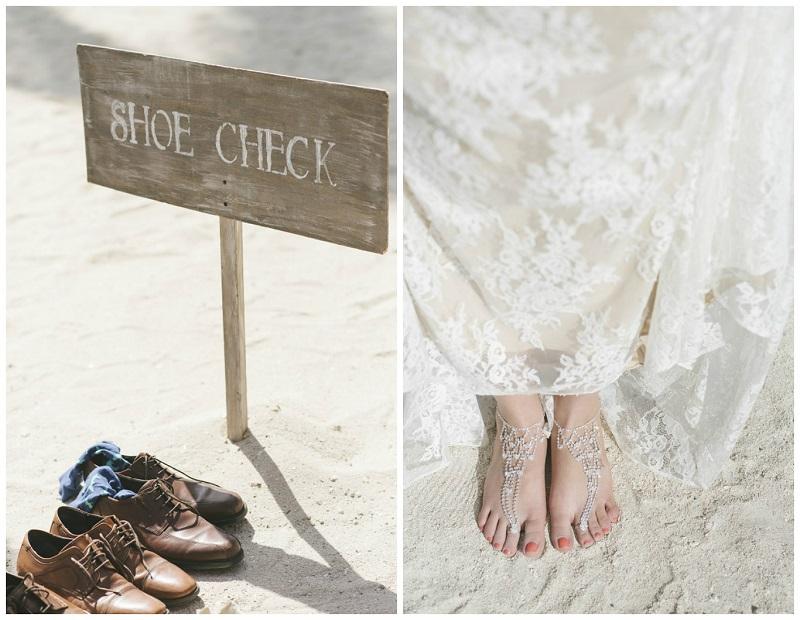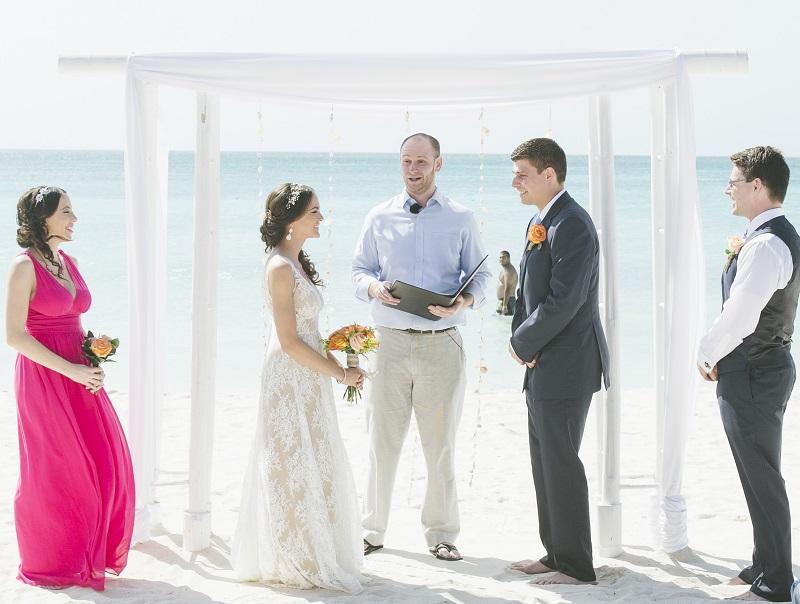 The ceremony, coordinated by the Marriott Resort & Stellaris Casino, was held beachfront at the resort.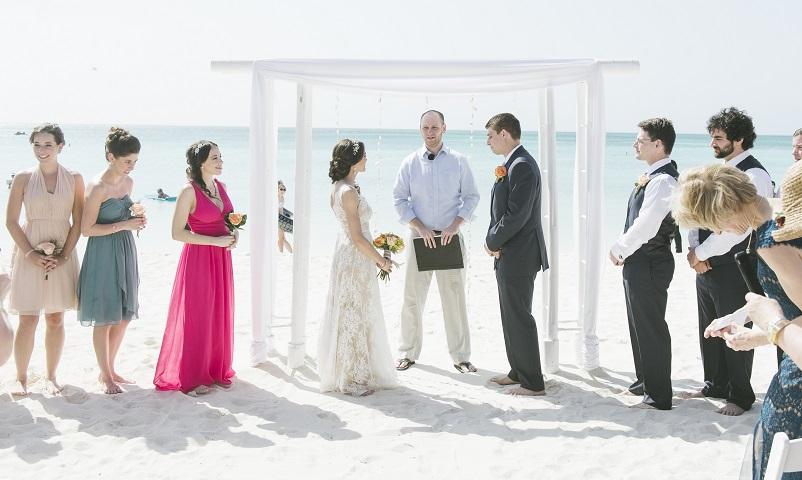 The reception was hosted onboard the Jolly Pirates sailboat. Sabrina reports that the buffet, set up on the Jolly Pirates and catered by Moomba Beach Bar & Restaurant, was amazing. The crew of the Jolly Pirates, Sabrina pointed out, was exceptionally accommodating and made everything seamless.

A standout moment for sure was when many of the male guests partook in a little rope swing fun and did some snorkeling!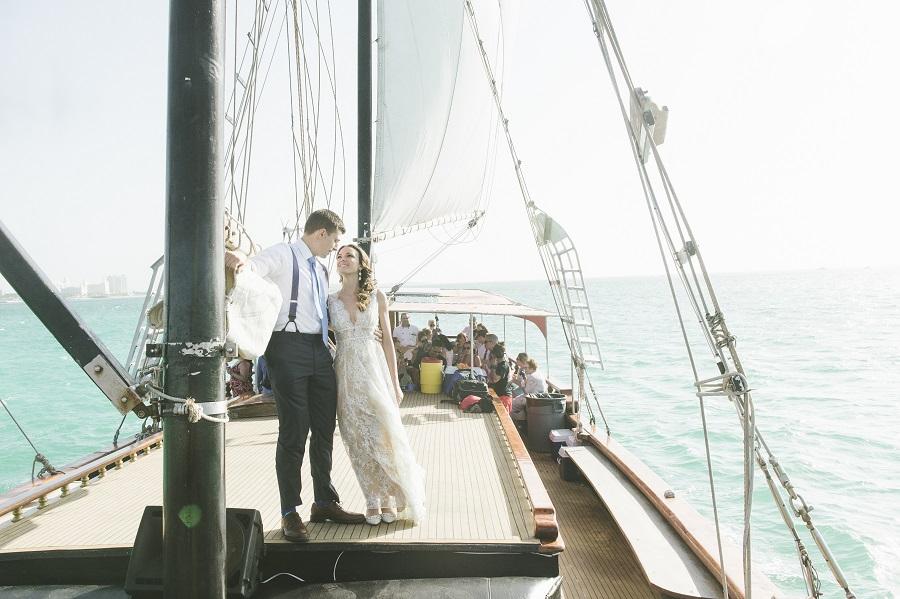 The Details: 
Ceremony location:

Beachfront at the Marriott Resort & 

Stellaris

 Casino

 

Reception location:

Jolly Pirates

 

Photographer:

Alicia King Photography (New York)

 

Videographer:

Omar Brown with Across the Waves

 

Florist: 

DIY with flowers from Ling & Sons and Super Food supermarkets

 

Music:

The bride's playlist

 

Wedding planner:

Jesse 

Reing

 (New York) and Marriott's wedding team

 

 I hope you enjoyed reading! :)
Comment below on your favorite part / DIY wedding idea from Sabrina & Sasha's Aruba wedding story!