Maria and James Forgione were recently wed on the shores of Palm Beach.  The bride wanted every detail to ooze romance, choosing a simple, elegant color palate of white and champagne, which was carried out from the ceremony to the décor at the reception and ballroom dinner.  
The couple, from New York City's Middle Village, had no doubts about the setting for their romantic nuptials...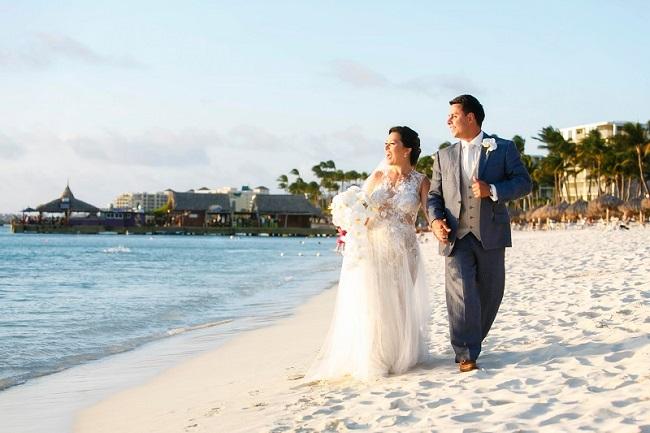 "Aruba is my favorite island!  It has everything you want all in one place: the beautiful beaches, the pathways to all the hotels, the restaurants and shops, and nightlife".
-Maria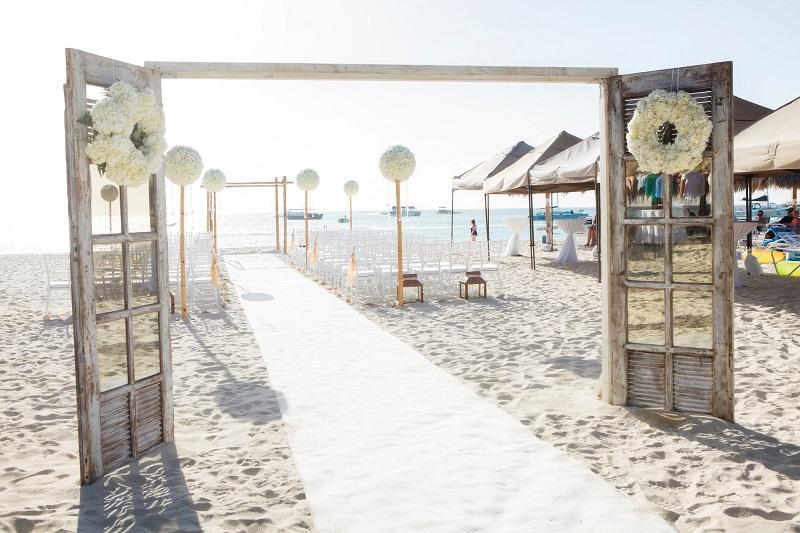 Maria's all-lace Pronovias wedding dress, with an alluring sheer bodice, set a dreamy tone for the beachside wedding, where all the flowers and décor were washed in white.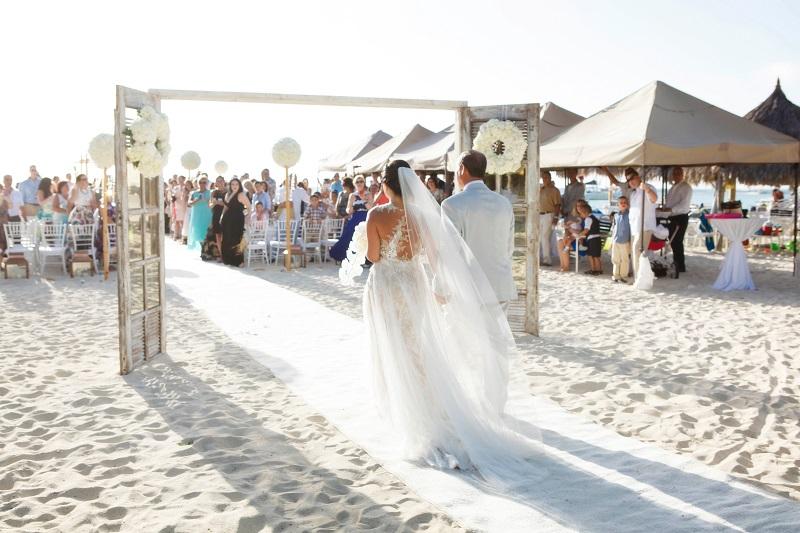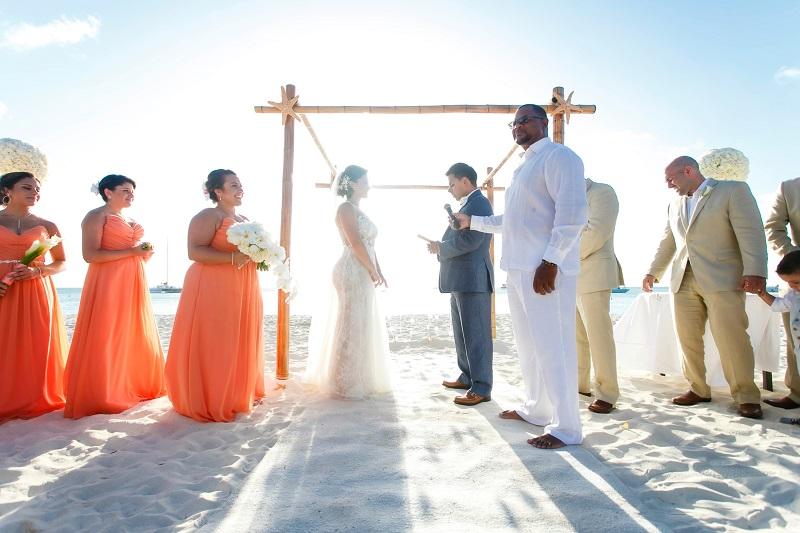 The bridesmaids' papaya-colored dresses added a delicate splash of Caribbean flair to the wedding. 
The groom and groomsmen wore classic beige linen suits.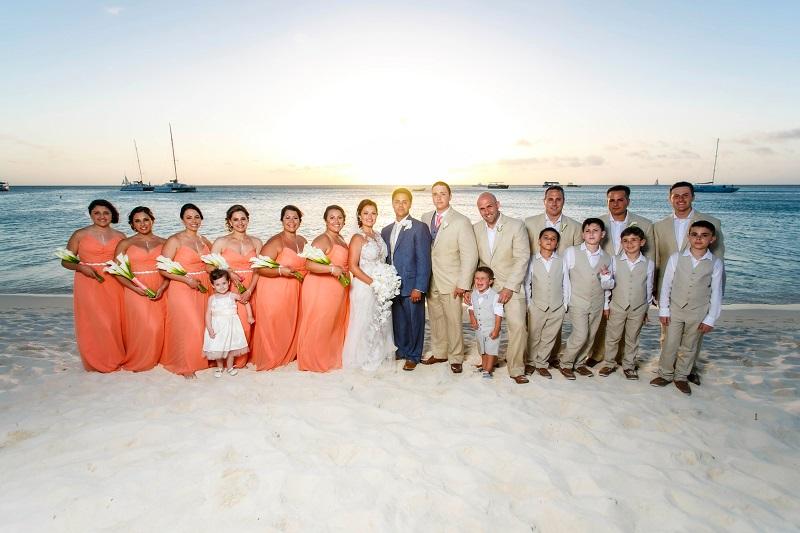 The wedding, culinary, and banquet teams of the Hyatt Regency Aruba Resort & Casino coordinated all the details.  After the ceremony, guests were ushered from the beach to the resort's beach deck venue for a lavish cocktail and hors 'd oeuvres reception.  Guests noshed on charred lamb and Moroccan vegetable relish in phyllo cups, lobster medallions on local pan bati (a bit like a sweet corn pancake), hand-crusted coconut shrimp, and several action stations, including a rustic pasta station, sushi station, shellfish display, and chef-carved roasted tenderloin.  
The cocktail reception was concluded with a sparkler sendoff. The wedding party and guests were then led down the garden path to the resort's ballroom for a formal, seated dinner.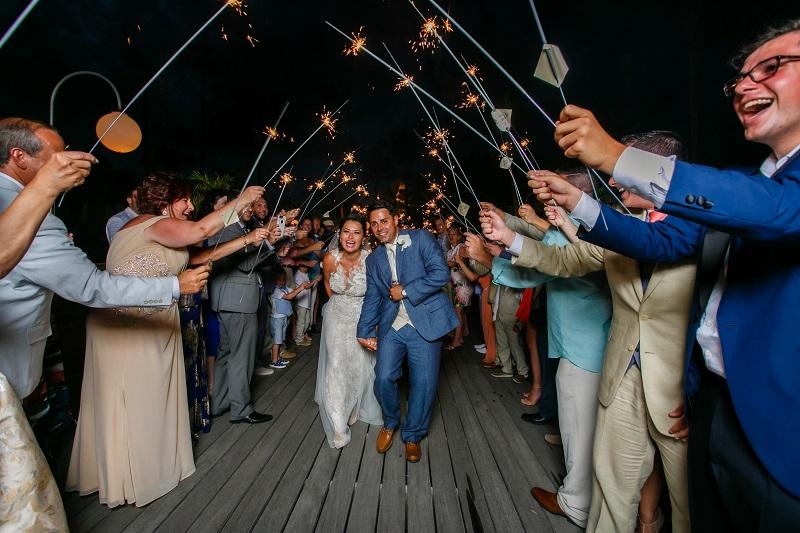 Local event designer Fernando Mansur, of House of Mosaic, continued the romantic and elegant theme, with lots of sheer white draping, gold Chiavarri chairs, an all-white lounge area by the dance floor, and a modern version of the Indian mandap for the couple's sweetheart table.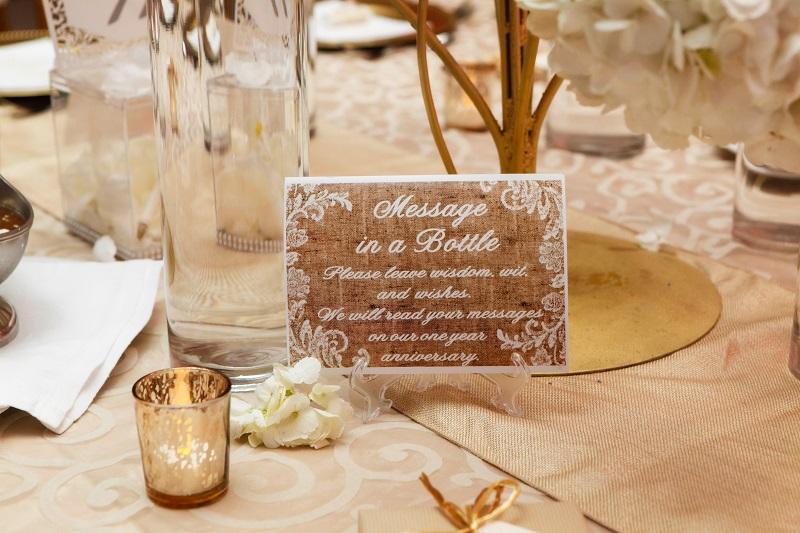 The four-course dinner was followed by a decadent dessert buffet to compliment the wedding cake that included assorted spiced truffles, passion fruit crème Brule, Aruban coconut tarts, mango shooters, and a variety of miniature pastries and cookies.  After dinner, a deejay kept the party going until the wee hours of the morning.

The Details: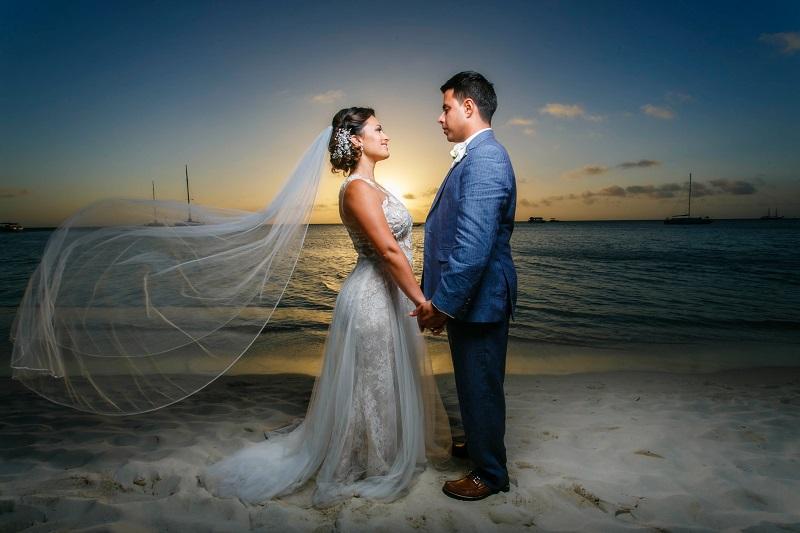 Bride's Final Thoughts: 
"The Hyatt is the perfect place to have a wedding!  It offered a private setting for the wedding celebration--from the beach ceremony to cocktail hour on the sun deck to the pathway entrance to the ballroom!  I felt like the hotel grounds were ours for the day!"