In numerology, the number six represents harmony. Pythagoreans credit the number six as the first "perfect" number.  

So what better date for bride Lauren and groom James to choose for their wedding than six years to the day that they had their first date? And what better place to have the wedding than in paradise?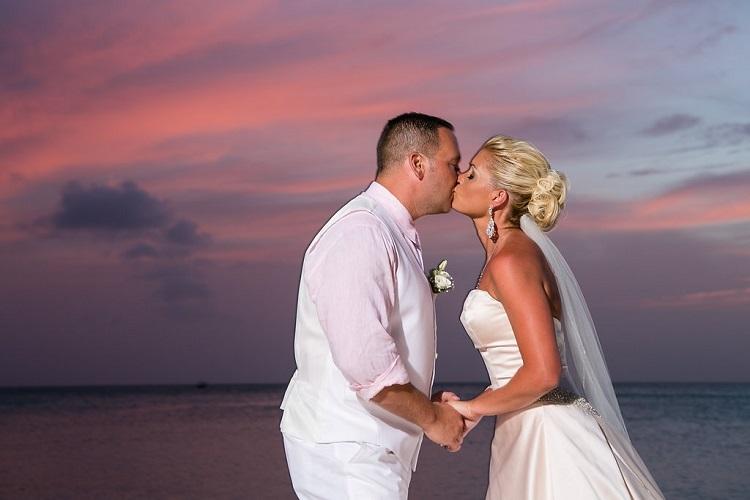 "We chose a destination wedding because we knew we wanted to get married in a beach setting
with warm weather....We had vacationed in Aruba before and absolutely fell in love with the island, people, and culture."
 -Lauren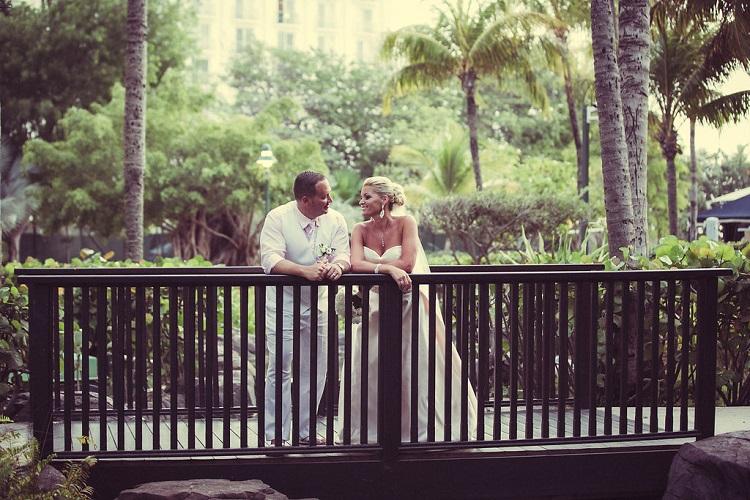 "All of the hotels on the island are beautiful, but the Hilton blew us away with their amazing beach setting, property amenities, and gorgeous property settings including waterfalls, exotic birds, and bridges," adds Lauren.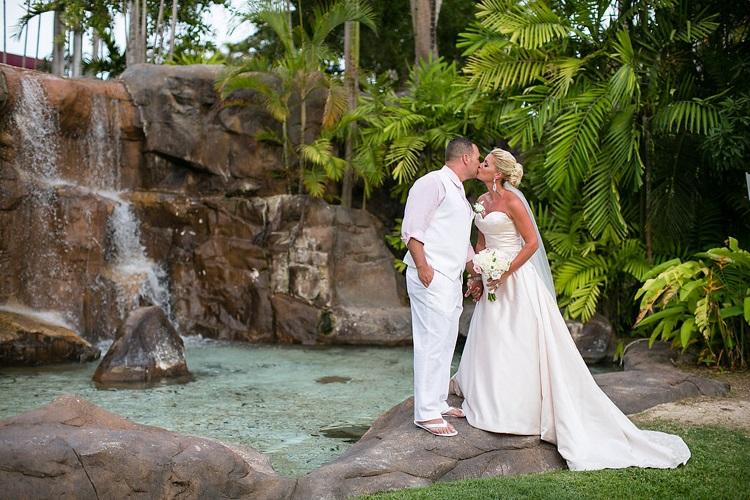 Hilton's in-house wedding planner, Lisa Dammerman,  stopped at nothing to make the couple's wedding week perfect and had all the details down to a tee!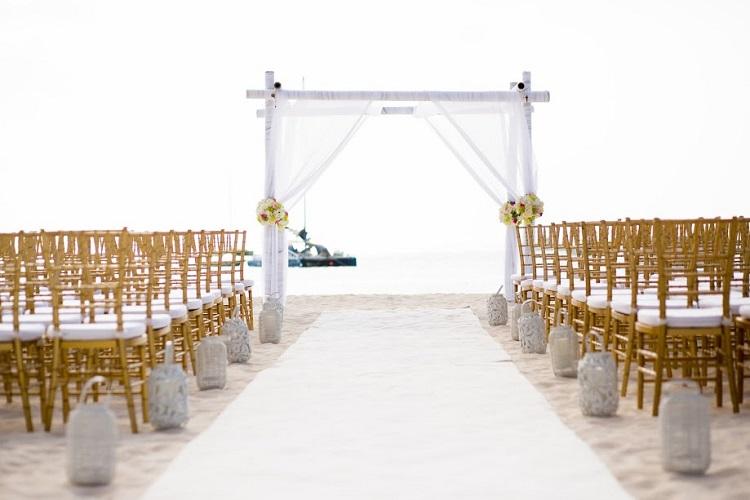 "Lisa together with her wonderful staff went out of their way to make my wedding the most wonderful and memorable day of my life. I consider Lisa a friend of the island now and we look forward to returning soon," shares Lauren.
Three days before the wedding, the bride got to meet with all the vendors--photographer, videographer and DJ. 

"It was great to meet ahead of time and go over last minute details with all three.  I booked my hair and makeup online with Jennifer and she showed up on time the day of my wedding and was absolutely amazing! "

"Everyone was so professional and punctual which is so important when planning a wedding off-site/destination," recalls the bride.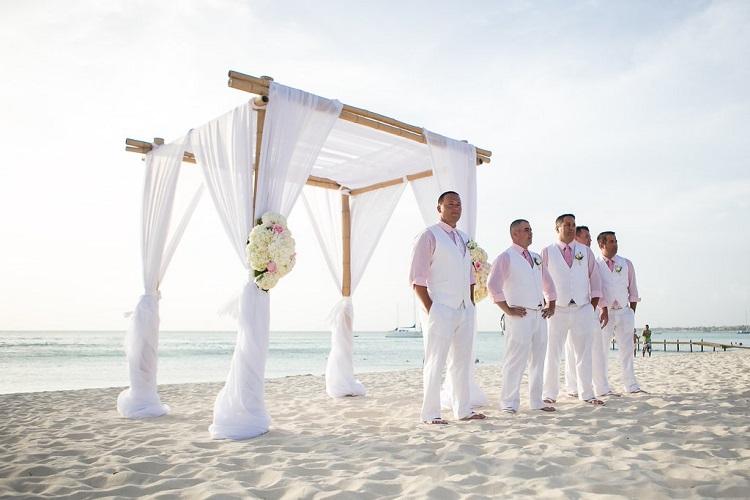 The couple incorporated a unique and personal touch into their beach ceremony...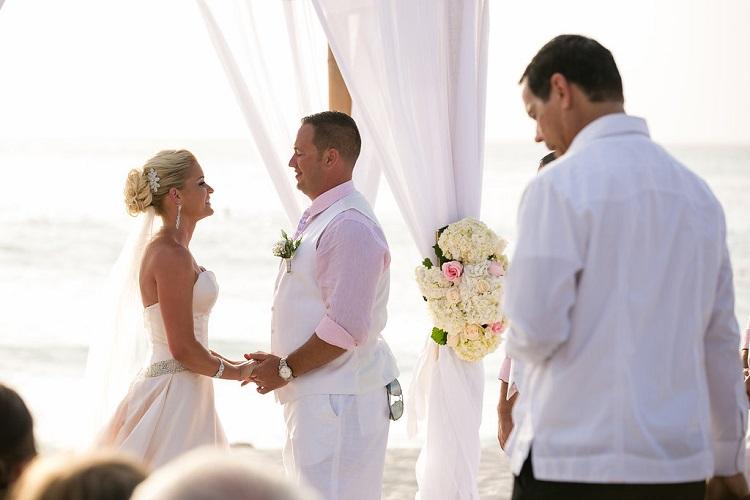 "I had written a poem to James about two years into our relationship and had my cousin Carly recite it at the ceremony, which was vey special," shares Lauren. Our officiate also had us whisper some words to each other during the ceremony that only we could hear," recalls the bride.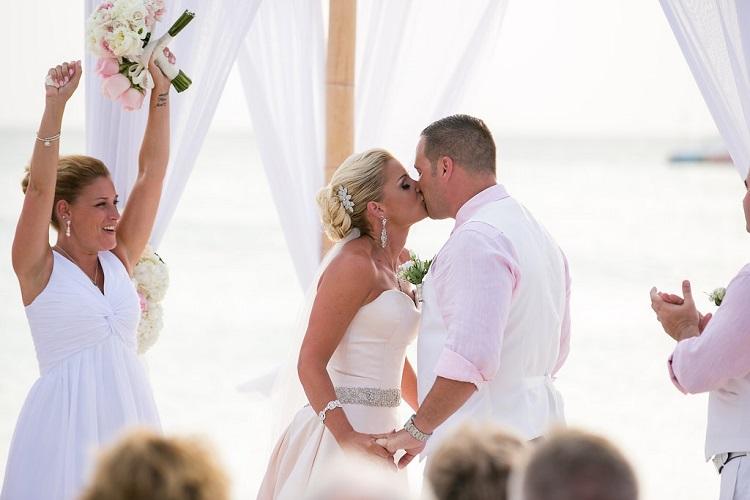 The bride's wedding dress was a blush color, satin with a long, beaded train. The top was a sweetheart neckline and the dress was also sparkly beaded at the waist. She wore blush colored flat shoes with a crystal bow on top for the beach ceremony and later changed into wedges for the reception (also same color with crystal bow).  

Lauren's bouquet was comprised of delicate blush and white roses, peonies, and other flowers. 
The bridesmaids each had a bouquet of ten blush colored roses.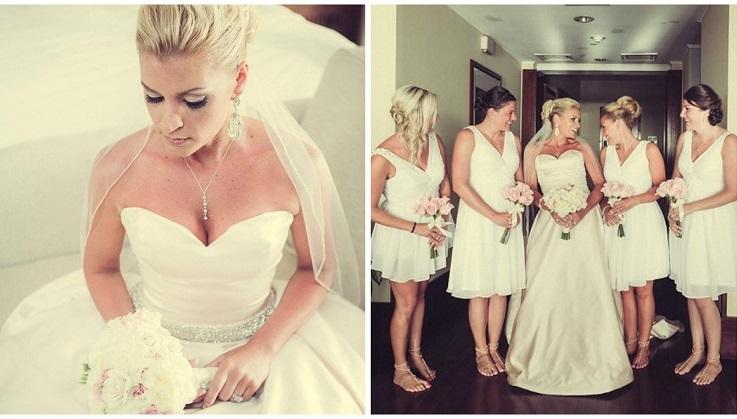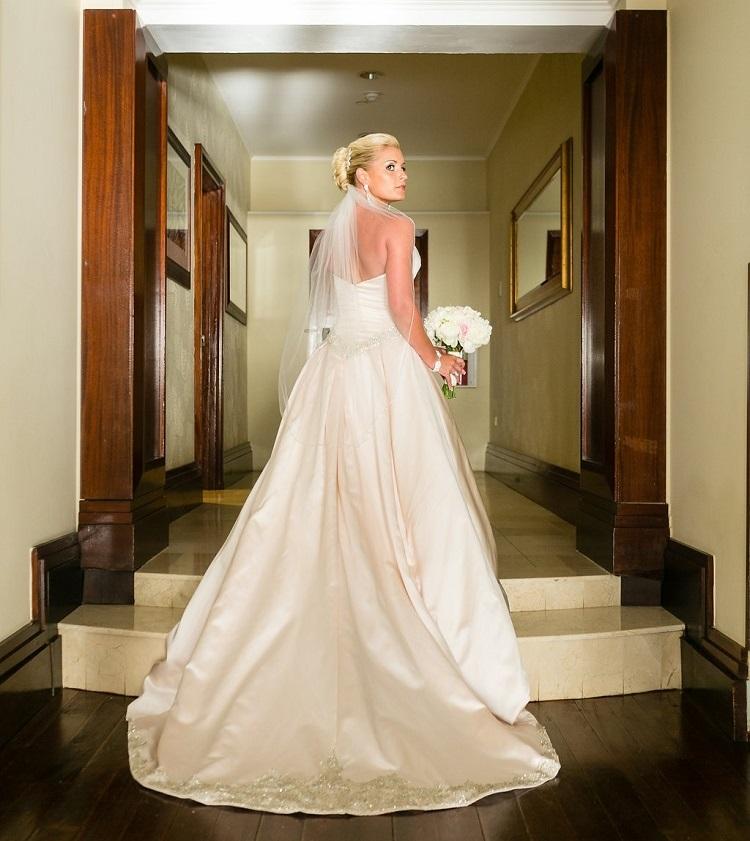 The bridesmaids wore white chiffon dresses to the knee with sequins on the back of the shoulder straps.  
They wore toe sandals that were perfect for the sand to walk in, and they changed into silver sandals for the reception. The groom and groomsmen wore white pants and linen vests with blush colored long sleeve linen shirts and ties. 

The couple chose a violinist to play during the beach cermony and went for a steel drum band for the cocktail reception.

"Both were excellent! DJ Tino was also exceptional as he played all the music we wanted to hear and was very communicative especially since I had to communicate via email. He was funny, professional, and made my night so much fun," enthused the bride.

"From the food to the cake to the service, the whole kitchen staff at the Hilton was amazing.  Everyone was so attentive and polite and we had so much wonderful feedback from all our guests," shares Lauren.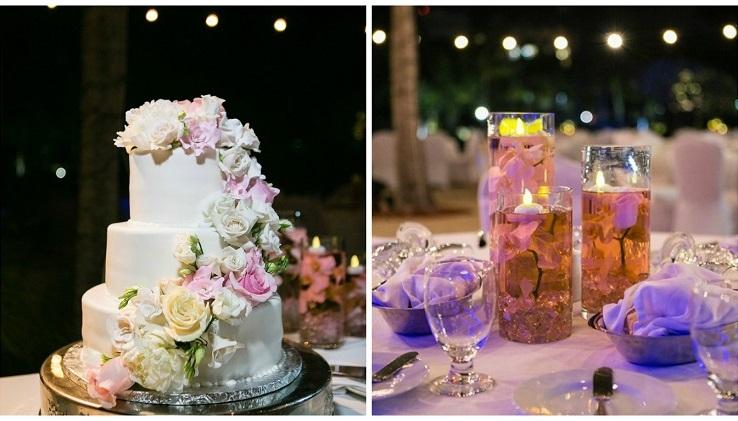 For the sunset cocktail reception on the beach, the couple included a fresh fruit and imported cheese display for guests to enjoy with their cocktails while photographs were taken.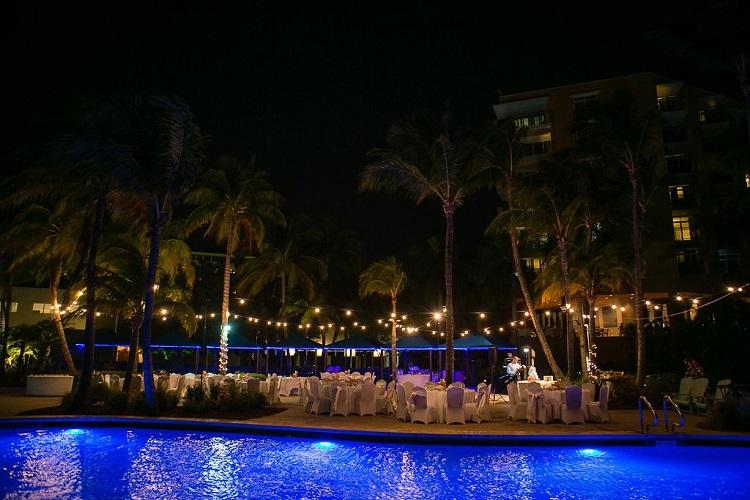 The poolside plated dinner offered guests a Caesar salad for the first course. Guests had a choice of miso glazed mahi mahi with coconut jasmine rice and baby bok choy; chicken breast stuffed with crabmeat and spinach on a bed of julienned vegetables with garlic mashed potatoes, or grilled filet mignon with sautéed mushrooms and fresh green beans with an herb reduction. 

Dessert was, of course, wedding cake!