Kickball and the Beach Boys lead couple to Aruba
Many of us played the game of kickball as kids—you knew when the streetlights came on it was time to go home.  The nostalgia of the game has led to a resurgence of the game for adults—after all aren't we all still kids at heart?  Fort Worth, Texas couple Yolanda and Jared met in an adult league that provided a casual, fun environment to hang out with friends and meet new ones, too.  Although meeting while on opposing teams, the couple's chemistry blended the two teams together, and love blossomed. When the couple decided to tie the knot, they knew they wanted a destination wedding, but had no idea just where that would be. 
Fate and the Beach Boys stepped in and helped the couple decide....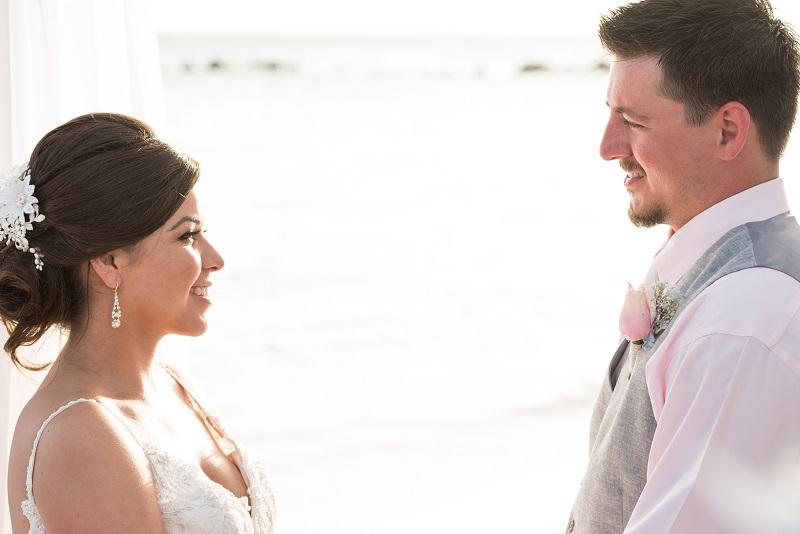 "One evening Jared and I were sitting in our living room researching for destination wedding locations. We decided to play the 'Island Music' station on Pandora and the first song that came on was Kokomo by The Beach Boys.  
As soon as we heard the lyrics 'Aruba, Jamaica, ooh I wanna take ya,' we immediately started researching.  We instantly fell in love with Aruba, and that same night we booked our first trip. After our trip, we had no doubt that Aruba was going to be the perfect place for our destination wedding".
-Yolanda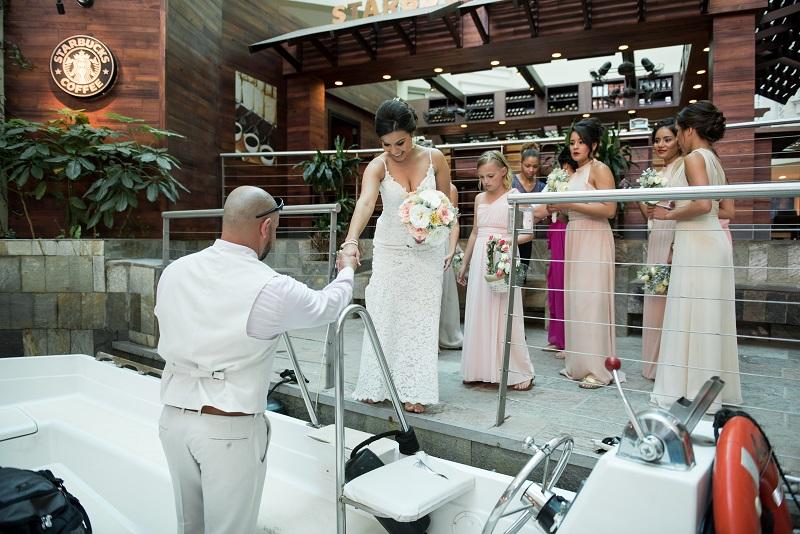 Yolanda and Jared chose Renaissance Aruba Resort's private island, located just off the shores of Aruba, as the locale for their nuptials and reception.  They put the majority of the details into the hands of the wedding team at the Renaissance, trusting their experience with local vendors to coordinate everything from food and décor to makeup and flowers. "Our wedding coordinators were amazing!" enthused Yolanda. 

The couple wanted the décor to reflect elegant and light simplicity, utilizing a palate of white, gray, and champagne to accentuate the colorful environs of the island.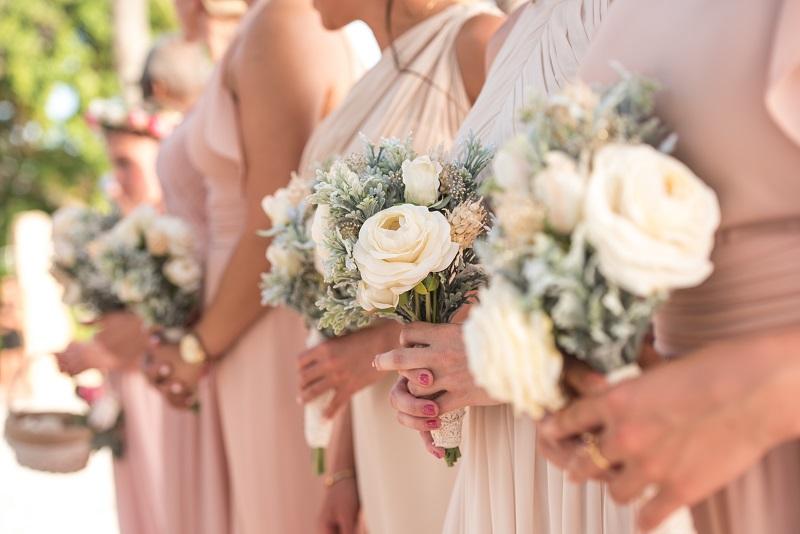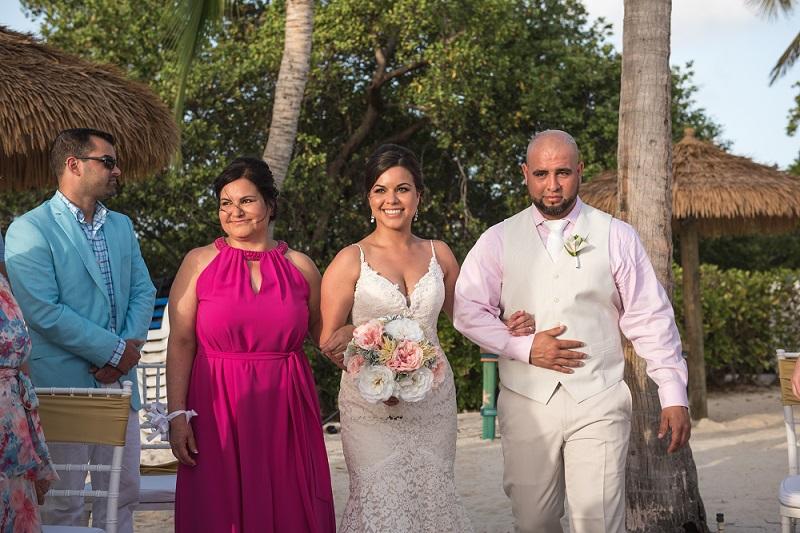 For her dress, Yolanda's fit-and-flare cut was composed of ivory lace over a gold foundation with spaghetti straps. Opalescent pearls dotted the neckline, and the back featured a dramatic, deep V-back, finished with covered buttons over a zipper closure. 

"The dress was very detailed, yet light enough for a beach wedding," the bride said.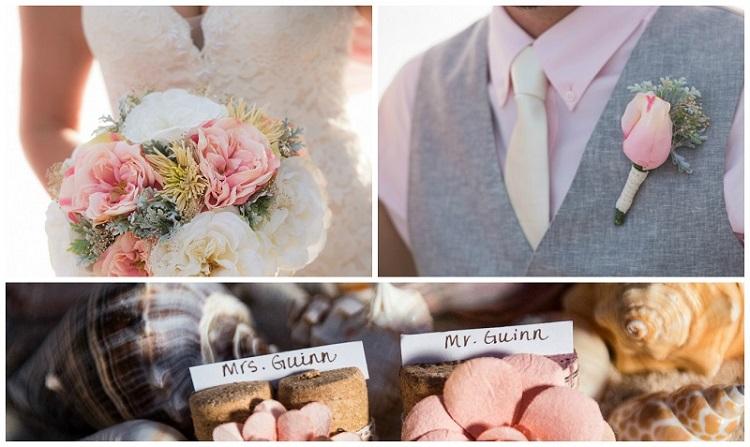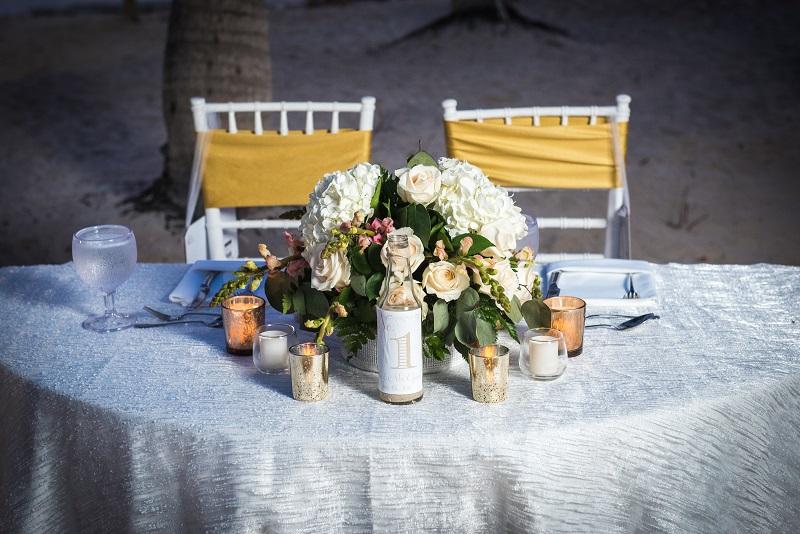 The Renaissance's culinary team catered the island reception, starting with a cocktail hour with hors d' oeuvres.  Main entrees included roasted rack of pork with spicy papaya salsa, thyme marinated chicken breast, and grouper fillet accompanied by artisan breads, salads, Caribbean rice, roasted potatoes, and vegetables. The wedding cake was composed of two layers—carrot cake and red velvet cake.  An assortment of pies, mousses, and fresh fruits were also served.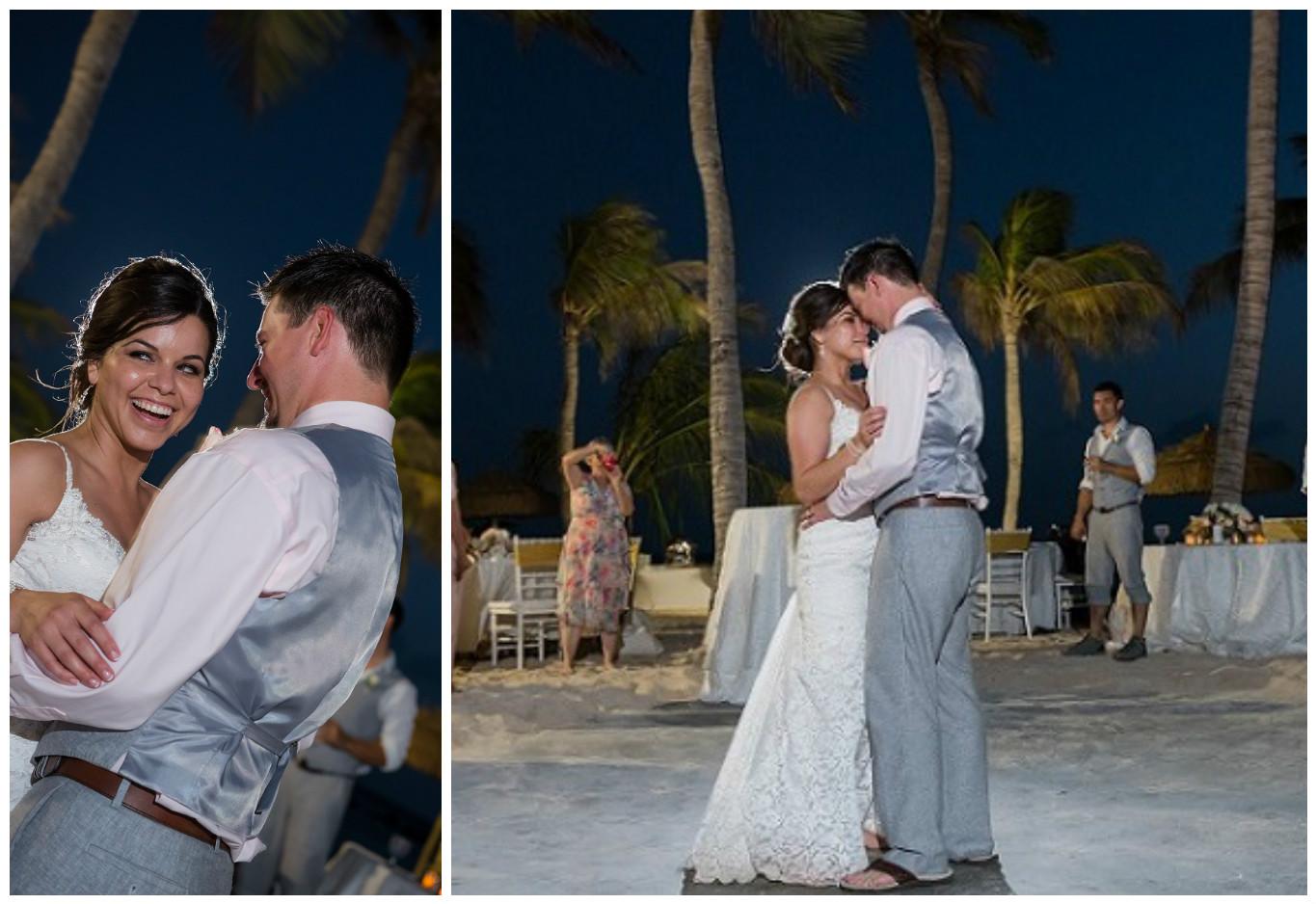 "Our experience in Aruba was unforgettable! Our friends and family were able to enjoy Aruba along with us for an entire week. Everyone was immediately impressed by the absolutely beautiful and well situated resort. We started day one (the 34 of us) with delicious meals, laughter, live music, and dancing.
Our second day consisted of a lazy beach afternoon followed by a three-hour dinner cruise (definitely one of my most memorable nights). On the third day we were ready to go venture out, so we all gathered our jeeps and walkie-talkies and headed out to the natural pool. If you haven't been there be ready for a bumpy ride!  
Our wedding was on day four, everyone's favorite by  far!  The rest of the week was spent eating a lot of delicious food and relaxing by the beach. Aruba is indeed one happy Island - it created new friendships among our guests and strengthened the love we all have for each other.  We were all sad to leave Aruba, but we plan on visiting soon".


THE DETAILS