Childhood friends become partners for life in Aruba
"I only saw Emmanuel in school…he was a very quiet young fella and I was the more talkative and outgoing person," explained Djuna.

The two didn't keep in touch after graduating high school in 2000, but through social media, reconnected in 2006. 
"It wasn't until the launch of Facebook several years later where we just made a simple friend connection, but we never established a consistent line of communication between one another," informed Djuna. 

However, in 2013 they stumbled on each other's profile on a dating website, exchanged numbers, and eventually went on a date...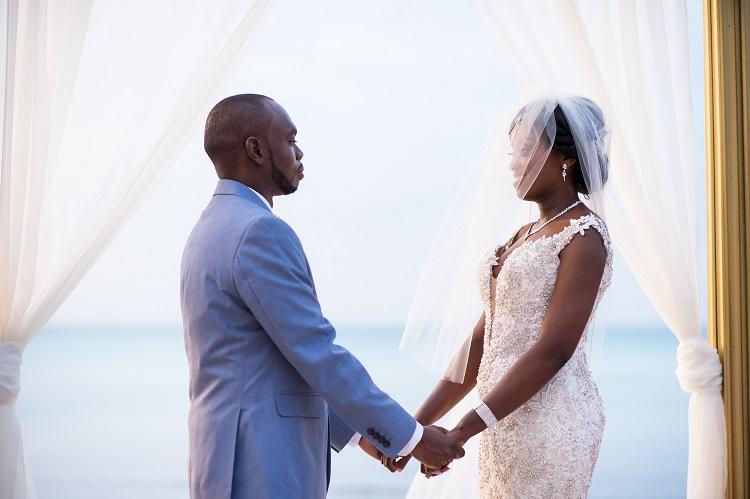 "The most romantic part about our date took place when Emmanuel confessed to me that he had always admired me since our 5th grade class. I was in a state of shock...who would've ever known that my future husband was right under my nose for all these years?" 
-Djuna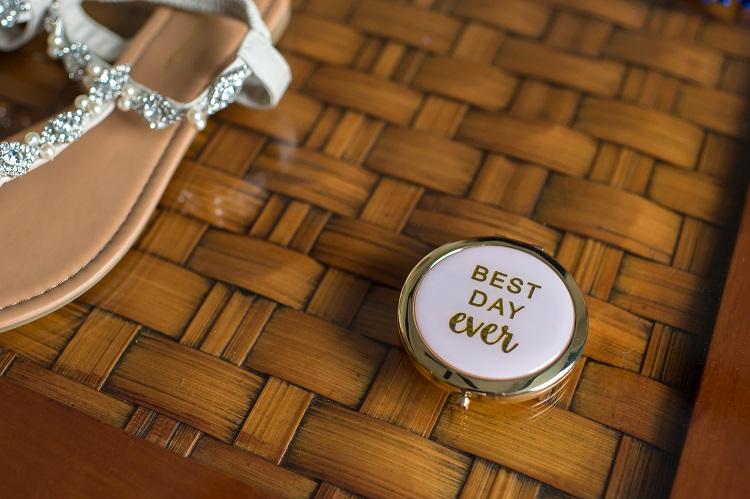 The couple shared a passion for travel, globe trotting to quite a few destinations, including Haiti, Las Vegas, Bahamas, Jamaica, and Antigua.  But it was their trip to Aruba in December of 2015 that Emmanuel engineered a surprise proposal on the shores of Palm Beach at purebeach restaurant.

After the proposal, the elated couple knew they wanted to return to the One happy islandto celebrate their special day....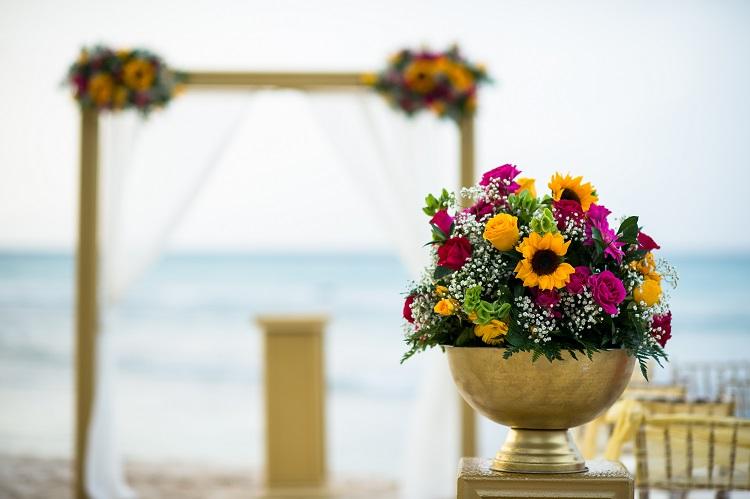 Shared the bride, "Before leaving Aruba we decided to schedule a meeting with Aruba Weddings for You. 
We had the opportunity to meet with Robert Lee to discuss wedding details and we later confirmed our wedding date of December 10th, 2016, which was exactly one year from our engagement.  Robert Lee then assigned us to our amazing wedding planner, Marielle, and she took great care of us from the beginning of our wedding planning process up until our official wedding day.  I hope we will remain friends forever!"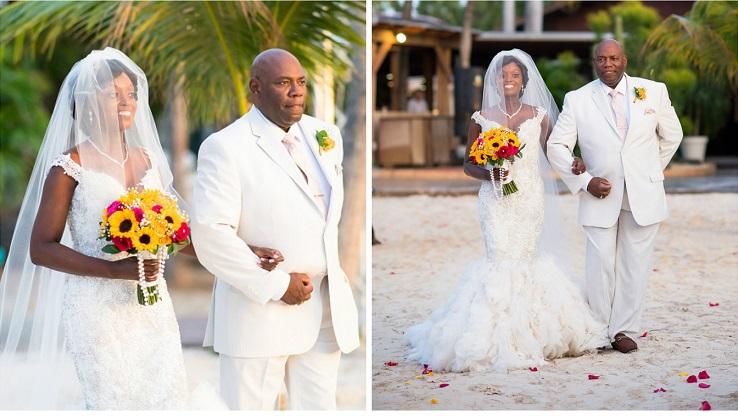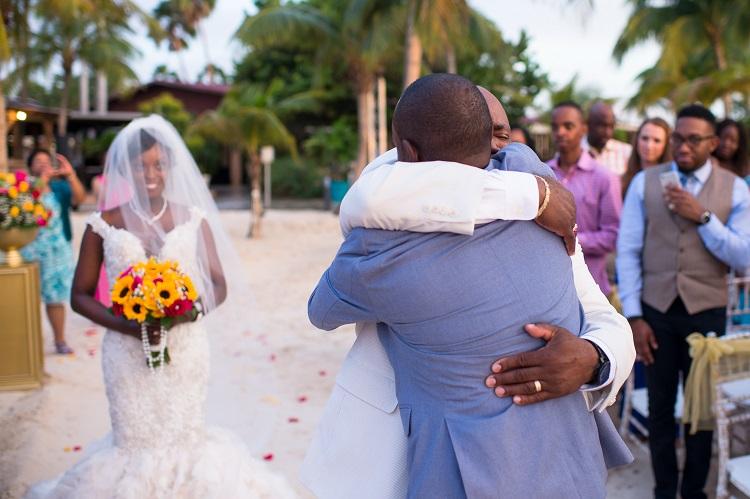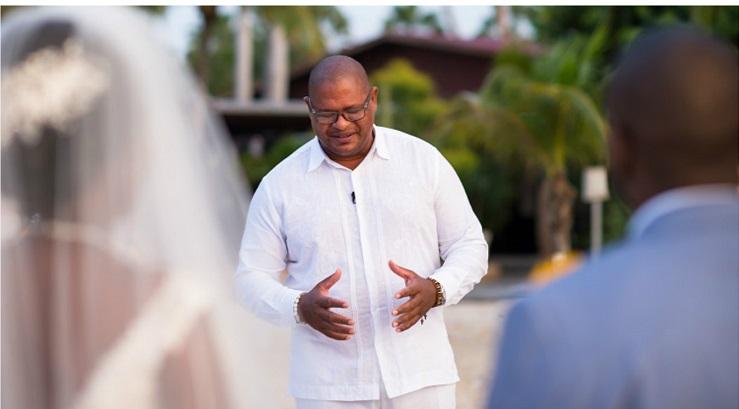 Djuna, who is an event planner in New Jersey, worked hand-in-hand with the team at Aruba Weddings for You and their vendors to coordinate all the special details. 

Since the couple loves to travel, they selected a vintage travel theme for the wedding, using a color palette of fuchsia, gold, and royal blue.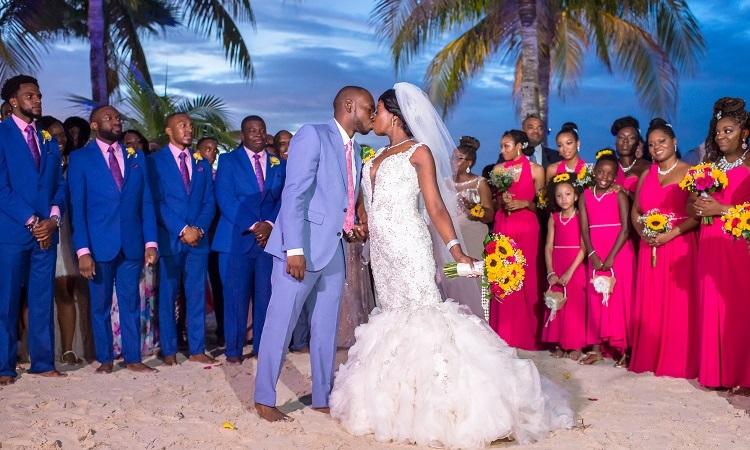 The groom and groomsmen wore Beverly Hills Polo Club suits, and the bridal attendants wore Sorella Vita dresses.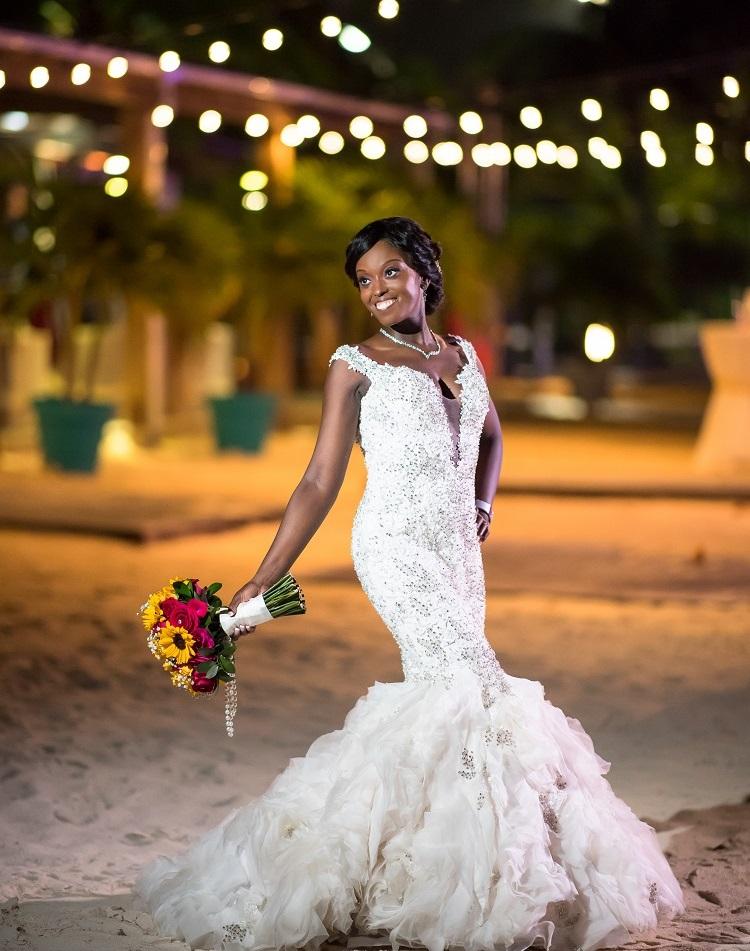 Djuna's dress was a Ysa Makino dress accented with Swarovski crystals and beading. 
"It was definitely not your average beach dress; however, it was the dress I fell in love with and I was going to make it work for my beach wedding!" stated Djuna.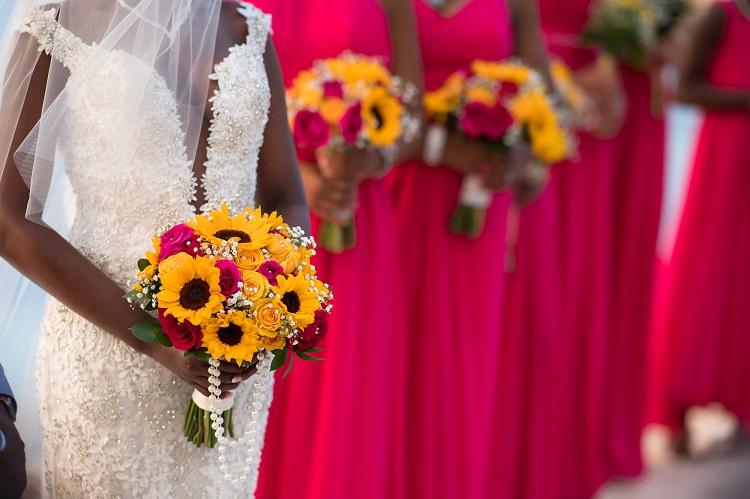 Explains Djuna, "Our decor really captured the vintage travel theme…our vintage suit case-designed wedding cake, vintage travel box, vintage post cards, personalized DIY vintage-designed suitcases as our wedding favors, a globe provided by Shar's Flowers, globe paper lanterns which hung from the ceiling (provided by me), personalized DIY vintage table signs and message signs, a vintage black and white picture of Emmanuel and I, and gorgeous flower designs created by Shar with accents of sunflowers and vintage pearls for my bouquet. The highlight of our wedding reception was the Carnival dancers. I always believe in adding a WOW factor to all my events--it's great to give your guests an experience they will remember for years to come!"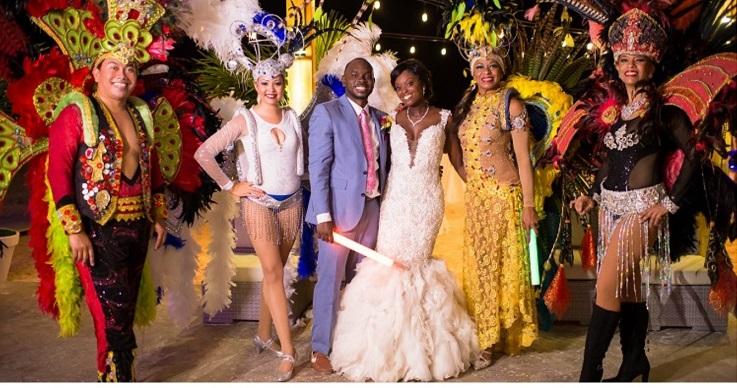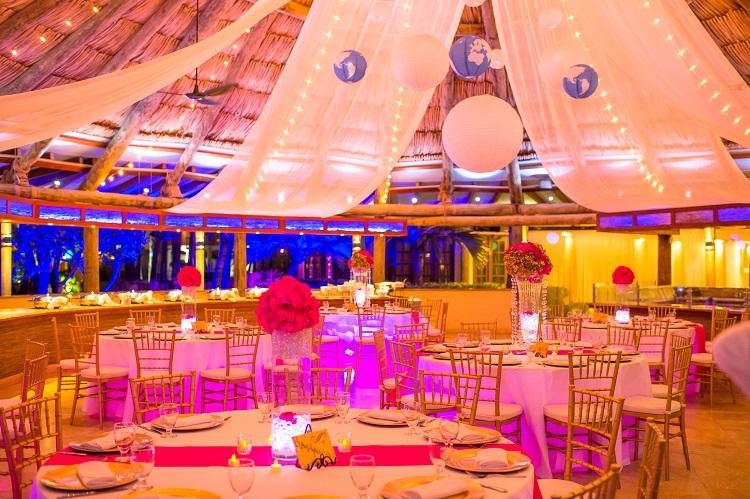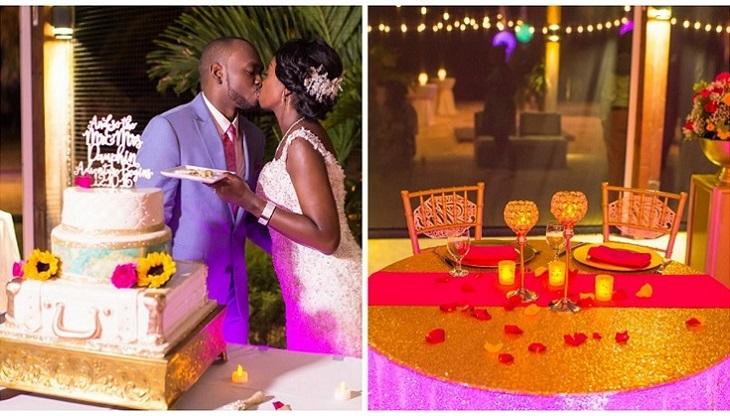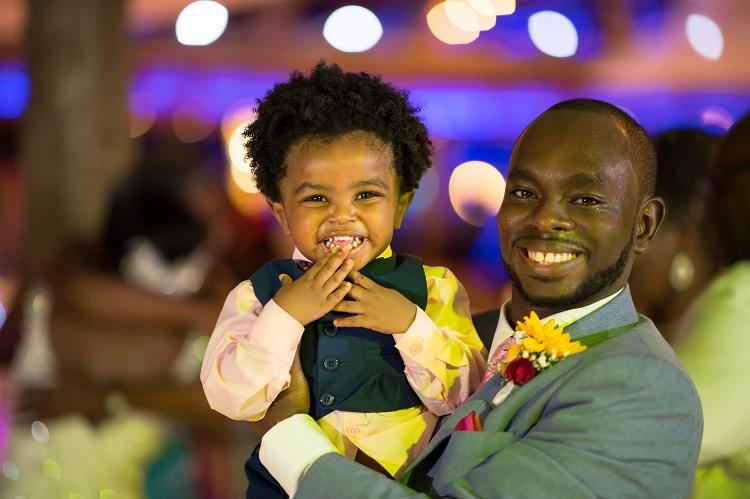 The Details 

Final thoughts from the bride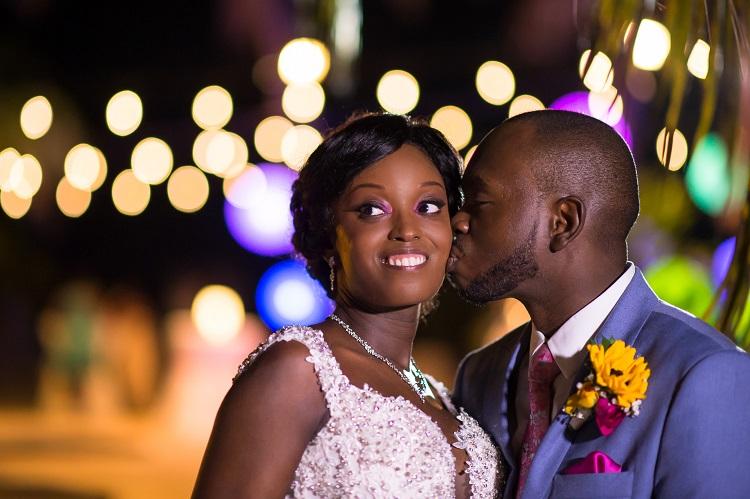 "Having the opportunity to have our wedding in Aruba was one of the best choices we could have made for our big day. I really had the opportunity to take my imagination and think outside the box.  We had a total of 60 family and friends who traveled to the island to share in our special day.  It was truly a blessing to have the most important people in our lives there to celebrate with us.  I wouldn't trade any of our wedding experiences for the world! Almost all of our guests had accommodations at the Divi Phoenix, so we really had the opportunity to bond with our family and friends before and after our big day.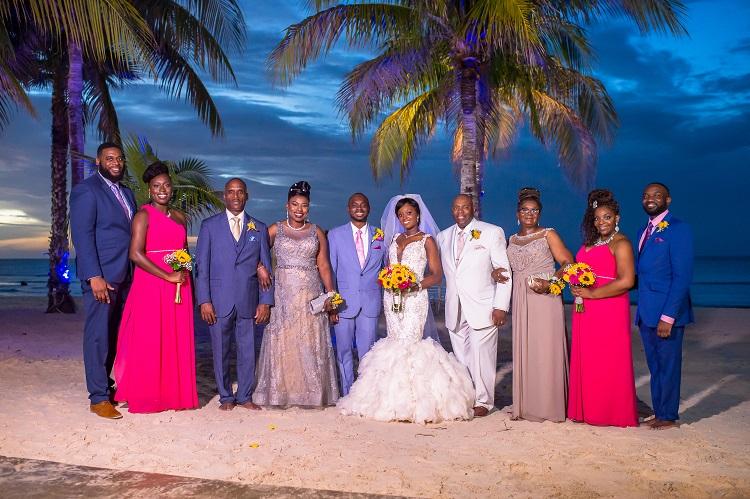 "Our big day would not have been possible without the help of my Matron of Honor (my sister) Nora L. Copeland, my Maid of Honor, Xica Andrews, and my mother, Nora E, Gwathney, our bridal party, and our close family and friends!"