Just the Two of You: Aruba Romantic Getaways Far from the Madding Crowd
After months of planning have finally culminated in your dream destination wedding on Aruba, it would come as no surprise to anyone if the bride and groom want some significant alone time with their significant other, which has now earned the title of "husband" or "wife".
Aruba has several gorgeous luxury hotels that line its major beaches, Palm Beach and EagleBeach. For some newlyweds, however, the idea of staying in a large resort along with hundreds of other guests my not quite fit their romantic island fantasies. Fortunately, Aruba has an abundance of charming guesthouses that definitely fit the bill, usually at rates that are very pleasing to the pocketbook, as well.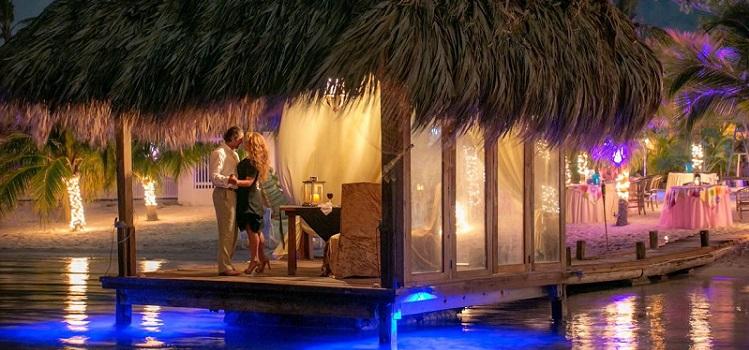 Literally hundreds of charming inns are scattered throughout the island, though some will satisfy that honeymoon getaway you have imagined more than others. Ideally located on or near to the sea, they boast gorgeous gardens and eclectic design, along with your own personal hammock on which couples can cuddle and contemplate their stunning surroundings. Some are truly secluded and located around very quiet, mostly residential areas. A number can be found close to the major hotel areas and so offer not only that same sense of seclusion, but also easy access to the exciting nightlife and activities for which Palm Beach is known.
| Palm Beach Area |
Just past the main Palm Beach resorts are the residential communities of Bakval and Malmok. These exclusive areas also host a few very appealing venues for escaping the hustle and bustle, while still allowing the option of walking to casinos, clubs, and dozens of restaurants, as well as all the water activities offered during the day.
One of the longest established guesthouses on the island, and improving with age, is Boardwalk Small Hotel. Located directly off the traffic circle at the junction of the Marriott Aruba Resort and the Ritz Carlton Hotel, it is the closest on our list to all the Palm Beach action, while still providing a tranquil oasis and seclusion.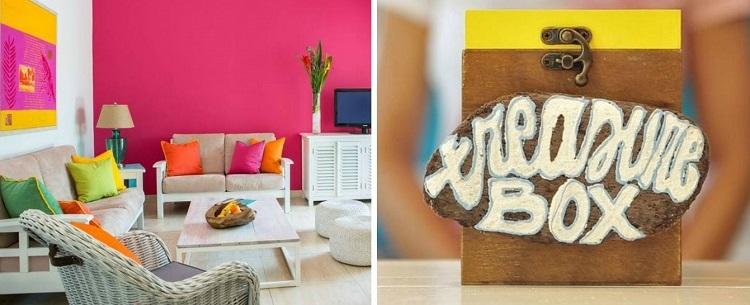 The facility boasts only 14 apartments, each with their own terrace. Guests can arrange to have breakfast served on said terrace, with a nice choice of a full American breakfast, a "healthy" repast, with fruit and yogurt, or something with local flair featuring arepitas, the famed, filled (usually with cheese) corn meal buns that are a regional favorite.

The walkways and gardens are landscaped in such a way as to provide privacy. They have a nice little pool, each room has its own BBQ grill (which housekeeping will clean for you) and their own section of Palm Beach that has been designated as "BoardwalkBeach" with complimentary lounges, coolers, beach towels, and snorkel gear. There are onsite spa services, free wi-fi, and a wealth of amenities, all in a great location for those that crave an active honeymoon/vacation, both day and night.
The principal beach road of Palm Beach continues north to the California Lighthouse, and along the way are a number of luxurious homes, some of which have been converted into charming guesthouses. One of the more original concepts that fully utilizes Aruba's delightful weather is Aruba Beach House; your hosts are Ewald and his wife, Doris, who have definitely imprinted their gracious personalities on their haven.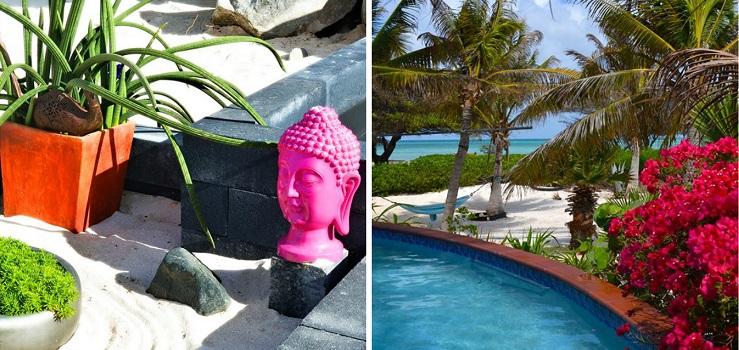 There are only 10 rooms, which range in size from one bedroom apartments off the courtyard, to suites that have a view of the sea. Each has been designed based on the idea of an Hawaiian lanai. The bedrooms are all air-conditioned, but the living and dining area, as well as kitchen, are outdoors on a covered patio. The decor is very individual for each room and eclectic, with quite a few antiques and very interesting art.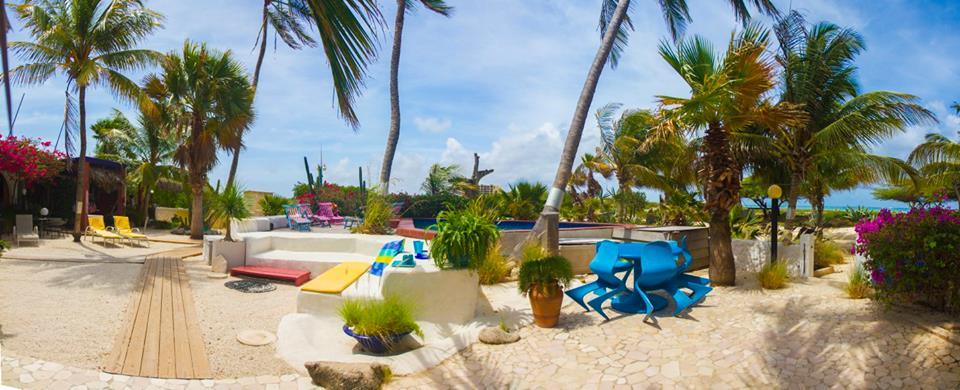 The enclave has its own little patch of beach along the Malmok shoreline, where there is a picnic table and lounges for guests. Facing out on the turquoise Caribbean waters is a pool deck and hot tub, and a cozy area for socializing, if you feel so inclined. There is even a power pyramid for those who wish  to meditate and practice some yoga.         
Located on a Bakval side street, not far from Boardwalk Small Hotel, is the cozy Sunflower Villa; as soon as you see it, you will understand the name. Reinke Bosch is your very congenial hostess, who lives on the property. Though not in site of the shoreline, the beaches are just a short stroll from your honeymoon apartment. Planted in the heart of a decidedly residential area, it is still within easy walking distance of all the excitement of the Palm Beach strip.

Sunflower Villa offers budget pricing because of this, which may be something a couple just starting out might need after the expense of a wedding. The simpler, homey accommodations, however, do not in any way detract from the charm of this most unique guesthouse.


The apartments all have kitchen facilities and terraces. Reinke is a mosaic fanatic, and nearly every surface, including the wending walkways, room dividers and terraces, are a product of her artful hands. She will even give free mosaic lessons for anyone that is interested in learning the craft.

There is a delightful community area with a built in BBQ where you can make your own, or purchase a meal made specially for you. There is 24-hour free coffee and tea station, a surprisingly large pool with great art, and lovely greenery throughout, for privacy and shade. 

| Discover Aruba's South Side |
                If you are seeking an authentic escape and the feeling that you are the only two people in the world, there are some picturesque resorts in Aruba's south shore community of Savaneta that may very likely be the answer to fulfilling your tropical island fantasy.
The founder of Aruba Reef Apartments grew up in Fiji, and was an art connoisseur who traveled the world. These three houses on Aruba's south shore that he converted into delightful bungalows, along with every inch of the grounds, reflect those influences. You will find stunning wooden carvings in the trees, on the docks, and scattered around the beach and community areas, as well as gorgeous original artwork with tropical themes.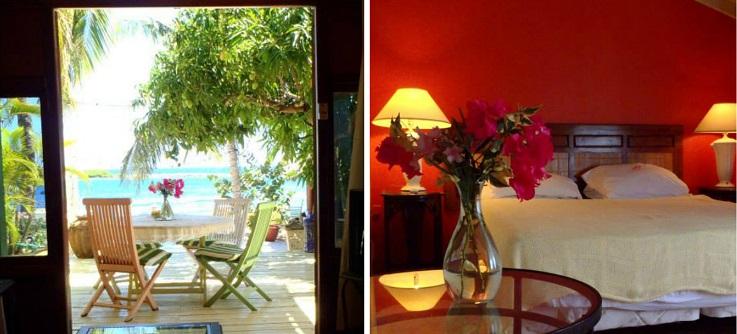 There are only five apartments which circle a "private beach". By law, there are no private beaches on Aruba, but for all intents and purposes, outsiders would have to go through quite some effort to take advantage of this little piece of paradise.



The "honeymoon suite" fronts right on the water, and you can contemplate the moonlight on the sea though the double doors to your veranda. Each apartment has a kitchen, but you will find you are right next door to two of Aruba's great restaurants. Flying Fishbone is known for its elegant, gourmet cuisine and a five-minute walk away is one of the most famous food shacks on the island, Zeerovers, (Dutch for "Pirates"), which offers the freshest fish at budget prices. You will find they specialize in take out orders, which you can enjoy on your terrace, curled up together in your hammock, along with the stunning view.



All sorts of equipment for water fun is provided, including snorkel gear and kayaks for exploring the barrier reefs and south shore, along with fishing gear if you care to catch your own dinner.
The set up of Aruba Reef Apartments is ideal for a beach wedding, and they have a resident wedding planner to help you set up all the details, including catering and an officiate.
Originally known to Aruban visitors as a restaurant, The Old Man and The Sea Ocean Villas is now the fully realized dream of its owner, Osyth Henriquez, of a boutique resort on the water's edge. Five bungalows are well spaced apart, offering perfect privacy in a most unique and engaging setting. You can be certain that you will roll out of bed right onto the beach, or even into the water of the lagoon.



The restaurant is still functional, and of all of Aruba's many guesthouse, this one truly earns the title of a "B & B," with breakfast included in the room fee. The restaurant is now private, only for guests, and additionally serves lunch and dinner daily, with an a la carte menu. Service on the veranda of your bungalow is not extra, and the usual practice among the guests.



Osyth is a talented artist, and this is revealed in every aspect of the resort, right down to the hand-painted menus and eclectic decor. Enjoy the ultimate luxury, silk sheets on your bed, and plush bathrobes and slippers in each room. Staffers are living on the premises, so service or assistance is available at all hours.

The beach, grounds and restaurant are so charming, it was chosen as the site for the most recent installment of "The Bachelor"- Swedish Edition. Since they have such complete amenities, they can also arrange an entire wedding weekend for up to sixteen people.  Ocean Villas offers affordably priced packages for the entire wedding party, with four nights stay and the catered event, plus premium open bar.

This is a sumptuous and unique facility, comparatively priced to the large resorts, but insuring an authentic retreat and absolute privacy.
Keep your options open!
Of course, this is only the "tip of the iceberg" regarding spectacular places to stay on Aruba. The choices regarding guesthouses and smaller venues might seem endless, and are increasing each year. In today's connected world, the Internet makes it very easy to explore the myriad possibilities, and it is certainly worth your time to create that perfect honeymoon, of which you have always dreamed. What better way to start a life together than making memories at some amazing accommodations on the island of Aruba!
Leave us a comment below and 
Let us know your favorite pick(s) from our list of Romantic Aruba Accommodations! :)