East and West Cultures combine for a beach chic wedding in Aruba
Christine Petrella Sapra and Surya Sapra, from Cambridge, Massachusetts, recently celebrated their wedding on Aruba at the Hyatt Regency Aruba Resort & Casino.  The bride masterfully combined cultural touches from her groom's Indian heritage while also embracing a taste of the island's culture.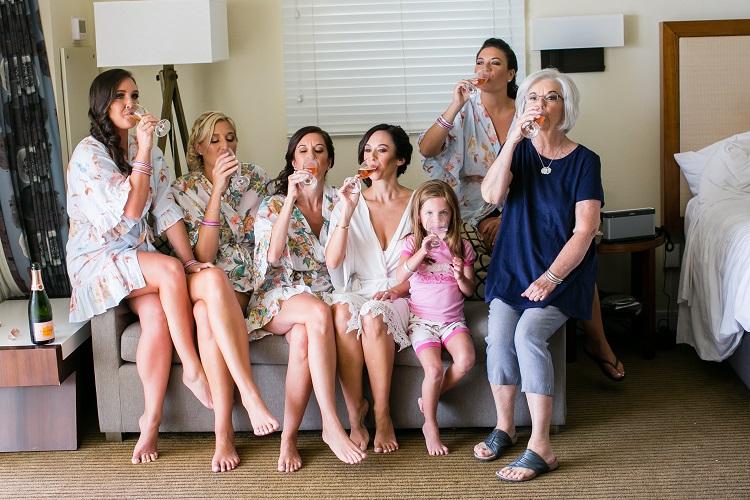 "I brought a little Indian-influence into our wedding to honor Surya's background. We hosted a welcome reception the night before our wedding and served Indian passed hors d'oeuvres. I incorporated lanterns, elephants, and gold details to bring the Eastern style to our Western Caribbean wedding. My grandmother-in-law had a custom Indian tunic made for me out of family silk fabric. I paired this special garb with my mother-in-law's traditional Indian wedding jewelry to wear during our cake cutting…" shared Christine.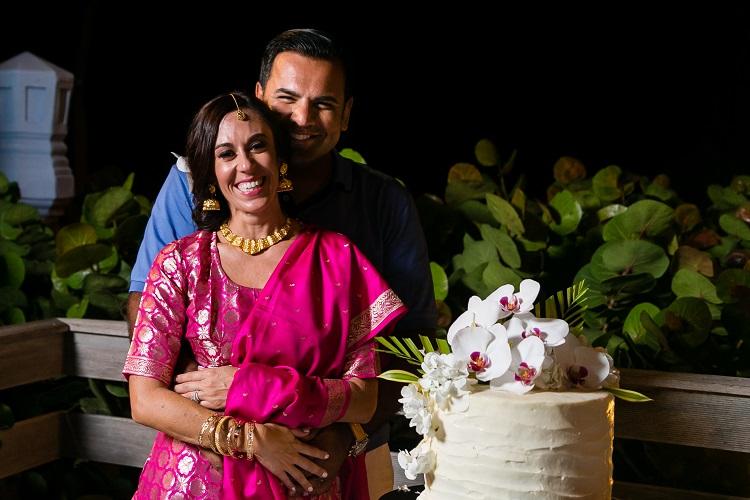 The couple chose Aruba, as it is, reports Christine, "Surya's favorite place in the world," having visited eight times already.  Surya brought Christine to Aruba one year for her birthday, and she also fell in love with the island.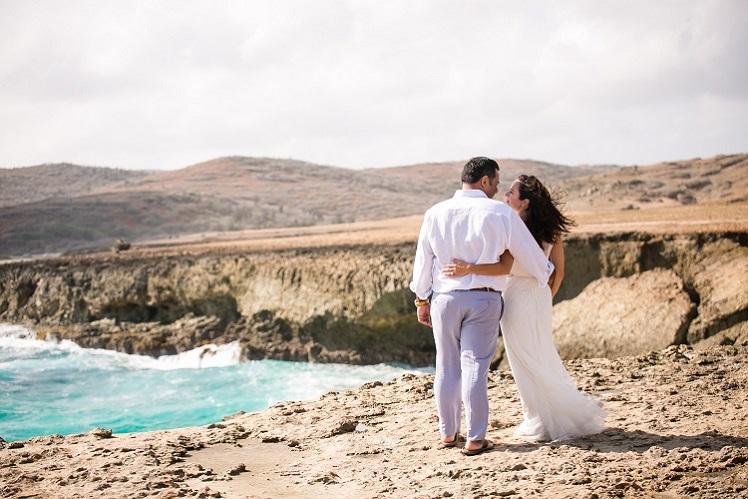 "We both wanted to have a destination wedding and Aruba was the obvious choice for us. Some of our favorite all-time restaurants are in Aruba, we love the people, the beaches, and shopping. We wanted our family and friends to experience everything we love about Aruba and create new memories on the island with them. Aruba is also easy to travel to with direct flights from Boston and JFK (where most of our guests flew from), and is out of the hurricane zone," said the bride.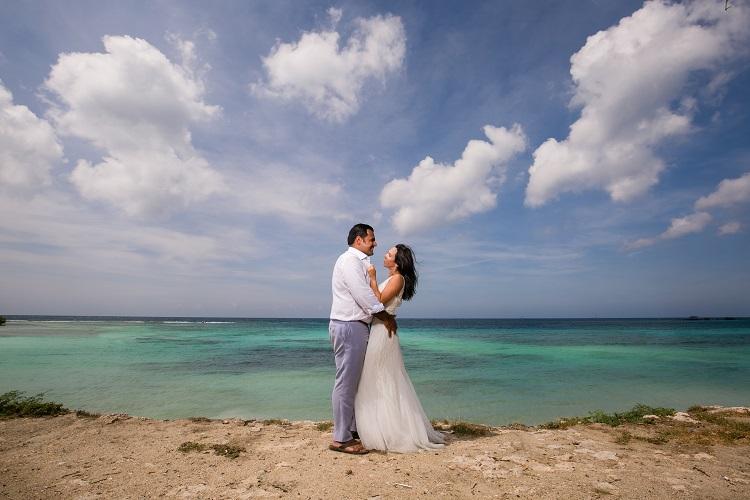 Christine wanted a wedding that that was both timeless and chic, encouraging guests to come barefoot and even wear shorts if they preferred, so they could be comfortable.  The couple opted for a color palate of gray and magenta, with classic touches of white and gold. "Gray is such a great neutral that looks good on everyone and pulled everything together for a modern, sophisticated look," she explained.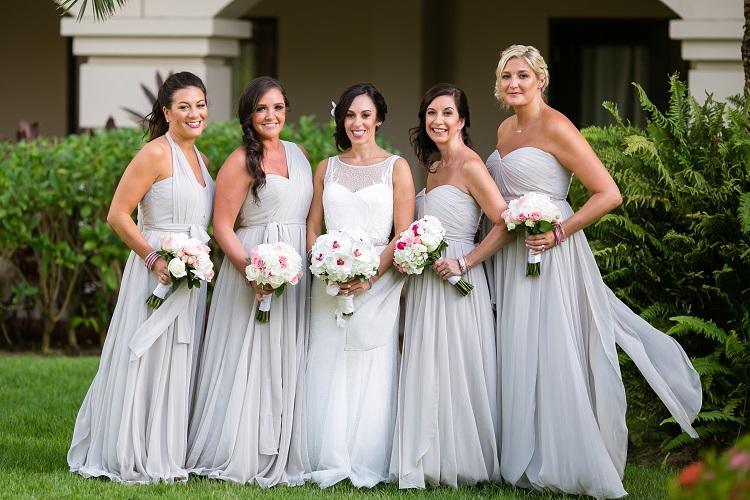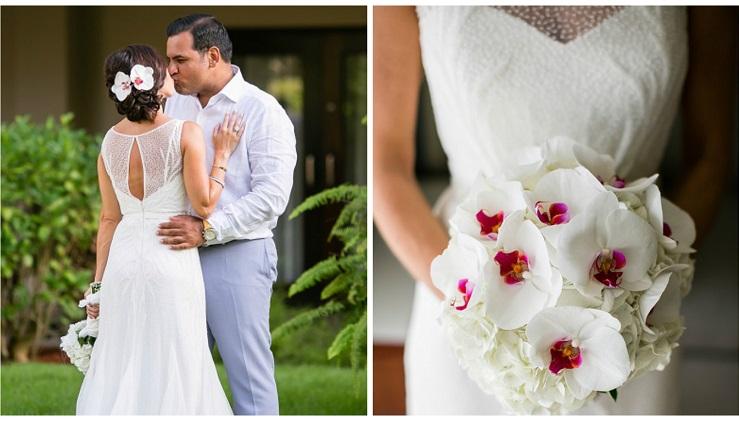 Christine's hunt for the perfect dress led her to try on some 50 dresses in search of the perfect modern, non-traditional beach dress.  "I was looking for a dress that was form-fitting, a bit bohemian, and with special detailing. I chose Rosa Clara's Lana dress for the delicate beadwork that resembles seaweed and the ocean with a gorgeous silhouette. I added a beaded belt to personalize my gown."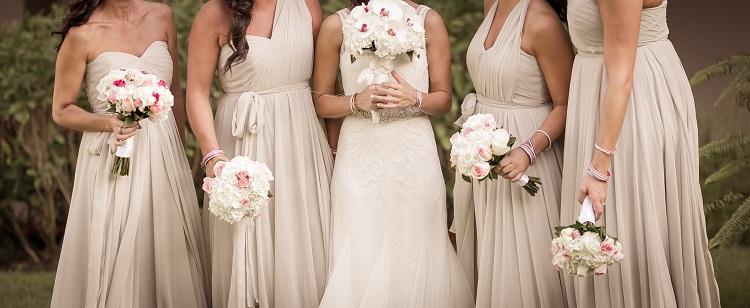 The bridesmaids wore Jenny Yoo's Aidan luxe chiffon in Earl Gray.  "The flowy, neutral gray looked stunning against the beach backdrop," Christine observed.  The groom, who has to wear a suit and tie to work everyday, happily sported a Canali periwinkle linen suit over a white linen shirt, while the groomsmen wore Bonobo gray pants and white linen shirts, untucked. 

In addition to the ceremony gown and the reception's Indian tunic, the bride wore a stunning white BCBG dress embellished with a dramatic cutout for the after-party. "This dress was sexy and comfortable and the favorite pick among my guests, and most importantly, my husband," said Christine.  
After the ceremony, guests enjoyed a toes-in-the-sand cocktail hour under the resort's grand palapa, noshing on Caribbean hors d' oeuvres, enjoying hand-rolled cigars and steelpan music. Guests were then led to Hyatt's beach deck venue, where a steak and lobster tail dinner was served. Local popular band, Tsunami, played throughout the dinner reception. "They had guests dancing before appetizers were served!" enthused the bride.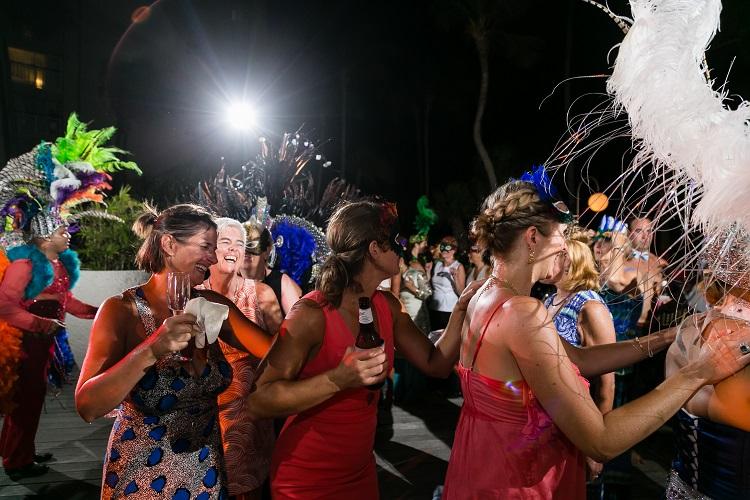 After dinner, the couple surprised guests with carnival dancers.  Christine explained, "It brought our wedding to a higher level…the costumes were unreal and the dancers had everyone dancing their hearts out.  The carnival dancers 'Congo-lined' our guests to the after-party in the ballroom…Rosy promised me the ballroom would look like a nightclub and she sure did deliver! The ballroom was covered in white draping with white leather lounge furniture. It was complete with midnight snacks and a candy bar. The DJ was incredible. He and my friend had a DJ spinoff and I sang to my guests. We couldn't have imagined a more perfect wedding, and all of our vendors and Rosy and Fany from the Hyatt made it all happen," Christine shared.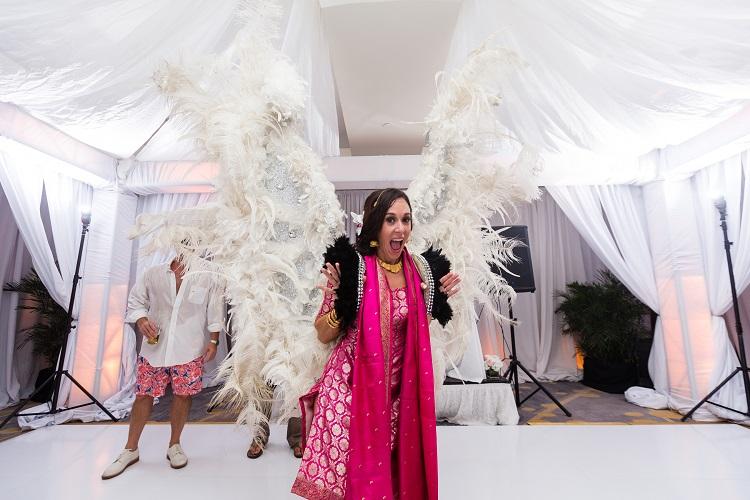 The Wedding Details: