Have a Family-Friendly Wedding Week
If your wedding party and guest list is chock full of toddlers, teens and tweens, then this island has lots of great places to stay and things for them to do. (And we also have some tips on how to keep them happy and occupied during your big day as well!)
| Family-Friendly Stays |


Renaissance Ocean Suites is the ideal choice for right downtown Oranjestad with a manmade beach and kid's club and offering large suites with full kitchens. Guests who prefer adult-only accommodations can stay at their sister resort nearby the Renaissance Marina Hotel.

All guests can enjoy their unique private island retreat, which is also divided into family-friendly and adult-only sides, and both offering luxe cabana rentals for small groups. The private island can also be secured for unique beach weddings replete with flamingos in the backdrop.
Sister resorts Divi and Tamarijn Aruba all-inclusives are also great spots for families, as is newly renovated Divi Dutch Village with larger suites for bigger groups and their rooms have full kitchens as well.
Their long gorgeous strip of Druif Beach has very kid-friendly surf and a rock-climbing tower, and their comprehensive all-inclusive buffets and grab and go pizza huts are sure to please even finicky little eaters.
Divi Aruba Phoenix on Palm Beach also has kitchens as well as on site dining and larger suites for big families. Parents will love that manmade breakwaters make for child friendly sea swimming there.
All Divi properties also offer their signature Treasures of The Caribbean kid's day camps with all kinds of fun stuff to keep children ages 4-12 busy.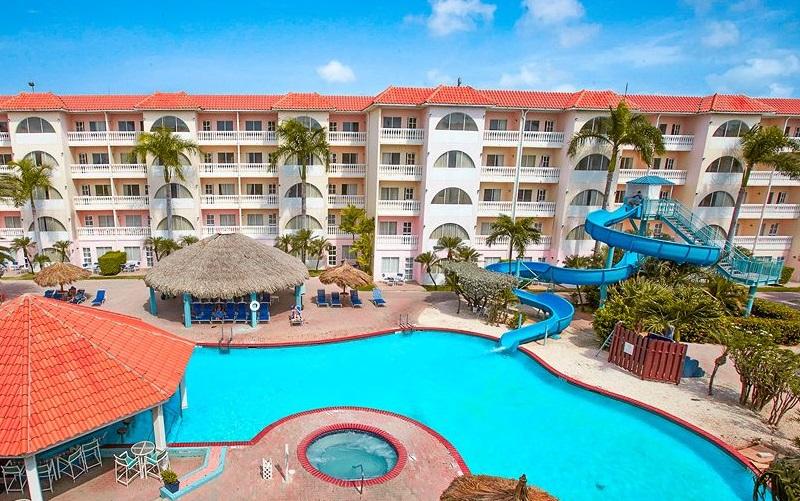 La Cabana Beach Resort and Tropicana Resort are also extremely family-friendly side-by-side with animated kid's clubs and child friendly pools with water slides. They both offer fully equipped kitchens in all their rooms and they share a lovely strip of beach across the street from their resorts with shallow gentle surf.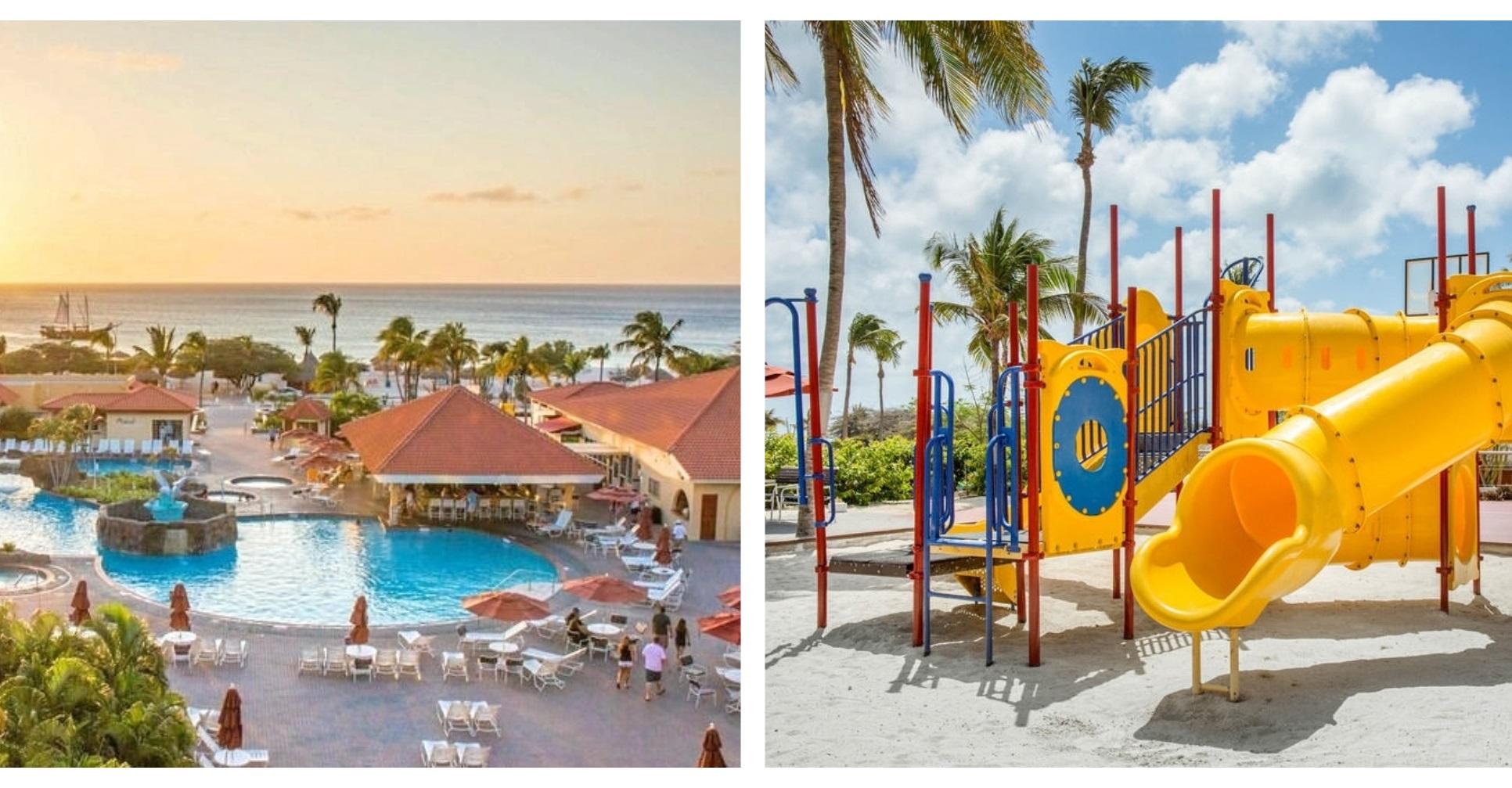 Holiday Inn Resort Aruba finds a way to accommodate everyone by dividing their sprawling property into three separate zones to accommodate different energies- and one is just for kids!

Their comprehensive "Wow" zone is centered on their family-friendly pool with all types of daily action for all ages. They also have a stand-alone comprehensive children's club and activity center with supervision and a team of animators. Their beachfront is also excellent for family-friendly swimming.
Marriott Surf Club's "Gulf Stream"- a lazy river labyrinth of waterways slides and falls- is a hug hit with children and parents alike, and they have a kids' club and teen centre that guests of the Aruba Marriott sister resort next door can use as well. All suites have kitchens or kitchenettes, too. The beachfront in front of both Marriotts is extremely placid and calm, which is ideal for toddlers and there is also a large array of watersports for older children there.
The Ritz-Carlton Aruba is also very family-friendly and offers excellent programs for children ages 4-12 through their Ritz Kids Club. They also have a dedicated pool just for families.
| Off Property Kid Stuff |
Beyond the plethora of beach and sea activities in front of the resorts, and snorkel trips on all kinds of boats, a day at Depalm Island will be a great treat for all ages. And they have new big private cabana rentals now- ideal for a groups of 8.


New Splash Park Aruba right downtown is another winner for family fun- it's a huge crazy obstacle course of floating equipment and challenges just off of Surfside Beach.

There are many inland activities too like the Aruba Butterfly Farm – a wonderful attraction for nature lovers. (Go early in the week because your initial admission is good for return visits!)Or try the new Green Bike Aruba kiosks to go cycling with the gang and horseback riding is another great group adventure. You can also explore the island from the air via Aruba Helitours (for all ages, even babies) and under the sea with Atlantis Submarines –ages five and up. 
At night Paseo Herencia's courtyard has free liquid fireworks shows set to music, little train rides, neon water bumper cars and a carousel that will please the little ones, and right next door, Palm Beach Plaza has fun for older children with an entire arcade floor and glow-in-the-dark bowling.
| Keeping Kid's Busy on the Wedding Day |
You will have no problem keeping the pint-sized guests happy before the big day on this island, but during a formal beach wedding and outdoor reception you might have to think ahead to accommodate an energetic underage crew. So make a kid's corner.
Have your wedding planner or ask your resort's concierge if you can hire one of their animators to supervise the children before the wedding ceremony and afterward during the reception. Set up a cordoned-off kid's corner (away from the pool or sea –you don't want them getting their good clothes wet,) where they can do easy outdoor activities like beanbag or ring toss, or hopscotch in the sand. Supply them with simple toys like hula-hoops, crayons and coloring books, and little bottles of bubbles and little plastic fans to cool off. A tent- if you can get one- is ideal, as it will also help keep them out of the sun, and remember to have plenty of water on hand for them as well. Maybe have your animator arrange a small scavenger hunt for their wedding take-away gifts. That way the only time they will have to sit down quietly and behave like little adults will be during the actual ceremony.
During the reception, having a kid's table set up for kids rather than adults is also a good idea. Make the setting out of bright plastic plates and utensils and supply crayons, markers and plain white paper placemats so they can decorate them on their own. You might want to serve creatively decorated cupcakes for their dessert rather than wedding cake, and maybe have a make-your-own sundae bar.  
For the dancing and revelry afterward, little toy tambourines and maracas, and fun dress-up stuff like feather boas, oversized sunglasses, silly hats and the like… will also have them enjoying the adult party more thoroughly, and they might be less inclined to act up because they are bored. 
Aruba wants you to have One Happy Family wedding here, and it will be a breeze if you plan ahead for kid-friendly fun.